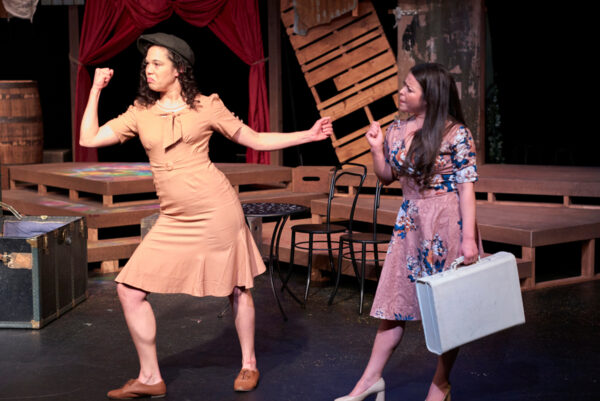 Seattle Shakespeare Company decided to open their 2022 theater season (and their first live, in-person, indoor production since January of 2020) with a rather audacious special event: producing two plays, in repertory, with the same cast and using only BIPOC actors, directors and designers. And, the two plays they chose were Shakespeare's As You Like It, a beloved comedy, and the great drama Hamlet, arguably one of the tougher plays in the canon. The project with the title, DRUM & COLOURS, opened last weekend with Hamlet and then this weekend with As You Like It and….
One production has a lot of issues. The other is quite a lot of fun. It's a bit like the end of an episode of The Great British Bake-Off when one of the hosts gets to say "I have the great joy of awarding this week's Star Baker" and the other host then has to mournfully announce, "I have the horrible job of announcing one of you will not be continuing on with us next week…" SO, with all that in mind it's now time to announce that this week's star baker is….
AS YOU LIKE IT!!!
(cheers and shouts and genial British hugging which is apt since it's Shakespeare and they've chosen the British spelling of "colour" in the name of this special project).
Seattle Shakespeare Company's most recent production of the pastoral comedy, felt oddly familiar to me…as well as feeling a bit slightly out of kilter. After the show, I jarred my memory with some Googling and found answers to both of those conundrums. The show felt familiar because….SEATTLE SHAKES JUST PRODUCED AS YOU LIKE IT LESS THAN 3 YEARS AGO, IN APRIL OF 2019!
IT'S A BLOODY REPEAT!!!
And, the production felt a bit off because….this current production is a cut down version, running a good half an hour shorter than your typical production of As You Like It with two major roles totally cut from this version, the clown Touchstone and the melancholy "other clown" Jacques both removed and most of their famous lines given to other characters.
Cue Shakespeare Purists Gasps of Horror.
Frankly, I'm fine with it because both Touchstone and Jacques were pretty annoying. IMO. Personally, some of Shakespeare's clown characters wear thin with me…so much forced 'comedy'…so much whimsy and punny 'fun' and ribald hijinx.
Meh.
So, the two clowns are nixed and we can proceed with the joy of one of Shakespeare's sweeter romantic comedies which center on several pairs of lovers but mostly on lovely Rosalind and her Orlando. The twist with this show (and, one used a lot by old Bill) is the fact that Rosalind is in disguise AS A MAN and so she's a girl pretending to be a dude helping another dude (Orlando) woo the girl he fancies, which is Rosalind, of course.
Confusion and hilarity ensue.
There's also other couples, including Orlando's dick of a brother, Oliver (who has been really de-dicked here…he's a much nicer version of Oliver than usual) who's wooing Rosalind's flirty cousin Celia (also in disguise). And, then there's the local rustics, Phebe, who is in lust with the male incognito version of Rosalind, and Silvius who loves Phebe.
Confusion reigns for a bit, but all problems are solved by the end with multiple weddings and much happy ever aftering for everyone involved.
It's a sweet if not hyperactive production as directed by Seattle actor Lamar Legend who also adapted the script (and the Hamlet script as well). Drum & Colours chose to set both of their plays during the Great Depression of the 1930s and of the two productions, Legend utilizes the time and setting the best with a great use of period music to establish pacing and mood, especially with the show's prologue that establishes what and where we are. Both plays seem to be set within the context that we're watching Federal Theater Project productions, federally funded theater programs that gave jobs to out of work theater makers during the Depression. The opening to As You Like It features the actors and crew getting ready to present the show we're about to see. The choreography of the actors and the terrific energy of the cast get the show off to a great start.
And, it's a fast moving show (it's about an hour and forty five minutes long without an intermission). The director keeps things moving along a bit too frenetically at times with some of the actors resorting to too much yelling but it works within the context of this production.
The cast is quite strong with Ayo Tushinde especially good as Rosalind, who does a very good job of code-switching between her own persona (skeptical princess of the court) and the male country bumpkin she's pretending to be. Miguel Castellano is a sweet natured, nerdy Orlando, nicely underplaying his role. Meanwhile of the other main couple, Rachel Guyer-Mafune sublty stole scenes as the girl on the make cousin Celia with Arjun Pande appropriately swoony as the youth she has set her eyes, heart and lips upon.
Also scene stealing, to the point she might need to face prosecution for it, is the very funny Kathy Hsieh as the lovelorn country gal Phebe who is very much in need of some physical loving from the man she loves, Ganymede which is of course, Rosalind in disguise complete with a codpiece of prodigious proportions.
The rest of the cast is fine and the designs are handsomely done. It's a frothy fun show and it's worth checking out if you're a fan of light romantic comedies. Probably not a great show for Shakepeare purists due to the cuts and things do get a big over the top at times, but it's by far the deserving winner as this week's "Star Production".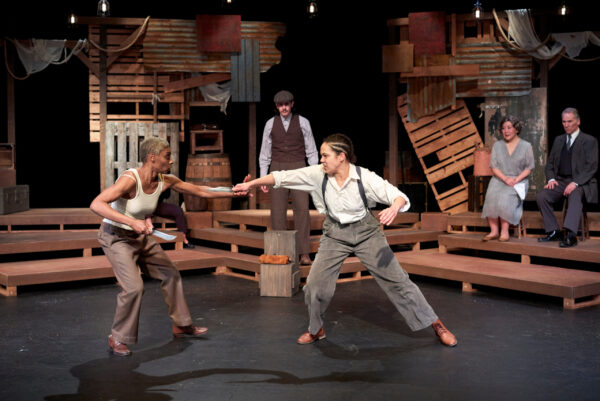 Sadly, that means the OTHER production of Drum & Colours, its greatly cut down version of Hamlet, is the lesser of the two shows. It features the same troupe of actors, designers and technicians but has a different director, Juan A. Mas who was brought in from out of town to stage this production.
Obviously, the tone is going to be very different here…Hamlet is one of the great tragic dramas of all time. It's a big, complicated show about a royal family that's at war with itself (sort of like the Windsors but with more bloodshed) that centers on the broody prince Hamlet, an aging grad student and gadabout who is having a difficult time coping with the recent death of his father the King, and the quick remarriage of his mother, Gertrude to Claudius, the King's brother who is now himself wearing the crown of Denmark. Hamlet also has feelings for young Ophelia, the daughter of Polonius, the King's chief of staff, who is also the father of Laertes, another young lord in the royal household.
Like As You Like It, Hamlet is also set as a theater production being produced as a Federal Theater Project show…the show opens with a verbal clip of President Roosevelt's famous inaugural speech which features the line: "So, first of all, let me assert my firm belief that the only thing we have to fear is…fear itself — nameless, unreasoning, unjustified terror which paralyzes needed efforts to convert retreat into advance." It's a strong way to open this production and does tie the Depression setting with the "depression" being felt by the Royal Court of Denmark and specifically Hamlet himself, within the play but one of the main problems with this Hamlet is that it doesn't really make much attempt to go beyond that. The actors wear rattier period clothes than they do in As You Like It and the mood is appropriately somber but…that's it.
And, that's a problem in a production that suffers from a serious case of the drearies. Yes, it's Hamlet and it's not supposed to be "fun" but it's also not supposed to be draggy and dull and ponderous. Even with a considerable amount of cutting down to an hour and 45 minute running time (a full Hamlet can run 3+ hours) the show felt long. And, unlike the adaptation for As You Like It, this cut down version of Hamlet felt choppy and awkward.
Also: while the designs for As You Like It worked well for that production, the designs here don't work as much. The lighting and sound designs both felt uninspired and I found the costuming to be quite odd….why is the Queen in a terrible wig and ratty dress while the King is well dressed? The opening sound bite of FDR was a solid choice but adding further sound effects and music would have added some much needed energy and pacing to a show in desperate need of it. For a project entitled "Drum & Colours" we could have used a lot more drums to help with the energy levels of the show.
Acting wise…it's a production with many talented actors in it, but many of the actors seem like they're playing the wrong role. Nike Imoru is one of the best Shakespearian actors in Seattle; she's received raves from critics, (including myself) and audiences for her strong work in other shows like Titus Andronicus and Coriolanus where she also played traditional male roles, but her work here as Hamlet just doesn't seem like the best fit. And, that's true with other castings in this production as well…good actors in the wrong roles. Really, the only spot on casting seemed to be Ayo Tushinde cast here as Laertes who does a great job channeling that character's machismo and menace.
I hate pointing fingers but it all really seems to boil down to a lack of directorial vision and control. Ultimately, it's the director guiding the actors and making decisions over design elements and frankly, I don't think Juan Mas made particularly strong or astute choices with any aspect of this production.
Another problem might be that maybe Seattle Shakes made a poor choice of a play to pair with As You Like It. Hamlet is a notoriously difficult play to produce by itself let alone simulataneously with another play. In hindsight, they might have chosen a different drama to do and one with a strong tie to the time frame they were invested in.
To wrap up this very long review (talk about long and ponderous…), I think Seattle Shakespeare Company was gutsy to decide to do a project like this, doing two shows in a rep format, for their first indoor, in-person production in nearly 2 years. One show works quite well and the other not so much. I'll recommend the comedy because after all, all the world's a stage while this Hamlet maybe just wasn't meant to be.
---
Review: "Drum & Colours": Hamlet and As You Like It by William Shakespeare. Adapted by Lamar Legend. Produced by Seattle Shakespeare Company. Hamlet directed by Juan A. Mas. As You Like It directed by Lamar Legend. Scenic Design by Parmida Ziaei. Costume Design by Janelle Kimbrough. Lighting Design by Fernan Rock. Sound Design by Stephon Dorsey. With Miguel Castellano, MJ Daly, Armando Durán, Rachel Guyer-Mafune, Kathy Hsieh, Nike Imoru, Arjun Pande, Ayo Tushinde, and Bob Williams. Onstage at the Center Theatre at Seattle Center playing in repertory from February 15 through March 13, 2022. Tickets: https://seattleshakes.secure.force.com/ticket/
(Visited 88 times, 1 visits today)