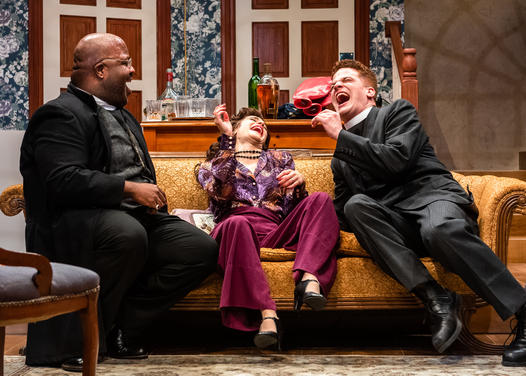 They're back, bitchez!!! You have no idea how good it feels to be able to sit back and relax to enjoy good theater again, especially when it's in the hands of Karen Lund and her band of merry clowns! There are few people who can consistently pull off the form of farce on stage, and Karen Lund is one of those few.
Is it broad? Is it over the top? Is it groan-worthy? Is it door-slammiest? Is it predictably silly? Sure! And so it's truly just to have fun! Lund has assembled, for the first farce post-covid, a band of some of the merriest in town! While everyone in this cast is on their game, Shanna Allman and Sophia Franzella are simply point-perfect in their timing, their grimaces, their pratfalling (Allman) and their conceit (Franzella).
See How They Run is an old chestnut. It's British and proper, where underwear is a scandal and drinking is terrible and vicars in parsonages have to be even more proper than it's possible to be. The twist in this script is that this very proper Vicar Toop (Calder Jameson Shilling) is married to an American. Not just an American, but an actress (Miranda Antionette)! So, of course, the town stick-up-her-butt (Allman) has to come try to find the American acting scandalous, maybe because she had her own attraction to Vicar Toop.
Mistress Toop has a fortunate protector in the form of her maid, Ida (Franzella), who tries to keep her out of trouble and also has an eye for the nice young men. One such nice young man is a fellow actor, turned soldier (James Shilling), who comes to look her up. You can figure out that might not be all that fortunate when Mrs. Toop's uncle, the Bishop of Lux (Nathaniel Tenenbaum) and a substitute vicar (Rob Martin) are supposed to arrive, too.
There are accidental knock-outs, accidental black-out drunks, lots of hanging out in closets, and many many mistaken identities. Especially so when a Russian spy (Nathan Brockett) gets loose and ends up finding his way into the vicarage, chased by the local Sergeant (Eric Hampton).
Lund keeps a firm hand on the mayhem on a handsome set by Mark Lund with gorgeous period costumes by Nanette Acosta. There's nothing somber or political or full of meaning here.
When you know you're in good hands, you just sit back and have fun and enjoy. Two years after full shut-down, it is just amazing to be able to do that!
---
Review: See How They Run by Philip King. Produced by Taproot Theatre. Directed by Karen Lund. Scenic & Sound Design by Mark Lund. Costume Design by Nanette Acosta. Lighting Design  by Michael Wellborn. With Sophia Franzella, Shanna Allman, Calder Jameson Shilling, Miranda Antoinette, James Schilling, Nathan Brockett, Nathaniel Tenenbaum, Rob Martin, Eric Hampton. Onstage at Taproot Theatre from January 26 through March 5, 2022. Tickets: https://taproottheatre.org/shows/2022/see-how-they-run-2/
(Visited 11 times, 1 visits today)