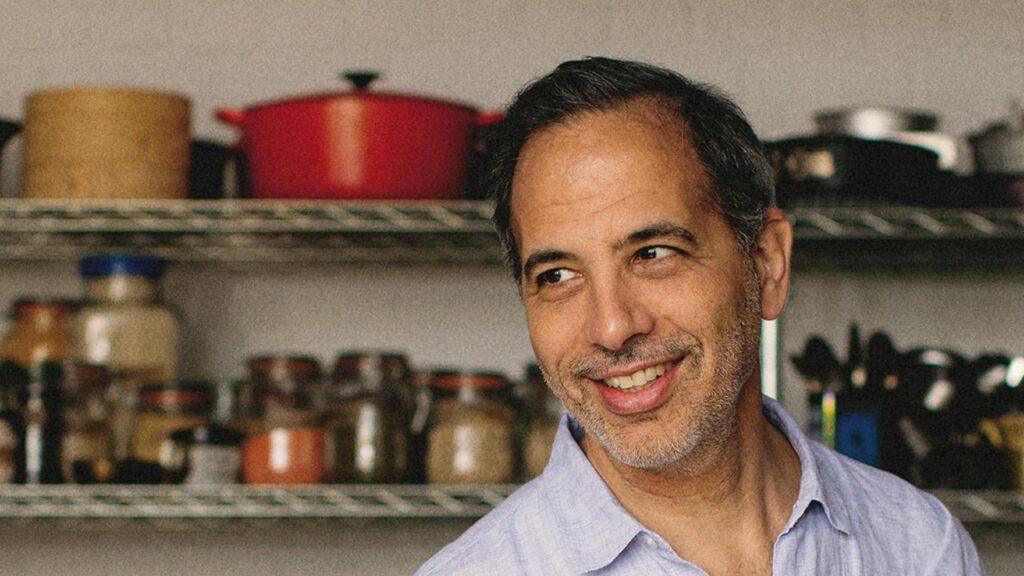 One of the biggest chefs around, YOTAM OTTOLENGHI is headed to Seattle for a conversation with Seattle Times food writer Bethany Jean Clement at Benaroya Hall on Sunday, May 8th. Foodies are very aware of Ottolenghi who burst onto the international food scene in 2008 with his first cookbook, Ottolenghi, co-authored with Palestinian chef Sami Tamimi a collaborator, business partner and friend that the chef met in London after moving there to attend cooking school. Tamimi and Ottolenghi, an Israeli with Italian and German parents, discovered they had grown up near each other but on opposite sides of the fractured Israeli-Palestinian border. The pair bonded over a "joint incomprehension of traditional English food" which makes sense since the English have a notoriously awful national cuisine.
Spotted dick and mushy peas…..YUM!!!!
Yotam Ottolenghi might also be known to you for other reasons, like his fabulous and frequently passed around chocolate cake recipe (the big trick to it: instant coffee! Which he didn't invent but the recipe IS great!)
OR, for lgbtq folks, you might remember that Ottolenghi came out nearly a decade ago as a "gay father" and shared with the world his and his husband's experiences with having a child. (They've had a second child since then.)
So, if you like gay parenthood and chocolate cake, this might be the perfect event for you. It's also happening on Mother's Day, so take your mum if she likes those things as well.
The chocolate cake 411 on his appearance:
One of the giants of the culinary universe will make his long-Covid-delayed appearance in Seattle. "The Chef's Chef" Yotam Ottolenghi comes to Benaroya Hall for an onstage conversation with Seattle Times food writer Bethany Jean Clement on May 8, 2022 at 7:30pm. This free-wheeling conversation about his career, passions and future plans will be a delightful Mother's Day treat for Northwest food-lovers.
Ottolenghi's food philosophy centers around a strong sense of place and home. For him, food is about commonality, an act which brings people together. The popular chef has stated, "It's tragic that we are so good at adapting ourselves to different cuisines and enjoy being super international, yet we are not able to apply the same level of tolerance to the actual people that cook them." Simply put, this philosopher of the kitchen is passionate about making people happy through food full of harmonious contradictions.Bethany Jean Clement writes about eating food, knowing cows (and eating them), drinking drinks, and more. She is the food writer for the Seattle Times; her work has also appeared in Food & Wine, Town & Country, Gourmet.com, and Beard House. She is the former food writer and managing editor of The Stranger. 

Tickets are $38 to $60 and are available through the Benaroya Hall Box Office, at 206.215.4747 or at www.benaroyahall.org. Presented by Northwest Associated Arts and Seattle Neighborhood Farmers Markets and sponsored by KNKX 88.5fm and The Stranger, An Evening with Yotam Ottolenghi is sure to be an unforgettable source of education and inspiration for home cooks and food industry professionals alike. 

About Yotam Ottolenghi: Yotam Ottolenghi is widely beloved for his beautiful, inspirational, and award-winning cookbooks, yet he had an unlikely beginning. In 1997, he completed a combined bachelor's and master's degree in comparative literature at Tel Aviv University; his thesis was on the philosophy of the photographic image. That same year, he moved to Amsterdam, where he worked at a Dutch-Jewish weekly and considered getting his doctorate at Yale. Instead, and against the advice of his father, family, and friends, he moved to London to study French cooking at Le Cordon Bleu.

Ottolenghi's debut cookbook, Ottolenghi, co-authored with Tamimi, was published in 2008. Six more internationally bestselling volumes have followed: a collection of recipes exploring the flavors of his home-city, Jerusalem with Tamimi (2012); the vegetable cookbooks Plenty (2010) and Plenty More (2014); a cookbook from his acclaimed London restaurant, Nopi (2015); a dessert cookbook, Sweet (2017); and Ottolenghi Simple (2018). Ottlolenghi's books have sold over 1.5 million copies in North America and 5 million worldwide. Yotam Ottolenghi's 2020 book Ottolenghi Flavor (co-written with Ixta Belfrage), was a New York Times Bestseller and is widely recognized as one of the best cookbooks of the year.  His newest book, written with Noor Murad, is Ottolenghi Test Kitchen: Shelf Love (2021)
Ottolenghi's cookbooks have proven influential, with The New York Times noting they are widely imitated for their plain-spoken instructions and enticing photographs (overseen by Ottolenghi himself).

Yotam Ottolenghi grew up in Israel to parents of Italian and German descent and spent childhood summers in Italy. Long-based in London, where he co-owns an eponymous group of deli shops and the fine dining restaurants NOPI and ROVI, Ottolenghi spends much of his time creating and testing recipes for his weekly column in the Guardian and monthly column in the New York Times. When he is not cooking, he oversees the day-to-day running of his business and makes occasional television programs. Family life with his husband and two young sons and Pilates are much-loved distractions.

About Neighborhood Farmers Markets
Since the work of Neighborhood Farmers Markets started 30 years ago, it has opened and maintained seven thriving neighborhood markets where small farmers can sell their goods directly in convenient, personable neighborhood settings. As a non-profit organization, NFM's mission is to support and strengthen Washington's small farms and farming families, as well as the communities they serve.
(Visited 38 times, 1 visits today)