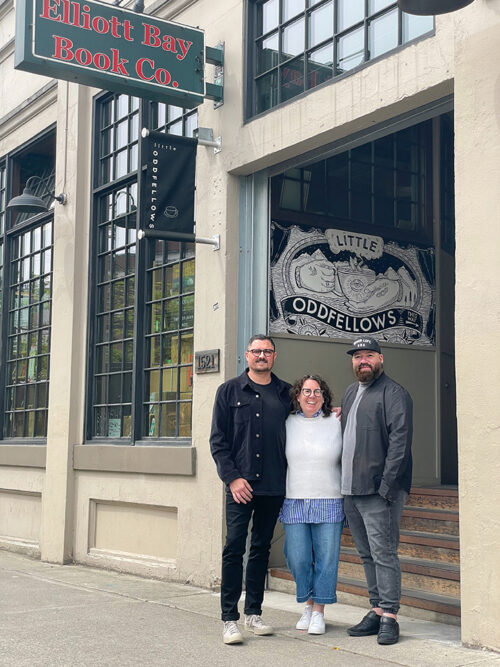 BIG business news from Seattle's gay neighborhood Capitol Hill as the city's beloved Elliot Bay Book Company announces the sale of the business to familiar local faces….Tracy Taylor, the book store's current general manager and married husband and husband team, Murf Hall and Joey Burgess of the Burgess Hall Group that own popular gay bars, Queer/Bar and The Cuff Complex purchased the nearly 50 year old book store. The trio also own adorable Pike Street newstand, Big Little News which they opened in 2021.
The sale happened on June 1st but we didn't post this last week when it was hotter news because..well, we were busy! Also, it was being reported EVERYWHERE and we hate a crowded bandwagon. But, it IS important news, for several reasons but the main one being, Elliott Bay Books will remain in SAFE hands….which is hella important because I can't imagine Seattle without it. It's a huge asset for the city and especially Capitol Hill which is in danger of turning into one big huge brewpub/gym/Asian noodle place…we need variety on the Hill and RETAIL!!!
And, most of all….BOOKS!
And, Tracy, Joey and Murf will be terrific stewards for Elliott Bay…they're all dedicated book lovers and dedicated to having a healthy, happy Capitol Hill business/night life district for the entire city to enjoy.
The poo from the press release:
Elliott Bay Book Company's baton has been passed to three dedicated Capitol Hill business owners, the company has announced.
Elliott Bay Book Company was founded in 1973 on Main Street in Seattle's Pioneer Square neighborhood by Walter and Maggie Carr. Peter Aaron joined Elliott Bay upon Carr's retirement in 1999 and became the sole owner in 2001.

Under Aaron's leadership, the renowned bookstore relocated to its current location in The Ford Building at 1521 10th Ave in the city's Capitol Hill neighborhood in 2010.

On June 1, 2022, Taylor, Hall, and Burgess took over ownership from Aaron.
The 20,000+ square-foot Elliott Bay Book Company is housed in a building constructed in 1918, originally home to a Ford truck repair shop. Featuring 19-foot-tall ceilings, more than 150,000 titles, rows and rows of cedar shelves, and a knowledgeable staff, the Associated Press has referred to Elliott Bay Book Company as a "literary landmark," said Taylor.
"To say Peter has been a constant, steady hand at the helm is a huge understatement," said Taylor. "He beautifully navigated so many difficult and unique obstacles over his 23 years at Elliott Bay. We are honored to take the wheel from such an esteemed leader."

In the nearly fifty years since it was founded, Elliott Bay Books has weathered multiple recessions and economic downturns, threats from the rise of digital commerce and Amazon, an earthquake, and the evolution of Seattle to a dot com city.
"Our intention is to continue much of what Peter has done so successfully during his ownership," said Hall. "Tracy's wealth of institutional knowledge and experience, having worked for more than three decades with the previous owners, is invaluable. Her expertise, combined with the fresh perspective Joey and I bring, will ensure that Elliott Bay will continue to grow and flourish for current and future generations of customers. I'm especially looking forward to bringing new ideas from the world of retail that I've been immersed in for 20 years running."

"We will always be looking at ways to expand and serve the local community through brick and mortar, online sales, author readings, and community events," said Taylor.

The new co-owners don't plan on any immediate changes to the legendary brand, said Taylor.

"Well, maybe a fresh coat of paint right out of the gate," added a grinning Hall.
(Visited 30 times, 1 visits today)