Hundreds of new plays and musicals are announced and produced every year and with most of them, once you hear the title and general plot of the work, you shrug and think "Ok…sounds possibly interesting" or "Yuck…what a boring idea" or "Haven't we seen/read/heard this same story before?"
SOMETIMES you hear about a new stage work being created and think to yourself, "Wow. What the Hell made them come up with THAT bizarro idea?" Or, "How the Hell are you going to turn Stephen King's 'Carrie' into a Broadway musical?" and "SHOULD you turn Stephen King's 'Carrie' into a Broadway musical?"
(The answer to that last question is: "probably not" but it's open to passionate debate. Consult a homosexual elder of the musical theater loving persuasion to continue that discussion.)
More recently, the announced show that raised a few eyebrows was BRUCE, a new musical about…the making of the classic 1975 adventure film "Jaws" directed by a very young Steven Spielberg which became a monstrous international hit. Jaws, based on the best selling novel by Peter Benchley, was about a Great White Shark terrorizing a small beach town in New England and the battle to kill the shark before it took any more lives. It's a famous film for many reasons:
It was hugely successful and broke box office records
It was really the first summer blockbuster film; prior to the release of Jaws, film studios mostly only released low budget fluff films to play at drive-in theaters. Big expensive films were saved for fall/winter.
It was the first hit film for Spielberg who went on to become one of the most successful and popular film directors of all time.
It was notoriously difficult to make, going over budget and over schedule largely due to the fact that the mechanical shark built for the film constantly broke down
And, it's still a beloved film today managing to find new audiences each generation who enjoy the film's mix of suspense, drama and humor. The film was well directed by Spielberg and superbly edited by Verna Fields (who won a Oscar for her work) and its iconic film score won John Williams an Oscar as well and established him as the most revered film composer of his generation.
Jaws is an iconic film as well a piece of very commercial art and it was very challenging to make. Film nerds are familiar with the story of its creation; it's part of Hollywood lore. Its creation is also well documented; one of the writers on the film, Carl Gottlieb (who also has a small role) kept a journal over the many months it took to produce the film and after filming ended, he turned it into a book called The Jaws Log which eventually became sort of a "making a film" Bible to film nerds who wanted to become filmmakers.
The creators of Bruce, Richard Oberacker (music, lyrics and book) and Robert Taylor (lyrics and book) were drawn to the story told by Gottlieb not just because of its fascinating behind the scenes stories about the creation of a popular film but also because they liked the book's focus on telling the journey of the artists involved in overcoming obstacles in creating the work. And, especially being able to focus on Steven Spielberg as he works on a project that will make him a major Hollywood name.
All good reasons to create a new dramatic story or seemingly so…after all, other films and plays and books have been centered on stories about creating works of art. All About Eve and Singin' in the Rain and Sunday in the Park with George are all about creating new work. Then there's the whole canon of "Hey, kids…let's put a show on!" films and musicals that date back to the Judy Garland/Mickey Rooney era. "Putting It Together" has been a plot source for a very long time.
Of course it also has to be said that the depiction of art creation doesn't always work. The musical Singin' in the Rain is about making movies as the silent era ends and the talkies begin…but, it's really mostly a cute romantic comedy with terrific songs and production numbers; the movie-making theme of the film is secondary. And, Sondheim's Sunday in the Park with George which really is about creating art, is also a work that leads to many furious debates on whether its actual story structure works. (Another discussion for elderly musical theater aficionados…)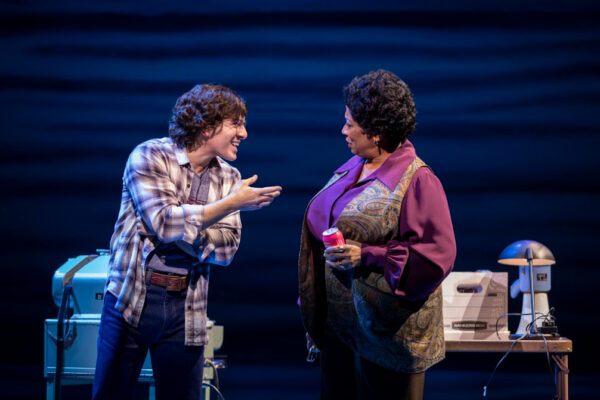 So, we finally come to this new musical production of Bruce, a work about artists coming together to create art and…does IT work? Is it compelling? Is it entertaining? Does it make sense as a musical? Is it necessary?
Honestly, the plot of the show answers most of these questions. Bruce the Musical is about Bruce, a Mechanical Shark That Mostly Doesn't Work.
Bruce the Musical is a Cute Idea That Mostly Doesn't Work.
Mostly.
There are certainly things to like about this show. Setting Spielberg as its central character was probably a good idea (and logical) and it also helps a lot that Jarrod Spector who plays Spielberg is one of the best things about Bruce. He's a terrific actor and hugely charismatic and while none of the songs in this musical are worth singing, Spector has a glorious voice and manages to sell the the schlock he's belting out. He's one of the strongest selling points in a show that doesn't have that many.
Another thing I think they (mostly) got right is how they introduce the story and all the characters. It's a show about making a movie and it takes a large village of people to do that so we need to meet and figure out the identities of quite a few characters in a short amout of time. Bruce solves that problem with a "Tic Tac Toe" style set or if you like, a set piece designed in a 3 by 3 grid much like the set for the old game show The Hollywood Squares (or the opening credits graphic to The Brady Bunch sitcom). What you end up with is nine boxes, 3 rows of three stacked on top of each other, where you can place individual characters and, importantly, LABEL them with graphics identifying who we are meeting. It's a good idea and nicely executed by the show's Emmy award scenic designer, Jason Sherwood.
The first third of the show features this grid set while the story focuses on the pre-production of Jaws mostly in Los Angeles and we meet all the characters and suss out the basic plot. Once the storyline moves to Martha's Vineyard, the Massachusetts island where Jaws was actually filmed, the tic tac toe set disappears and we then open up the stage where small individual set pieces are used to portray the different locations of the story while filming.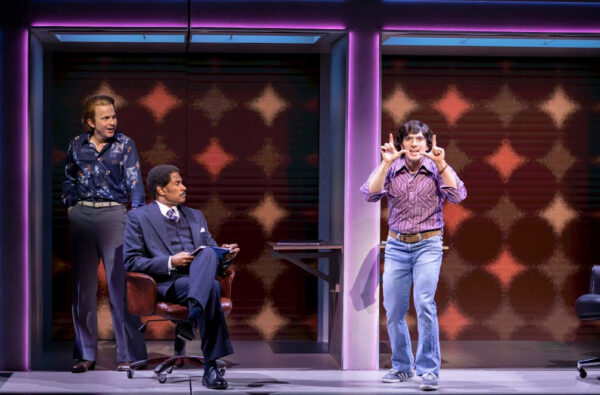 But, this leads us to a problem…the story of Bruce takes place over a fairly long period of time with dozens of scenes set sequentially which leads to many, many micro scenes that are staged very quickly with the result that the last 2/3 of the show consists of characters constantly entering/exiting scenes. It gets repetitious. And, the problem with many short scenes is the fact it's hard to develop the characters or add much depth to them or the story. Bruce is just one long series of micro scenes mostly just delivering exposition…it's all informative and not very emotive. Once in awhile we stop for a song but that itself is a bit jarring. It's all facts and figures and events then…BLAM…we stop for brief moment for a character to burst into a banal song about feelings and stuff, usually about "gee, making a movie is HARD!" or "Dammit, why isn't this shark working?"
The songs are a problem…they're not memorable or very interesting. The only ones I can vaguely remember (I write this about 20 hours after seeing the production) are a song about Spielberg wanting "Final Cut" on his films (his 'wanting song' to use a musical theater term) which was modestly enjoyable mostly because of the charm of the actor singing it. Same goes for a song sung by the always charismatic E. Faye Butler playing the film's editor Verna Fields. I don't really remember the song; I just remember enjoying hearing Ms Butler sing it, even though it was one of the "gee, making a movie is hard" songs mostly featured in this show. The musical's creators claim the songs reflect the music of the era (the 1970s) but honestly, none of the songs seemed very Seventy-ish to me. They all felt like dull, contemporary musical theater songs.
Another major problem with Bruce is the fact the creators/producers weren't willing/able to spend the money to buy the rights to use any part of the Jaws film…there's no clips from the film and there's not any substanial use of the dialogue from the film either. And, most missed, there's no use of the John Williams score, especially the evocative main theme from Jaws. The musical has to reference certain things…there's a terrible production number/scene in Bruce about the filming of the famous "Indianopolis Speech" which is a famous moment in the film where the gruffly crazy shark hunter Quint recounts the terrifying true story of the Indianopolis, a World War II boat that went down in shark infested waters with a great loss of life. Since they can't quote any of the lines from that scene (which requires permission/rights paid to Universal Studios) they have to work around the lack of that memorable dialogue with a dumb scene of the other characters singing the praises of that scene and the actor performing it. It's clunky.
There's a similar scene towards the end of the musical when John Williams emerges to talk about the score he's working on…but, we never hear it. Despite the fact that Matt Wolfe is very funny in the role as Williams (and, made up to look just like him) the scene lands like a turd without the use of the actual music. And, we YEARN to hear it!
Which brings up something else…there's no actual "Bruce" in Bruce: The Musical. We see sketches of the mechanical shark and a little tiny prop of the shark and vague video/projections of the shark but…we never see any kind of replica of the star of the show…Bruce himself. (Note: Bruce is named Bruce after Spielberg's lawyer at the time…it's an in-joke that has become part of pop culture.) And, you could argue that it's not necessary to see a life-sizish replica of a mechanical shark to make the material work, I can also argue…
Yeah, you kinda do. That doesn't mean we need to some big, fancy, expensive mechanical shark onstage but they missed an opportunity to utilize some kind of theater magic via projections, lighting, puppets, silhouettes, props… something interesting and visual for us to gape at in awe and wonder.
Otherwise, it's kinda boring to have to listen to endless descriptions of the shark not working by the characters on stage relaying what they're seeing as characters witnessing a mechancial shark fail to function while we stare back at them staring at us like we're a mechanical shark failing to function.
It's ALL a failure to function. And, a failure to create something interesting and exciting.
And, a lot of that failure to function has to rest at the feet of director Donna Feore who doesn't miss a chance to NOT give us something interesting to see on stage. This show is so dully directed that the actors frequently seem to be at a loss as to what to do with themselves so they end up either just walking through their scenes or resorting to broadly hammy gestures to give themselves something to do. The scenes just dully move from scene to scene presenting information then chugging on to the next. Ms Feore doesn't seem invested in creating anything visually appealing with her staging…it's all rote. Especially the ending of the muscial which features the main characters standing in a little semi-circle giving us little factoids about "what happened after the film opened". It's such lazy, dull direction.
While I liked Jason Sherwood's scenic design, the rest of the design is pretty bland. We could use more and better projections and video to tell this story (after all, it's a show about FILM…use it!) and both the lighting and sound design could have been more creative. Jaws is a suspense film known for creating tension and drama and design wise, along with the direction and its book, we don't really get that. It's all a bit flat.
The large ensemble cast is largely good though there are some odd miscastings and some performances are definitely stronger than others. I've mentioned how much I like Jarrod Spector as Spielberg and E. Faye Butler as Verna Fields but Beth DeVries had charm as actress Lorraine Gary and Ramzi Khalef was funny playing Richard Dreyfuss. Actually, he and Spector did have a cute song about small Jewish men taking over Hollywood. The song itself was trite but the performers were delightful.
And, members of the ensemble stood out including Matt Wolfe, already mentioned for his turn as John Williams but who also handled several other roles equally well. Justin Keyes was fine as the beleagured production designer Joe Alves along with the superbly voiced David Benoit as Bruce designer Bob Mattey.
I didn't really get the casting of Geoff Packard as actor Roy Scheider, the star of Jaws, or Hans Altwies as actor Robert Shaw who played Quint. Packard doesn't remotely seem anything like Scheider, who had a terrific, urban energy and sexiness about him. It doesn't help that the script doesn't give Scheider much to do…it's an underwritten role while the role of Quint is just lazily written. The script just decides to play Shaw as a mildly grumpy old drunk, not giving anything very creative for Altwies to play, who frankly seems a bit bored by the role.
So, yeah. There are a few things to like about Bruce. It has an appealing lead character played by an appealing actor. They do cram a lot of information/story into a show that runs less than two hours (no intermission, which is also annoying but I'll spare you my rant about that). There are some fun bits of business here and there and some clever moments from the cast. It does have a certain goofy charm at times.
But, Bruce lacks the things that made Jaws such a powerful and popular piece of entertainment. Jaws is a beloved piece of pop culture because it had Steven Spielberg directing, and Joe Alves designing, and Bill Butler photographing, and Verna Fields editing, and John Williams composing one of the most recognizable scores in film history. It had very talented people working on it and bringing it to life. Bruce could frankly use a Spielberg or a Fields or a Williams to make it beloved, too. Without a better script or songs or direction or sense of vision, it's just a broken piece of mechanics sitting on the bottom of the ocean waiting for someone to bring it to life.
---
Review: Bruce. Music by Richard Oberacker. Book & Lyrics by Robert Taylor and Richard Oberacker. Based on the book, The Jaws Log by Carl Gottlieb. Produced by Seattle Rep. Developed by Papermill Playhouse and Seattle Rep. Directed & Choreographed by Donna Feore. Music Supervisor/Orchestrator/Arranger: Greg Anthony Rassen. Music Director Lily Ling. Scenic Design by Jason Sherwood. Costume Design by Tina McCartney. Lighting Design by Jeff Croiter. Sound Design by Brian Hsieh. Projection Design by Shawn Duan. Wig & Hair Design by Liz Printz. With Hans Altwies, Kyle Nicholas Anderson, Eric Ankrim, David Benoit, Preston Truman Boyd, E. Faye Butler, Sarah Rose Davis, Beth DeVries, Candice Song Donehoo, Jay Donnell, Napoleon M. Douglas, Alexandria J. Henderson, MJ Jurgensen, Justin Keyes, Ramzi Khalaf, Brian Lange, Corinna Lapid Munter, Geoff Packard, Timothy McCuen Piggee, Jarrod Spector, Cullen R. Titmas, Brenna Mikale Wagner, Matt Wolfe. Onstage at Seattle Rep from May 27, 2022 to July 3, 2022. Tickets at: https://www.seattlerep.org/plays/202122-season/bruce/
(Visited 13 times, 1 visits today)