Really? It seems like popular party disco SUPERNOVA has been around for years but the hot new nightclub in Seattle's SoDo District is only turning one year old this week. It seemed crazy at the time, a year ago, to be opening a big new venue has Covid-19 was still raging and limiting occupancy as part of efforts to contain the virus but the Supernova Team beat the odds to become the most popular new club in Seattle.
It also defied being labeled with many people wondering "Is it a gay club? Straight?" but owner and creator Zac Levine was determined to have a safe club where everyone could have a good time. Having Supernova be a safe space for women/femme, LGTBQIA+ and BIPOC individuals was important to the Supernova team in "the age of inclusion".
This weekend, on Friday July 1st and Saturday July 2nd, Supernova will hold a two night anniversary party weekend. Go to their website to snag advance tickets: https://www.supernovaseattle.com/events-page
More from the press release:
On July 1st and 2nd, Supernova celebrates its one-year anniversary.
Since its launch a year ago, the nightlife hotspot has hosted some of the wildest parties Seattle has ever seen; a tropical beach party featuring 3000 lbs of sand, a living glitter bomb including kiddie pools filled with glitter, and, this weekend, a fully immersive floor to ceiling balloon installation to celebrate their anniversary.
As the only nightclub in the world to boast exclusively drag queen bottle servers, Supernova aims to break the mold of traditional nightclubs. Rather than focusing on bringing in national talent, Supernova curates a high quality roster of local Seattle performers including aerialists, roller disco dancers, live musicians, go-go's, drag queens, DJs, and costumed character actors. Supernova encourages patrons to not partake in spectating, but to be a part of the spectacle with a dress code of "SPECTACULAR!" promoting imagination, self-expression, and effort.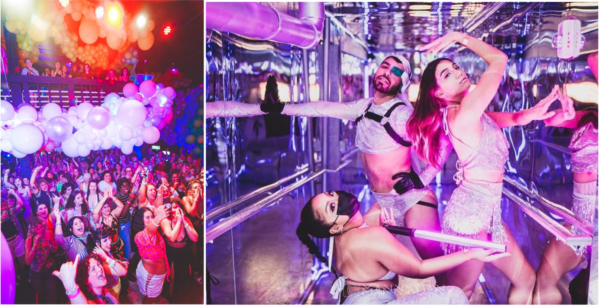 The official home of Sapphic Seattle and BeautyBoiz, Supernova has quickly gained traction as a home for the queer Seattle nightlife scene. Sapphic Seattle's monthly events continually sells out 600 tickets in advance and BeautyBoiz continue to push the arts scene forward with ballroom and runway shows.
Those who are unable to make it in person to the anniversary celebration can tune in live on the radio via C89.5 on July 2nd from 9PM-Midnight to hear the disco dance party with DJ Trent Von.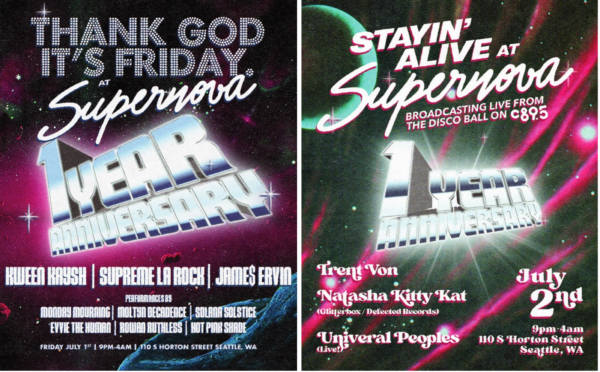 (Visited 42 times, 1 visits today)