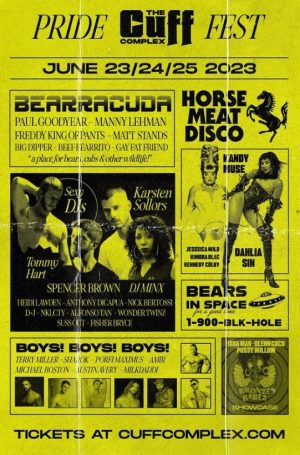 While its big sister Queer Bar is offering up a superstar line-up of talent for their 3 day Queer Pride Festival for Seattle's LGBTQ+ celebrations the weekend of June 23rd through June 25th, that includes headliners Orville Peck, Pabllo Vittar, Peaches, CHARO, and Trixie Mattel, up the street at THE CUFF COMPLEX, things are a little dirtier.
Throbbing, in fact.
Yes, it's that time of year to snatch those 3 day passes or single day tickets (which just went on sale) for The Cuff's annual Pride Street Party which has grown from the one day/Sunday of Pride Weekend only event to three days of top DJs, the hottest gay porn go go boys, and top notch drag entertainment. For 2023 all three days of the fest include some popular and beloved names in the world of gay entertainment and especially of the circuit party/night life variety.
Things kick off on Friday, June 23rd with BEARS IN SPACE, the LA based DJ collective featuring Spencer Brown, Heidi Lawden and Anthony DiCapua. Then, on Saturday the 24th, things heat up even more with BEARRACUDA PRIDE featuring Paul Goodyear, Manny Lehman, Freddy King of Pants and Matt Stands..PLUS, Big Dipper, Beef Bearrito, Gay Fat Friend and Brock Tideus.
On Pride Sunday, June 25th, the biggest guns of all are brought in with the return of the beloved HORSE MEAT DISCO and DJs like Karsten Sollors and DJ Minkx and Tommy Hart and Nick Bertossi….plus drag stars KANDY MUSE, JESSICA WILDE, DAHLIA SIN and more.
Oh, and all sorts of sexy men including Terry Miller, Sharok, Michael Boston, Porfi Maximus, Amir and more will be doing the go go thing on all three days! (not all of them on every day…I mean, they do have lives outside of shaking their asses on milk crates to be ogled and fondled by horny mens at gay bar events…I mean, I follow some of these fellows on Instagram and they're more than just hunks of meat!)
That's a lot to handle.
Snag 3 day passes and single day passes over at https://wl.seetickets.us/event/Cuff-Pride-2023/536822?afflky=TheCuffComplex
(Visited 101 times, 4 visits today)