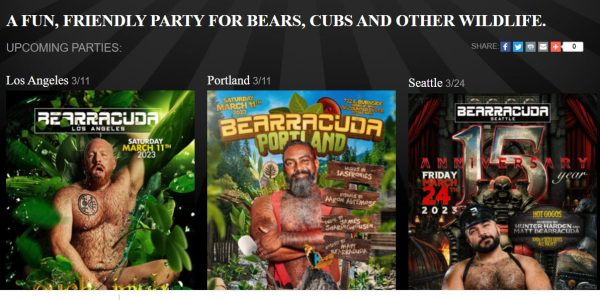 My, oh, my…how time flies. It seems like just yesterday that the insanely popular dance party for the Bear community, BEARRACUDA came to Seattle. In reality, it was FIFTEEN years ago, (when I was just a youth of 22…or so) that producer Matt Bearracuda established the Seattle spin-off of the event originally created in San Francisco in 2006.
Since then, Matt has produced Bearracuda events in over 60 cities around the world with several cities, including Seattle, Vancouver, Portland, San Francisco, LA, and Denver seeing multiple parties happening frequently throughout the year. The brand has branched out to doing cruises as well.
To celebrate Bearracuda's 15th Anniversary, the party will raise the roof at their Seattle homebase at The Cuff Complex on Friday, March 24th with DJs Matt Consola and Freddy, King of Pants with hosts Hunter Harden and Matt Bearracuda himself.
More poo and ticket link down below!
Bearracuda Seattle
FIFTEEN YEAR ANNIVERSARY
DJs Matt Consola & Freddy King of Pants
Doors at 9pm, party till 3am!
THE CUFF – 1533 13th Ave
21+, HOT Horny Go-Go's
Hosted by Hunter Harden & Matt Bearracuda.com
Since 2008, Bearracuda has been partying hard in Seattle! On Friday, March 24th we celebrate FIFTEEN YEARS in the Emerald City! Join 100's of guys partying and dancing until late with Matt Consola & Freddy KOP.
ADVANCED TIX available here: https://www.eventbrite.com/…/bearracuda-seattle-15-year…
(Visited 34 times, 1 visits today)