They're claiming it's the very first Pride Festival in Everett!
Which is both great but also a bit sad that it took so long to happen but a big hurrah for Everett organizers for producing their first big Pride festival this Saturday, June 17th at the Wetmore Theatre Plaza at 2710 Wetmore Ave (cross street California) from 11am to 6pm.
It looks like your typical community LGBTQ+ Pride event with a stage, performers, booths, food trucks, etc. The images here give you a line-up and a schedule.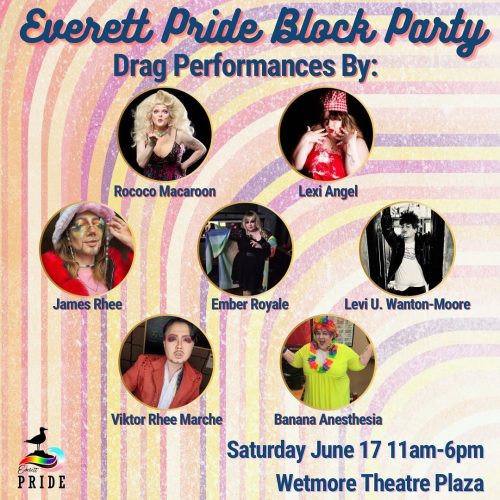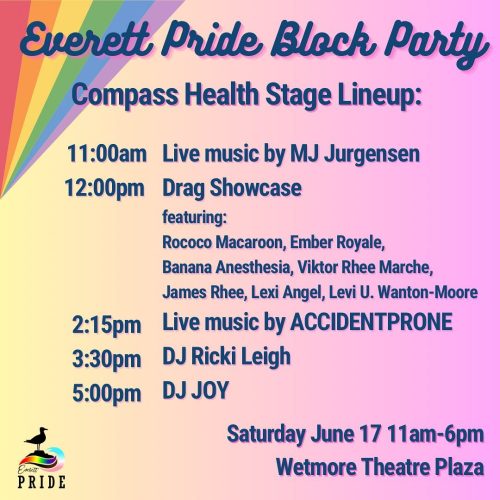 It's a big plus for Everett and Snohomish County to have this event for the LGBTQ+ folks who live up there. They had a huge setback last month when a fire destroyed one of the county's few gay venues, ReMyx'd located at 17216 Smokey Point Drive in Arlington which is just off I-5 and a few miles north of Everett.
There had been suspicions that arson was responsible for the fire after the bar/restaurant had been the target of death threats after ReMyx'd had received publicity about its LGBTQ events including drag shows and Pride celebrations. But, early investigations seemed to show that arson was not the cause of the May 28th fire.
Sadly, owner Brenton Holland (who has owned other gay venues in the area) announced on social media he would not open a new bar:
Hopefully, this celebration in Everett will lead to bigger and better opportunities for all the LGBTQ+ people in Snohomish County. Everett has had gay bars in the past but currently there are no openly welcoming venues in the city.
(Visited 133 times, 1 visits today)