A Very Queer Health Fair
February 22, 2020 @ 10:00 am

-

4:00 pm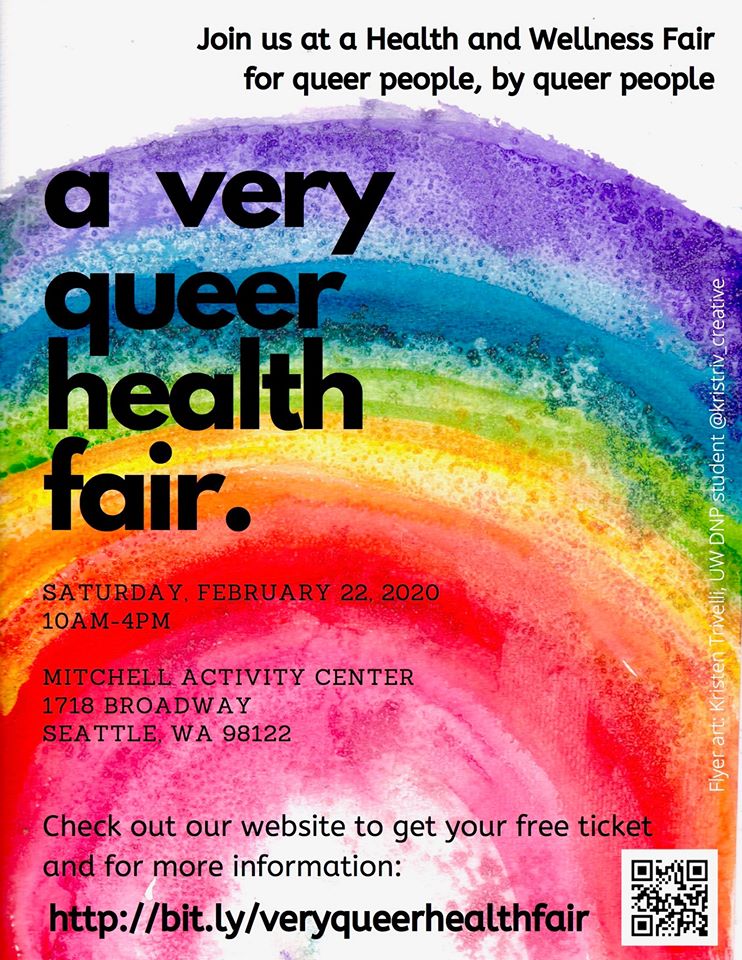 A Very Queer Health Fair is a FREE, all-inclusive LGBTQTSIA+ health and wellness fair created for queer people, by queer people.
What can you find at this health and wellness fair?
-Comprehensive 2.5 hour dental care appointments (limited spots! http://bit.ly/veryqueerhealth-program)
-Ability to schedule new patient appointments at a downtown public health dental clinic
-Reduced fare ORCA and insurance enrollment
-Navigation and documents for name and gender marker changes on state/federal IDs by Lavender Rights Project
-HIV testing, counseling, and education by Entre Hermanos
-Haircuts by Bishops Cuts & Color
-Resources and information about services you can access at Gay City and Ingersol (both of which will be there to table!)
-A free raffle with multiple prizes from queer-owned, run, and allied businesses
-A limited number of free Reiki sessions (available 1-4 pm, 20 min each, 6 slots available, email anew.breath.reiki@gmail.com to schedule!)
-Safe injection techniques
-Blood pressure screening
-Contraceptive options: education and information
-Pain and work ergonomics
-Safe-binding information for your shoulders, chest, and breathing
-Fluoride treatments to help prevent cavities
-Head and neck exams
-Pre-surgery preparation and post-surgical recovery
-TMJ (jaw pain) resources and information
-A photobooth
-A vogue performance from the House of Essence
-Pop up market w art and other creations from local and student LGBTQTSIA+ artists
-live music from LGBTQTSIA+ artists and musicians
-and much, much more!
Head over to http://www.bit.ly/veryqueerhealthfair to learn more about who is coming, what the raffle items will be, who is coming to the pop up market, and to schedule your dental appointment! Make sure to get your FREE tickets today*!
*Tickets are not required to attend, but they help us estimate the amount of attendees which will aid in our programming 🙂
**In order for beloved community members with chemical injury to attend, please don't use scented products (commercial detergents, shampoo, soap, perfume).
***We acknowledge that the land our event is being held on is the traditional home of the Coast Salish people, the traditional home of all tribes and bands within the Duwamish, Suquamish, Tulalop, and Muckleshoot nations. Without them, we would not be able to hold such an event. We would like to thank them and thank the original caretakers of this land who are still here.
Related Events