Depth: Mark Ernestus [Basic Channel, Rhythm & Sound]
May 18, 2019 @ 10:00 pm

-

3:00 am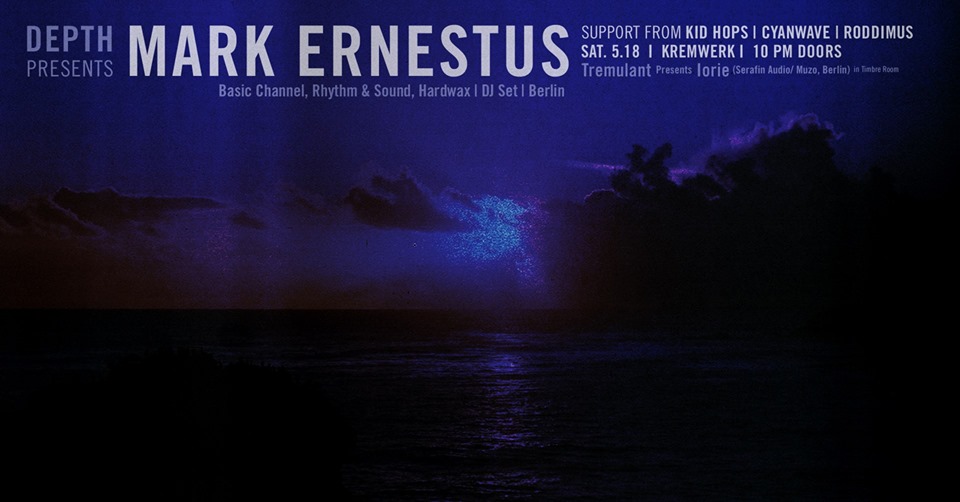 DEPTH Seattle invites you to an evening with dance music legend…
· Mark Ernestus [Basic Channel, Rhythm & Sound] ·
Mark Ernestus is the founder of the legendary Hard Wax record store, which in 1989 laid the foundation for Berlin's electronic club music scene. He played a key role in establishing the Berlin-Detroit nexus, and started creating music as one half of Basic Channel (aka Maurizio), with its deep, immeasurably influential hybrid of dub and techno.
As Rhythm & Sound, the duo refined this signature sound alongside a range of vocalists, most extensively Tikiman (aka Paul St. Hilaire), plus reggae legends like Cornel Campbell, Jennifer Lara, Willi Williams and Sugar Minott.
In the mid-nineties, BC set up Dubplates & Mastering, a mastering and vinyl cutting studio, launched the Chain Reaction label for third party productions, and later a series of dub and reggae reissues drawn from the fabled Bronx-based Wackies label.
PLEASE NOTE: Ernestus' sets feature dub and reggae, mostly instrumental, from deep roots to militant steppers, roughneck electronics to digi minimalism, heavyweight doom to hardcore uptempo. On occasion, he plays West African dance music.
· Kid Hops ·
https://soundcloud.com/kidhops
· Cyanwave ·
https://soundcloud.com/cyanwave
· Roddimus ·
https://soundcloud.com/farmerbotic
Get Tickets: http://bit.ly/MarkErnestusKW?
Tickets available for Depth, as well as a combo ticket which gets you into Tremulant Pres. Iorie (Serafin Audio/ Muzo, Berlin) in Timbre Room.
Kremwerk
1809 Minor Ave.
Seattle, WA
http://kremwerk.com/
21+
………………………………………
Sign up for the Kremwerk + Timbre Room Complex mailing list on our website, to stay in the loop about upcoming events, ticket giveaways and more!
http://www.kremwerk.com/
Shout-out to Chris Zaldua for the help w/ the event writeup!
………………………………………
Kremwerk strives to be a safe space. The following actions or display of behavior will not be tolerated: bigotry, racism, sexism, transphobia, homophobia, misogyny, ableism, as well as the disrespect of the rules of consent. Our staff is here to support you.
Kremwerk is currently not an ADA accessible space. Club entry is through a flight of 12 metal stairs, with two small steps leading into the main part of the club. We have 2 restrooms with a total of 3 stalls and 1 urinal, all gender neutral. If you would like access to single-stall restrooms, please don't hesitate to ask our door & security to allow entry upstairs into Timbre Room, which has 2 single-stall gender-neutral restrooms.
For any questions about safety & accessibility, please email info@kremwerk.com.
(Visited 4 times, 1 visits today)
Related Events