PFM's PRIDE Month Scrimmage!
June 23, 2019 @ 6:00 pm

-

8:00 pm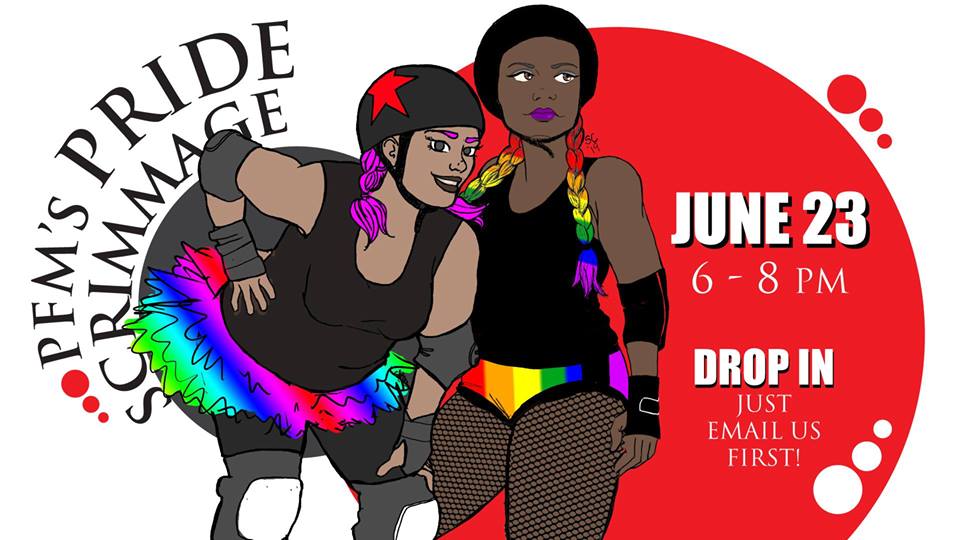 Scrimmage!
Who:
Skaters (in any full contact situation at PFM): We welcome anyone who is 18 and up and identifies as a woman as well as people who are compatibly gender non-conforming. Including femme- or andro-leaning non binary people and agender people who are comfortable in a space primarily designed for those who identify as women. (We do hold regular all gender non-contact open practices. See calendar link for details.)
Referees and NSOs –
All genders welcome. Ages 14 and up. Come in and join us, we'll teach you! Referees required skating level is that you have passed New Skater (can stop at speed and are stable) or the like.
Guests are always welcome to watch from the bleachers.
What:
PRIDE Scrimmage!!! – Bring some extra PRIDE month flair to your outfit this month. Everyone is welcome, but LGBTQ will have priority and others be asked to backfill and support as needed including spectating and cheering. We love for lots of allies to show up and participate in the fun! For all positions priority will be given to LGBTQ skaters.LGBTQ are self identified and no questions will be asked, other than what you identify as. This will be a mix of a LS and RS, please report one hour early if you are in your first three scrimmages.
Recreational Scrimmage – After at least 4 full scrimmages (with us or elsewhere – NOT including scrimmage scenarios at practices), you can come to PFM's Recreational Scrimmage. The requirements for Recreational Scrimmage are that you have skated in 4 of our Learning Scrimmages (3 green taped and one not taped) and that you have passed or are close to passing your WFTDA minimums. The level of play is based on who comes that day, and is higher but still not all out aggressive/competitive – we play for fun.
Learning Scrimmages – Are the 2nd Sunday of the month. Until you're ready to play you may always come to scrimmage to watch, volunteer to help, or learn to referee. Learning Scrimmages are special to PFM. We green-tape our newest members for safety and extra support for your first three scrimmages. This means the veteran skaters will only positionally block green skaters and members of both teams will help them learn the game. It is a low key game, vets are needed to help mentor and have fun. Required skating level is that you have passed New Skater (can stop at speed and are stable) or the like.
When:
2nd Sunday – Learning Scrimmage
4th Sunday – Recreational Scrimmage
5th Sunday – People of Color (POC) Scrimmage
See events for call times.
Where: Magnuson Community Center. 7110 62nd Ave NE, Seattle, WA 98115.
How and PFM extras:
Show up, bring a black and a red shirt (we do have pennies if not), $6, and a positive attitude.
Add some PRIDE flair to your outfit on PRIDE week, if you'd like to. But still bring a black and red top.
Be respectful to the officials and other players. PFM has a zero-tolerance policy for talking back to refs and trash-talking other players.
We will always scrimmage- no matter the number of skaters – because there's always something to learn: even playing 2 on 2. Our ideal, of course, is 2 full line ups.
If skating with a smaller number of skaters, we will adjust time between jams, number of breaks, penalty specifications, etc, to make the game safe for all.
Please be sure to acquaint yourself with the WFTDA rules, link below, before attending.
Please email pfmrollerderby@gmail.com, before scrimmage, if you have not been to PFM at Magnuson or if you have any questions.
The only reasons for cancellation would be an emergency in the form of key personnel or severe weather.
Links:
http://pfmrollerderby.org/calendar/
(Visited 1 times, 1 visits today)
Related Events