Pride: Twirl Revival w/ Nick Bertossi
June 24, 2018 @ 3:00 am

-

7:00 am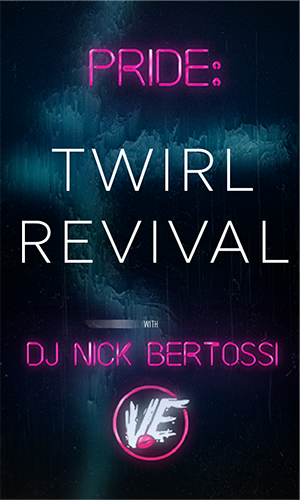 Bus, plane, club, another club, another club no sleep…
The party never stops for Verotica, and to keep the Pride momentum going she's taking you to afterhours with Twirl Revivial at Kremwerk.
That's right! The famed monthly party that started it all is back and Vancouver's own DJ Nick Bertossi is sure to give Twirl one hot resuscitation.
Let's face it, Verotica will need some resuscitating as well … she'll be messy at this point. Please return her belongings to the coat check if you find them on the dance floor.
Better bring sunglasses boys, we're taking this party to the morning!
ZzZz,
Verotica
Online – $18
Door – $20
Verotica Pass – $100
*Included In Verotica Pass*
Verotica Events Pride Weekend:
www.facebook.com/veroticaevents/events
This event is 21+
———
As you may have noticed with our previous events, online ticket sales are limited. It is our goal to make sure the venue follows all regulations regarding capacity and we can only sell a predetermined number of tickets online.
Also, coat check is staffed and operated by KREMWERK. We tend to check more clothes than normal events, please be respectful to their staff as they are doing their best. A true diva knows that less is more, maybe leave that light jacket at home next time? Besides, do you ever see Verotica wearing a coat… "I would NEVER." – Verotica
https://www.facebook.com/events/1968801913371625/
(Visited 1 times, 1 visits today)
Related Events