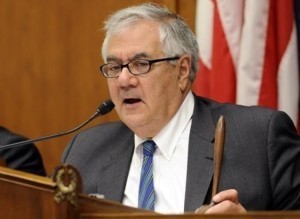 President Obama signed the death knell for DADT this morning. He seemed relieved. So are we. From the Washington Post, via Towleroad:
Casting the repeal in terms of past civil rights struggles, Obama said he was proud to sign a law that "will strengthen our national security and uphold the ideals that our fighting men and women risk their lives to defend."

He added: "No longer will tens of thousands of Americans in uniform be asked to live a lie."

The signing does not immediately implement the repeal but instead begins the process of ending the ban on gays serving openly in the military.

The law will not actually change until the Pentagon certifies to Congress that the military has met several conditions, including education and training programs for the troops.

"In the coming days, we will begin the process laid out in the law" to implement the repeal, Obama said. Meanwhile, he cautioned, "the old policy remains in place." But he pledged that all the service chiefs are "committed to implementing this change swiftly and efficiently," and he vowed, "We are not going to be dragging our feet to get this done."
More news/photos/video after the jump.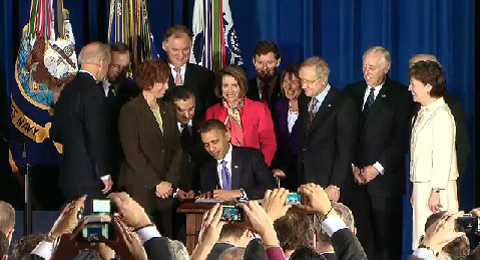 Meanwhile, the Pentagon began the process to transition the military to a DADT free world. From Huffington Post:
Although several military service chiefs expressed opposition to repealing Don't Ask, Don't Tell, President Obama has spoken to them since the measure passed, and they are all ready to move forward expeditiously on implementing and certifying the changes.

"The President called every single service chief separately, talked to them, and they are all about moving this forward very quickly," said a White House official who helped lead the president's DADT repeal effort. "They're soldiers; they understand this is the law of the land, and they're going to get this done. They went through a process that was beyond repute to show we can do this, and I think you'll see a very, very fast process."
Here's the full video of the ceremony.
And, Barney Frank laid out the Gay Agenda. He is awesome.
"It's to be protected against violent crimes driven by bigotry, it's to be able to get married, it's to be able to get a job, and it's to be able to fight for our country. For those who are worried about the radical homosexual agenda, let me put them on notice. Two down, two to go."
– Michael Strangeways
(Visited 1 times, 1 visits today)