It's the battle for the 7th Congressional District seat and front runner Pramila Jayapal  and Brady Piñero Walkinshaw, both Democrats and both currently in the Washington Statehouse with Jayapal representing the 37th legislative district in the Washington State Senate and Walkinshaw repping the 43rd legislative district in the Washington State House of Representatives are bringing big names to Seattle to stump for them.
Jayapal got the bigger gun; former presidential candidate, Senator Bernie Sanders came to town last Saturday, October 15 for a "Get Out The Vote" rally at The Showbox. Sanders supported the progressive Jayapal after she endorsed the Vermont Senator during his run to grab the 2016 Democratic presidential nomination that he ultimately lost to former First Lady/Secretary of State Hillary Clinton.
Now Brady Piñero Walkinshaw has jumped on the "let's get a big liberal name to come to town to support us!" bandwagon by snagging former congressman BARNEY FRANK, the maverick Massachusetts politician who served in the U.S. House from 1981 to 2013 and achieved legendary status in 1987 for being the first U.S. congressman to voluntarily come out publicly as a gay man. In his 32 year long stint in the House, Frank became a leading voice for progressive causes and held the mantle as this country's preeminent gay politician.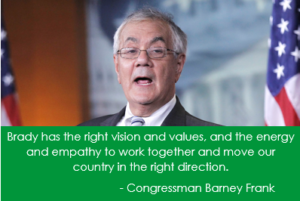 Frank endorsed Walkinshaw way back in May of this year:
"I hope I don't sound self-serving when I say that legislating is harder than it looks—especially when your agenda is to achieve important progressive goals. It requires persuading a wide range of people of varying opinions and backgrounds to agree to changes that they may start out resisting; it means combining a strong commitment to your ideals with an understanding of how to be effective in seeing that they are implemented.

Brady has the right vision and values, and the energy and empathy to work together and move our country in the right direction.

He builds alliances and wins over opponents on tough issues. He's delivered results in mental health; criminal justice reform; drug addiction; housing, and transportation in a State Legislature in Olympia that is also divided between parties."

– Barney Frank, US Congressman, 1981-2013
Walkinshaw is also an out gay man and he's apparently hoping that some of Barney's political stardust will help him beat Jayapal who sailed to victory in the August primary by grabbing 42 percent of the vote to Walkinshaw's 21%. But while Jayapal has a higher national exposure and strong appeal to the far left, Walkinshaw's more local support and backing from moderate Democrats like those who supported the third ranking candidate in the primary, Joe McDermott who snagged 19% of the vote and now endorses Walkinshaw in the November General Election, lead many to think that the 32 year old Whatcom County native might have a chance to defeat Jayapal.
Barney Frank, who supported Hillary Clinton during the primary season and made negative comments about Bernie Sanders and his run for the White House, could help rally LGBTQ voters and progressive Seattle Democrats who shy away from some of Jayapal's more socialist stances. He's coming to Seattle this Friday, October 21, 2016 for a fundraiser luncheon in Belltown. To register (and pay; this IS a fundraiser with lowest price to attend at $100) go HERE.
Tags: Barney Frank, Brady Piñero Walkinshaw, Political Fundraisers, Washington 7th Congressional Race