I have been following Vinsantos Defonte for a few years now.  Originally turned on to him by my friend Kook Teflon (she has turned me on to some of the best queer artists!) Vinsantos is a treasure trove of the queer and edgy…you know I love it!  For those of you unfamiliar, Vinsantos is a legend of the Underground Drag and Cabaret scene here in the US and abroad.  Originally from San Francisco, he worked as a regular cast member with infamous Drag club Trannyshack and served as musical director for Peaches Christ's Midnight Mass. As a film maker, he collaborated with Joshua Grannell to create the San Francisco Underground Short Film Festival.
In 2008, he released his first solo full length album "A Light Awake Inside" produced by Goth Rock luminary, David J (Bauhaus/Love and Rockets). "Like all of the greats, when Vinsantos takes the stage, he has the ability to arrest time." – David J.  Since then, he's taken his mixed bag of talents and combined them into a distinct brand.
As a multi disciplinary artist, Vinsantos works with live music, Drag artistry, film and storytelling to create a unique and highly intimate atmosphere with his audience. He is now bringing his show, Harlequeen Nights, to Seattle on October 23rd.  Harlequeen Nights serves as a retrospective of nearly 20 years on various stages through a series of one act performances.
"It's time for me to take a look at ME now, before I forget the milestones and the hurdles that come with working as an underground Cabaret artist."-Vinsantos
Vinsantos currently resides in New Orleans where he is the Head Mister-ess of the New Orleans Drag Workshop, a ten week program that takes folks from all walks of life and guides them into becoming memorable Drag superstars. In the short time that he's lived there, he has transformed the Drag landscape and cultivated a level of diversity previously unavailable in the South. He's a staple of the local Drag, Burlesque and Cabaret scenes. With his day job, he creates Assemblage Art Dolls that are inspired by his years on the stage and behind the scenes of a life other would only dare to dream of.
I had the honor of indulging in a little Q & A with Vinsantos in advance of his Seattle appearance. Read on for all the juicy bits…..
---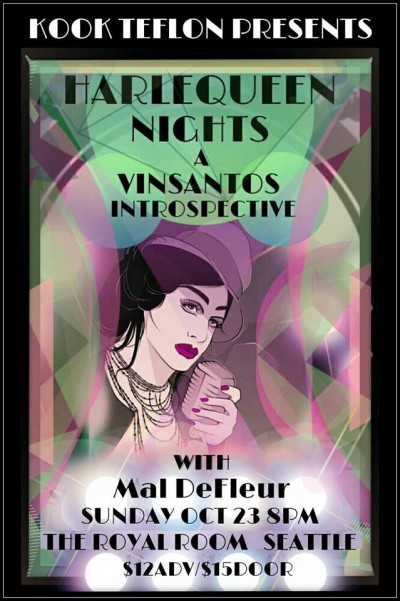 LA Kendall:    I have been hearing your name from friends and industry peers for literally years.  How is it we have never met?!
Vinsantos Defonte:    It's funny that you would say that, because I feel the same way. I don't doubt that we have met before or at least have been lurking at the same functions. Maybe it's time for us to deal with this face to face in an arm or leg wrestling match!? Or maybe just coffee talk.
LAK:      I don't know…I have a mean leg wrestling technique. Maybe we should stick to coffee talk! You worked as a regular cast member at the legendary TRANNYSHACK?!  That night, now no longer, was such an oasis for me from the norm of main stream drag.  I mean, don't get me wrong, I love drag queens in all forms.  But TRANNYSHACK was refreshing in its difference.  What was it like to be a part of the cast?
VD:    Trannyshack taught me everything about being an original and committed performance artist. I too love all forms of Drag, but this club was way ahead of it's time. I was with them from 1999 up until the end. We just recently had a reunion at Heklina's new club that is actually called Oasis. This interview is getting too weird too fast!
As with many of the legendary performers that came off that stage, I started as an audience member and a fan. After my debut as Wendy O' Williams, crushing televisions and all, I was hooked and performed almost every week for years. For those of you not familiar with this historical weekly club, it was set on a Tuesday night at Midnight and had a different theme every damn week! We were challenged to work very hard and very fast to come up with ideas that fit inside of these themes. The budget was always low to NONE and forced us to be very resourceful. This all happened at The Stud, a bar with the tiniest stage and limited lighting and tech. These limitations pushed us even further to create our own atmospheres and production values.
Trannyshack was also an all inclusive performance troupe. All genders, races, shapes and sizes and open to any interpretation of what Drag is and can be. There were never any limits placed on the performers. I took full advantage of this creating multiple characters, some of them touching and some of them terrifying. I won't even get into the time I almost burned the club down mid show! There are too many incredible characters to list in one interview, but so many of my favorite performers and closest friends got their start on that stage and moved on to create beautiful dynamic careers. The two that come to mind first would be Fauxnique and Peaches Christ. We continue to collaborate and support each other years after the demise of the weekly shit show.
LAK:    I have visited Heklina at Oasis.  Really proud of her for taking that on.  Your resume is kind of bananas. You served as musical director for Peaches Christ's Midnight Mass as well, which also has a rich history in the queer community in San Francisco and beyond and let's just address the fact that you are a film maker also, and worked to create the San Francisco Underground Short Film Festival.  What inspired you to the lofty goal of taking on an entire Film Festival?
VD:    Peaches Christ and I became fast friends through Trannyshack, and I was fortunate enough to then become a regular cast member and for a time, musical director for Midnight Mass. This was a monthly show at The Bridge Theater, an old independent movie house in San Francisco. The show would revolve around a feature film, typically one with cult or B-movie status. The shows that would happen before the film played, were always mini sagas. It wasn't a bunch of solo drag numbers back to back, but a cohesive theatrical production. This often involved "acting" and at it's height, original music. I had been in bands since I was a teenager, so this roll came naturally to me and at the same time taught me how to write for someone else as opposed to just doing my own material. This led to many memorable shows and the opportunity to work with some of my heroes and sheroes. The highlight of my MM years was when I got to work with Elvira, Mistress of the Dark. Although, admittedly, I missed our first ever night together as I was caught up in a fiasco that most undeservedly landed me in jail on opening night!!!. Sounds glamorous? It wasn't. It was a clerical error that put me in the slammer for 24 hours. I could never get that time back, but it also earned me a nickname from Elvira herself. JAILBIRD!!!!
Beyond MM, I was also the musical director for the San Francisco Underground Short Film Festival. This is a festival that Peaches and I created out of our love for film, and also became an avenue to screen our own short film projects and the projects of other rejects from the more established and upper crust film festivals. This night would always kick off with a live rock show and an original tune to set the stage for the onslaught of subversive programming that this festival became famous for. I'm happy to say that this festival is still going strong, just not with my help, as I now live thousands of miles away.
LAK:   And on top of being a film maker, you are an accomplished musician too? In the late 2000s, you worked with Goth Rock Luminary, David J (Bauhaus/Love and Rockets) on your first solo album "A Light Awake Inside".  How did you hook up with David J, and what drove you to make this album?  SO MANY QUESTIONS!
VD:    The two biggest milestones of my musical career have been my first solo album and my first feature film score. "A Light Awake Inside" is my debut full length professional studio recording. It was produced by David J (Bauhaus/Love and Rockets). Growing up with Deathrock, you can only imagine what it was like to find out that I would be getting an email and a phone call from one of the most important Dark Lords of music. I have a great respect for David J. He is relentlessly putting his feelers out to find unique and interesting music and art partners. We were introduced by a mutual acquaintance that thought we would be able to make majic together, Black Majic. David and I and a group of skilled musicians spent the better part of two weeks at Tiny Telephone studios. The result was a lush and epic theatrical album. We made the hard choice to record everything on 2″ analog tape with the use of a vintage Neve sound board previously owned by the BBC. There was a great cast of characters involved in this project including Kitten on the Keys, Fauxnique and even Jarboe from the Swans.
The next and biggest and hardest project I was ever involved in was the original score for Joshua Grannell's debut feature film All About Evil. This was a major departure for me and a huge learning experience. The nicest way that I can put it is to say that it was very humbling. It really opened my eyes to what a major role music plays in regards to film. I spent months in my home studio with a small arsenal of instruments. I would record individual scenes from the movie as they were edited and then submit them for approval. The approval rate at first was VERY low. As I got the hang of this style of writing, this rate went up to about 50%. With so much riding on the score, I felt that if I couldn't produce the necessary work, that I could be fired at any moment and replaced. I lived in FEAR that my name may not make it into the opening credits sequence!!! When I received the final sign off on the work, I broke down in tears!!!. I would never dare to speak for women, but I'm pretty sure that it was EXACTLY like having a baby. Very painful and beyond rewarding. It's a miracle that Joshua and I are still friends!!!!
LAK:    You are bringing your show, "Harlequeen Nights – A Vinstantos Introspective" to Seattle on Sunday, October 23rd.  What can the audience expect?
VD:    Harlequeen Nights is a look back at almost twenty years on the Drag and Cabaret stages that formed the character that I am today. You will meet both the "harlequeen" this is my macabre and sad clown persona and also the fully formed Drag queen throughout the course of the show.  It also touches on my early years and how I came to be the artist know as the Macabre Snob, and Everybody's Favorite Drag Grandma. There are some history lessons, lots of live music, original films, and, of course, some good old fashioned DRAG. The audience can expect lots of make up and costume changes. For those that haven't seen me before, I like to create an unusually intimate relationship with my audience. At times you'll feel like your watching the show, and at others, you will feel like you are a part of it. It's always been my number one goal as an entertainer to first and foremost please the audience before pleasuring myself. Did that sound gross? Well, it's not. It's sthuper cute.
LAK:    Was it challenging to assemble your experiences working 20 years, on various stages into one show?  It seems like with your breadth of experience, you could have at least 4 shows!
VD:     With so many years of material collected, it was very tough to decide on a final repertoire. This is just the first of many other Harlequeen Nights to come. I also like to tweak the show a little depending on my surroundings. I recently performed to a sold out house in my hometown of San Francisco. This is where I was able to get really personal with the material. There were some of my oldest and best friends dating back to elementary school, along with my biological and Drag family in the audience that night. You can say that it went a little "off book". For Seattle's sake, one of my oldest and dearest friends and cohorts, Kook Telfon will be producing this event. We have a wild and bizarre history of growing up punk together. Also, Tom Hanks and I have a score to settle when it comes to being in Seattle.
LAK:    A score that involves leg wrestling?  HA!  When you are not touring, your home base is New Orleans.  I've always had a fascination with New Orleans, but have never been.  It's always seemed like an intriguing space for history.  It's also seemed like a nightmare on earth with Katrina and how that was handled.  What is your experience in New Orleans. Being a resident?
VD:     I moved to New Orleans with my husband a few years after the Katrina disaster. It was an interesting time to make the move. As with any other place that has a low cost of living, there were a lot of artists from all over flocking here. The town was having a real renaissance moment. There were and are major challenges that are synonymous with living in the South. There's plenty of subtle and not so subtle racism to go around. New Orleans also has a very high and very violent crime rate. That mixed with a heavy dose of corruption makes for a landscape that seems almost lawless at times. I think that's part of the appeal. It's like taking a step back in time. Hell, we don't even have a recycling program in our neighborhood. The first two months that I was here, I had collected all the cans, bottles, plastics and papers in a growing pile in my kitchen. Eventually, when there was no more room, I had to come to terms with the fact that no one was coming to pick it up. Almost seven years later, the town is going through some pretty dramatic transformations. Call it what you will. gentrification or progress or both. Even with all of that, it still has that 90s feel… the 1890s!!!.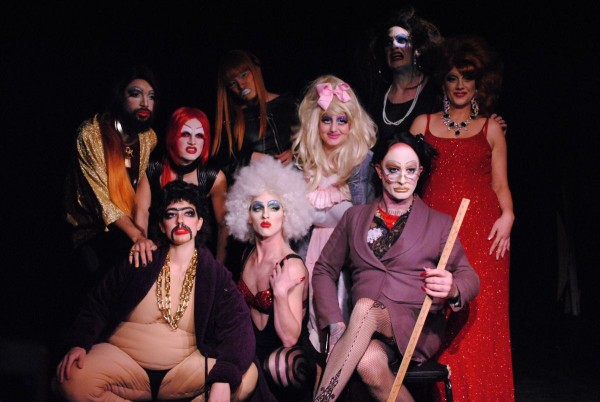 LAK:       I absolutely LOVED reading that you are the Head Mister-ess of the New Orleans Drag Workshop.  Turning out proper drag queens!  Tell me about the New Orleans Drag Workshop.  How long have you been the Head Mister-ess?  Have you worked with anyone we know?
VD:    OMZ! The New Orleans Drag Workshop. Let me try to explain it without writing a NOVEL. When I first moved to New Orleans, I was performing within days of setting foot in town. I quickly fell into the Burlesque and Cabaret/Variety world. There was a very healthy Drag scene, but it was as you might expect when you think about what Southern Drag might be. It is/was a scene steeped in tradition. Lots of pageants. Lots of big hair that looks like it came straight outta the soft serve machine at Rally's. Tons of glamour with little room for experimentation. This is how the Workshop came about. I had been here for a few years, and although I love being a fixture in every scene, I was really missing the Drag that I had grown up on. The Drag without boundaries. There was a small alternative Drag scene blooming, but no one was taking it very seriously. For a while, I just complained a lot and made a lot of trips back home.
Then one day it just hit me. Instead of complaining about what's missing, I would just do something about it and start my own scene. At this point I had performed hundreds and had seen thousands of Drag numbers. It's pretty safe to say that I felt comfortable with my own perception of what makes a good Drag number. I threw the idea of creating a workshop that would focus on making folks more solid and memorable performers. Originally, this was offered to my immediate community. As a people person that's involved in a lot of different things at the same time, my immediate community casts a pretty wide and diverse net. The first run of the workshop lasted 8 weeks culminating in a Draguation ceremony where each student had to perform in front of a live audience. It was an instant and HUGE success! This was a Drag show to end all Drag shows. There was so much support and love for the students from the community and their friends and family.
Since then, there have been a total of 4 Cycles completed and we have turned out 40 students. In a nutshell, the Drag Workshop is a start to finish program.  The students learn what it takes to create an original piece of Drag performance art. To be clear, this is NOT a makeup class. Makeup is only a part of the curriculum which includes song choice, hair and makeup, body transformation, costuming, history lessons, troubleshooting, the ethics of working in the business and marketing yourself. One of the most important lessons is on how to be a DIVA while not being a DIVA (asshole).
We just had our first pageant where some of the top performers from all of the cycles competed for the title of MISS PAGEANT. For this, we took it to another level on a big stage. Contestants were encouraged to step outside of their comfort zones and go beyond the traditional lip sync. The pageant saw aerial arts, stand up, choreography, live singing and even original music and films. Since it's inception, the Workshop has grown, adding more adjunct professors that come in and share the secrets to their own specialties. These professors also act as mentors to the students. Season 3 winner of Ru Paul's Drag Race, Raja has been on hand in a few of our Cycles. She shared some of her makeup secrets and gave inspiring lectures on how to build your career and stay relevant in the business.
We are about to head into our fifth Cycle, which is now a ten week course. With each group, I learn more and more about the art of Drag and the art of human beings. This has been the most fulfilling collaboration that I've ever been involved in. I plan to continue this experiment as long as there are people willing to sign up and work hard. I also encourage others across the globe to start their own workshops. It's truly a transformative experience.
LAK:     I know that you are also friends with the wonderfully talented Kook, and the budding drag superstar:  RainbowGore Cake.  In fact, I think you may have had some influence in RainbowGore Cake's art.  We are big fans of our youngest, most fabulous queen.  I even booked RBGC for Seattle PrideFest this year.  Are you proud of your influence here?  Is it kind of amazing to see the evolution?
VD:    Kook and I have been involved in life and art since our early twenties. That's like a hundred years ago! Our relationship is rich in both collaborations and getting into major trouble. RainbowGore Cake is a byproduct of our love for all things macabre and all things Drag. I could not be more of a proud mother with this one. I have to admit, that I'm a little jealous that I didn't get to start my career at the age of 11. This kid has it all. A writer, a performer, a film maker and a visual artist. Oh, wait. that sounds like me!. This last year saw Rainbow as a headliner at the Austin International Drag Festival on the same stage as some of Drag's greatest legends like Varla Jean Merman. From that to being a featured performer at Seattle Pride this year, she is tackling her challenges like a pro. There's no limits to this artist's potential, and I can not wait to see how her career takes shape over the next several years. At some point I'm sure I'll be able to say that I "knew her when". All the while, trying to score a backstage pass so I can say hi as she ignores me like a stranger on the street.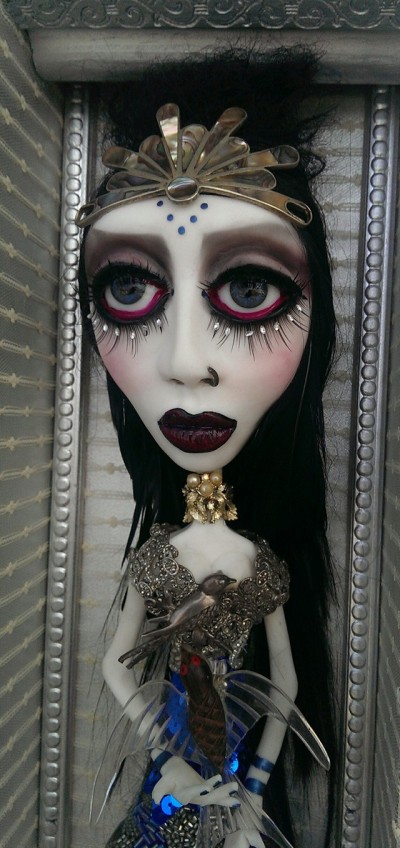 LAK:       Last question:  I read that you also (on top of all of your other talents), make dolls.  Wow.  As if it doesn't seem like you are busy enough.  So many creative outlets.  What inspires these creations, and will you have any available at the show on the 23rd?
VD:    My other career as a doll maker happened quite by accident, although I'm pretty sure if you trace things back, you will find that Kook Teflon was a guiding force behind the inspiration. When I moved to New Orleans, I did NOT have a job. I was started working in an outdoor flea market selling tchotchkes. There were several artist out there making a living off of stuff that they created. Just like with Drag, I though to myself, "I could do that". Turns out I was right. My visual art started out as small scale mosaics. From there, characters started to develop. The next phase were character based assemblages made of parts and pieces that I would find around the French Quarter.
Then, Kook came to New Orleans for a doll show with a dozen other female doll makers. This is where I met Sheri Debow who taught me to sculpt with polymer clay. This changed the direction of my visual art overnight. At their current state, they are sculpted dolls, adorned with vintage and antique jewelry and ephemera, encased in their own custom made homes and trapped behind glass. I was very fortunate to get picked up by a local gallery owner at Tresor Gallery and get out of the outdoor market life. It's given me a lot more time to experiment with and perfect my craft. And I swear to the Goddess, if I ever have to set up another damn folding table or pop up tent in my life, I'll jump straight off a bridge!!!!!!! You can view my current work at tresorgallery.com or on my FB page – Vinsantos Art Dolls.
---
Don't miss this one night event!!!
Harlequeen Nights – A Vinsantos Introspective

October 23rd Doors at 7:30 show at 8pm

The Royal Room, Seattle

TIckets $12 adv $15 door.

https://www.strangertickets.com/events/37694695/harlequeen-nights-a-vinsantos-introspective-nola
For more info on Vinstantos Defonte:
Workshop article – http://www.vice.com/read/meet-the-graduates-from-the-harvard-of-drag-schools-109
Art Dolls article – http://blog.art21.org/2016/07/08/things-that-look-like-me/#.V_6LQbgrKRs
Album – https://open.spotify.com/album/0E221LHHfFaYyQy0F3Kzma
(Visited 2 times, 1 visits today)