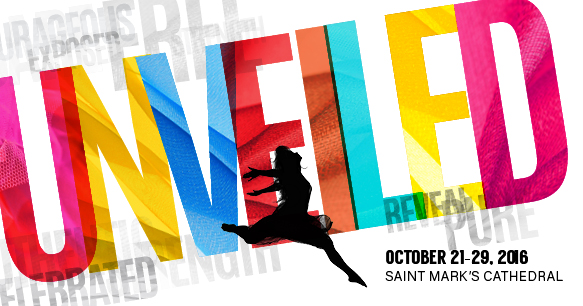 This weekend marks the launch of a new era for Flying House Productions the parent organization behind the Seattle Women's Chorus and the Seattle Men's Chorus. It's the first public concert for new artistic director Paul Caldwell taking over from the beloved former director, Dennis Coleman who retired from the organization earlier this year.
The Seattle Women's Chorus gets the honor of Caldwell's Seattle debut with this weekend's production of "Unveiled" their annual fall concert which returns to Saint Mark's Cathedral, 1245 10th Avenue East, Seattle (Capitol Hill) for 5 performances this weekend and next. Expect to hear  a wide variety of music ranging from the classic to Broadway to the pop world of Lady Gaga.
More poo from the press release!
New artistic director Paul Caldwell makes his highly anticipated debut leading Seattle Women's Chorus (SWC) into a new era. This is SWC's fifth consecutive year performing inside the historic Saint Mark's Cathedral where the majestic pillars will reverberate with dynamic sounds and bold spirits. The first concert of the 2016-2017 season includes works composed by Paul Caldwell and his writing partner Sean Ivory; it explores our universal need to be seen and heard for who we really are. Alluring choral harmonies influenced by Brazil and Ireland are juxtaposed against pop anthems by Christina Aguilera and Cher as well as pieces from popular Broadway shows like Company and The Wiz. "Til it Happens to You" by Lady Gaga is a powerful response to sexual violence that was memorably performed at the 2016 Oscars; SWC will share their rendition in Act 2.

This program is appropriate for all ages and SWC hosts a special Family Performance at 2pm on October 29; tickets are just $15 for children age 12 and under.

New Artistic Director Paul Caldwell Conducts First Seattle Concert: Seattle Women's Chorus UNVEILED
Five Performances October 21-29 Inside Saint Mark's Cathedral

Tickets to the Seattle performances are $25-$48 and available at SeattleChoruses.org or via the phone at (206) 388-1400. The Seattle area box office is open Monday through Friday, 11AM – 6PM.

About Paul Caldwell
Previously Paul served as the artistic director for Windy City Performing Arts in Chicago. As such, he provided renewed leadership and vision for both the Windy City Gay Chorus and Windy City Treble Quire. He also served as artistic director for the Youth Choral Theater of Chicago, a community-based after-school program enrolling 200 young people in Chicago's northern suburbs. Paul's work with youth garnered national recognition, receiving the Chorus America/ASCAP Award for Adventurous Programming.

Paul composes and arranges music collaboratively with Sean Ivory. Their choral works have been telecast on PBS and A&E and performed at Lincoln Center, the Kennedy Center, and throughout Europe, Asia and Africa. Legendary guitarist Steve Vai recently collaborated with Caldwell and Ivory to create a choral-rock fusion song, "Book of the Seven Seals." Paul made his Carnegie Hall conducting debut in 2014, leading concerts comprised entirely of music he composed. He has also been artistic director for the ¡Canta! Costa Rica festival in San Jose. Paul served two terms on the board of directors of Chorus America and his efforts on behalf of the choral field were honored in 2008, when he received the Michael J. Korn Founders Award for Philanthropic Contribution to the Arts.


About Seattle Men's Chorus/Seattle Women's Chorus
The internationally renowned Seattle Men's Chorus (founded 1979) and Seattle Women's Chorus (founded 2002) comprise the largest community choral organization in North America. Both choruses stand out as the largest LGBTQ-identified men's and women's choruses in the world. Along with the small ensembles, Captain Smartypants and Sensible Shoes, the choruses comprise one of the Pacific Northwest's largest, most vibrant and successful music organizations, performing in Seattle's most prestigious venues for an annual audience of more than 30,000 patrons. Flying House Productions is the not-for-profit organization that governs and manages the Choruses. Collectively there are 600+ singing members and over 80 staff, volunteers, and associate members who support both Choruses. They are a leading voice for the LGBTQ community and offer more than 30 outreach events and main stage concert performances annually.
(Visited 4 times, 1 visits today)