I've tried to not get on too many soap boxes this presidential election season, and have mostly avoided using Seattle Gay Scene as my own public soap box to support/attack any candidates. It is quite clear that I am pro-Bernie Sanders but I've tried to avoid shoving my "Bernie Love" down reader's throats. (Privately, on my own FB page, it's a different story…)
But, this just enrages me. The Washington Blade, arguably the biggest, most powerful and most "legit" LGBTQ newspaper/media outlet in the country has really gone overboard with "Bernie Bashing" by publishing this article: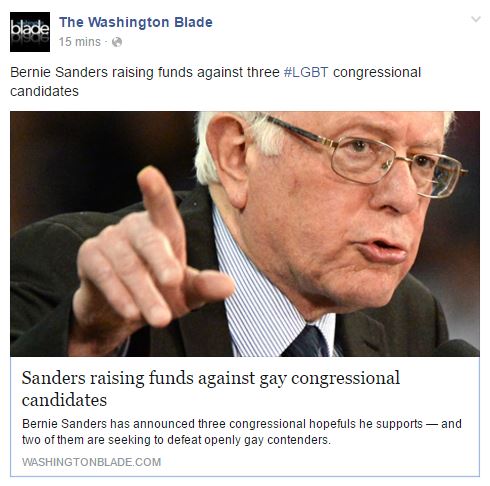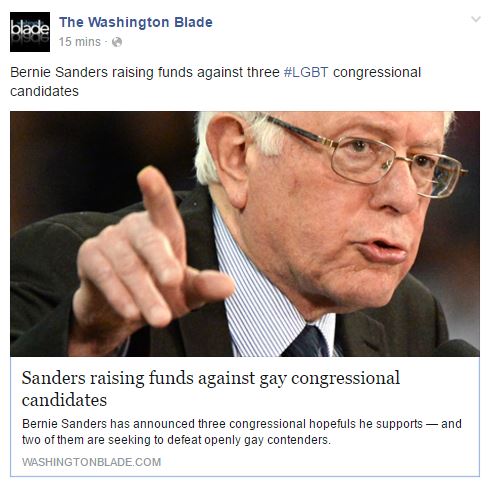 The article was written by Chris Johnson, the Chief Political & White House Reporter for the Washington Blade…which is a big deal and validation that the Blade is respected as a legit news source. Johnson gets to attend White House press conferences, a position that's tough to get. They don't just hand out those coveted spots to anyone. Which is why this article is so troubling, though not that surprising. The vast majority of mainstream corporate media, including gay media, has endorsed Hillary Clinton and has come out swinging against her more liberal and progressive opponent, Bernie Sanders.
Here's the opening of the article:
Following criticism that he hasn't aided candidates down ballot from the presidential race, Bernie Sanders has announced three congressional hopefuls he supports — and two of them are seeking to defeat openly gay contenders.

In a fundraising email on Wednesday, Sanders announced he has endorsed three U.S. House candidates who support him in the presidential race and are seeking the Democratic nomination to run for Congress. Sanders declared support for Lucy Flores, a former Nevada Assembly member running in Nevada's 4th congressional district; Pramila Jaypal, a member of the Washington State Senate running in Washington's 7th congressional district; and Zephyr Teachout, a law professor at Fordham University running in New York's 19th congressional district.

The candidate makes the endorsements amid criticism he hasn't aided other candidates seeking office despite having raised $140 million this election cycle. An unprecedented amount comes from small donors, whom Sanders often says have contributed a average of $27 to his campaign.
So, Johnson and The Blade are going after Sanders because he's endorsed Pramila Jaypal, who's competing against two gay male candidates: Joe McDermott and Brady Walkinshaw. All three are vying for the 7th District Washington Congressional seat being vacated by the retiring Jim McDermott. Both McDermott (currently a member of the King County Council and NOT related to Jim McDermott) and Walkinshaw (currently representing the 43rd Washington State House legislative district) are out gay men and both went on the record with The Blade for this story, objecting to Sanders' endorsement of Jaypal
"The people of Washington's seventh congressional district should decide their next representative, not out of state interests, whether from Super PACs or presidential candidates," McDermott said. "As a gay legislator, I led efforts to include our transgender citizens in our state's hate crime statute, and was a leader in the years long work to achieve marriage equality in Washington. I'll put my track record of proven progressive results up against anyone, and so long as the voters of the seventh district aren't drowned out by outside money, I'm very confident we'll be successful in November."

Walkinshaw said Sanders' effort is undermining efforts to seat an openly LGBT and Spanish-speaking person as a representative in Congress. "It's sad that any national campaign would ignore the fact that multiple progressive leaders are running in competitive Democratic primaries like Washington's 7th, where we have the chance to send our State's first openly LGBT member to Congress and a first native Spanish speaker," Walkinshaw said.
OK, that's fine…we get it. McDermott and Walkinshaw are butt hurt. But, their whining is also ridiculous. ALL politicians in big races get and welcome money and endorsements. If Hillary did for THEM, what Bernie is doing for Jaypal, they would wet their pants in glee.
And, playing the "gay card" is ludicrous. "Well, we're big ole homos and homos are under represented in Congress, so it's outrageous that Bernie isn't supporting us, thus he's AGAINST the LGBTQ community!!!"
Meanwhile, Bernie IS supporting a female candidate (also under represented in Congress) as well as a candidate who is an ethnic minority (even more under repped). Walkinshaw sneakily throws in his own "I speak Spanish!!!" to further cement his claims of "I deserve it MORE!" but…c'mon. Really? Like there aren't Spanish speaking, homoerotically inclined folks in Congress (cough…Marco Rubio…cough….)?
And, The Blade not only goes after Bernie for NOT supporting other down ticket candidates, they then immediately print an attack against him for "interfering" in local elections…so, it's a 'damned if you do/damned if you don't scenario".
And, the fact that the entire tone of this piece suggests EVERY out LGBTQ candidate must be supported in an election or you risk being labeled homophobic, is reprehensible and repugnant. The same scenario happened when our own current Mayor, the openly gay Ed Murray ran for election in 2014. The Murray team and his LGBTQ supporters ran a campaign in the community that demanded that the queer citizens HAD to vote for Murray because we MUST always support a gay candidate.
I said "bullshit" to that 2 years ago, and it's bullshit now. Just because a candidate also enjoys pleasuring the genitals of their same gendered partners is no reason to vote for that candidate…by that rationale, straight people should only vote for straight candidates. I don't really care that Ed Murray, Joe McDermott and Brady Walkinshaw enjoy fellating their husband/boyfriend/partner's penis. What difference does that make? A mutual love of fellatio doesn't mean we're all on board politically with important issues.
It's insulting to queer people to suggest we must vote with our sexuality. And, it's embarrassing that a supposedly sound news source like the Washington Blade is stooping to such blatant favoritism and pandering.
Vote for your candidate of choice on August 2, 2016 when Washington State goes to vote in our state wide primary. We're not endorsing anyone for the 7th District seat at this time. But, we'll never tell you to vote for anyone, ever, solely because a candidate is lesbian, gay, bisexual or transgender. That's dumb.
(Visited 1 times, 1 visits today)