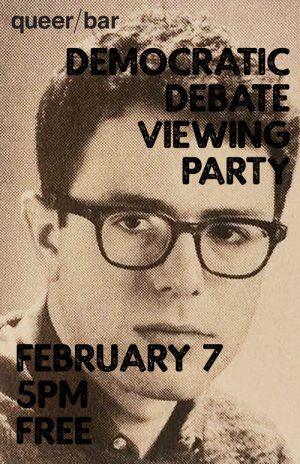 You wanna check out the New Hampshire Democratic Presidential Candidate Debates in the comfort of your favorite bar?
Then head out on Friday, December 7th to Queer Bar on Capitol Hill to check them out! They'll be screening the debate at 5pm to 7pm!
The New Hampshire debate comes just before their primary on Tuesday, February 11th and it's the first face-off for the Democratic Presidential candidates since the VERY interesting (and messy) Iowa Caucus that happened this week which featured some embarrassing technical screw ups that delayed the results but eventually resulted in strong showings for Vermont Senator Bernie Sanders and former Mayor Pete Buttigieg from Indiana who virtually tied in the popular vote, with Senator Elizabeth Warren in a distant third and former Vice President Joe Biden in a dismal 4th place.
The Friday debate in Manchester, New Hampshire is the 8th Democratic debate for the 2020 election cycle is set to feature Biden, Buttigieg, Sanders, Warren, and Senator Amy Klobuchar, billionaire Tom Steyer and businessman Andrew Yang.
(Visited 2 times, 1 visits today)