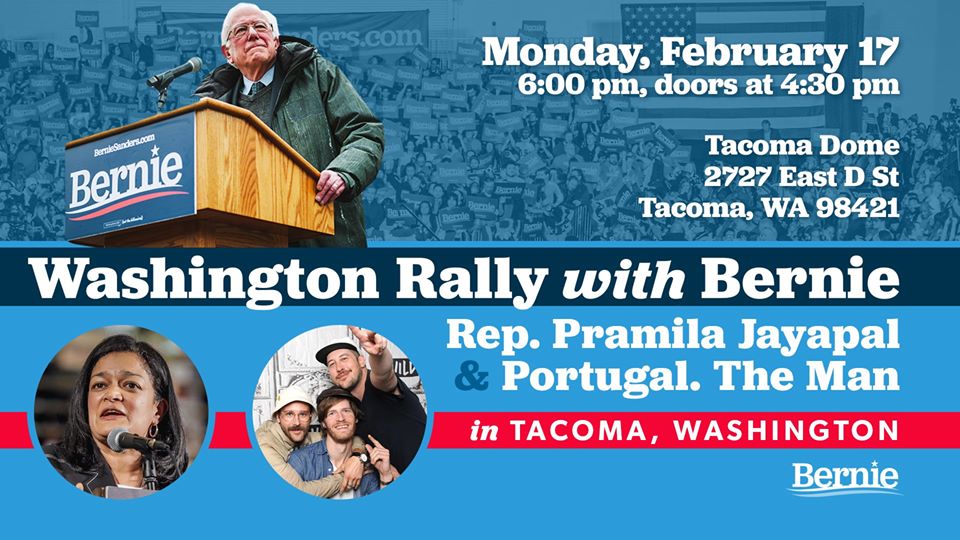 If you want to get in, you best leave NOW to try and get in to the big Bernie Sanders Rally scheduled for today, Monday, February 17, 2020 at the Tacoma Dome in Tacoma Washington. It's Democratic presidential hopeful Bernie's biggest event so far for the 2020 election and Washington State's upcoming primary on March 10, 2020.
Bernie will be joined by Rep. Pramila Jayapal and rock band Portugal. The Man.
Here's all the poo:
RSVP HERE: https://events.berniesanders.com/event/233977/
This event is free and open to the public. Tickets are not required, but an RSVP is encouraged. Entrance is provided on a first come, first served basis.
Parking on-site is limited and requires a $10 fee. Additional parking available at the Tacoma Dome Station. Carpooling and public transportation strongly encouraged.
WHERE:
Tacoma Dome
2727 East D St
Tacoma, WA 98421
WHEN:
Monday, February 17
Doors at 4:30 pm
Event at 6:00 pm
RSVP HERE: https://events.berniesanders.com/event/233977/
Tags: Bernie Sanders, LGBTQ Tacoma, LGBTQ Voters, Tacoma Dome, Washington State Primary