It's an action packed weekend this week with it being Valentine's Day Weekend AND President's Day Weekend plus tons of art stuff happening and theater and it's Coronation Week for the Court of Seattle…you really have your pick of a wide variety of things to do starting with Thursday, February 13th (aka Valentine's Eve).
It's also Capitol Hill Art Walk night so there's a lot of very arty events to choose from as well.
Here's the Thursday events and find more over at the SGS Calendar!
Events for February 13, 2020
11:00 AM
February 13 @ 11:00 am – 11:00 pm|Recurring Event (See all)Fogón Cocina Mexicana, 600 E Pine St
Seattle, WA 98122 United States + Google Map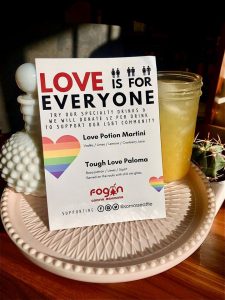 Be sure to stop by and try our Love Potion Martini or Tough Love Paloma now through Feb 16th! $2 of each drink will be donated to Somos Seattle. We're drinking for a cause… what could be better?!!? 11am to 11pm Sunday thru Thursday 11am to 1am Friday/Saturday 21+ for alcohol Find out more »
4:30 PM
February 13 @ 4:30 pm – 9:00 pmSeattle Marriott Waterfront, 2100 Alaskan Way
Seattle, WA+ Google Map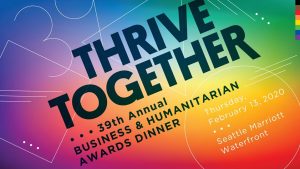 Celebrate this year's greatest champions of equality in business and community across the Pacific Northwest during the 39th Annual Business & Humanitarian Awards Dinner at the Seattle Marriott Waterfront on Thursday, February 13. THE RECIPIENTS New Business of the Year: Thyme Well Spent Catering Chantel Jackson, Owner Business of the Year: Wezee's Plumbing Louise Hansen, […]Find out more »
5:00 PM
February 13 @ 5:00 pm – 8:00 pmHotel Sorrento, 900 Madison St
Seattle, WA 98104 United States + Google Map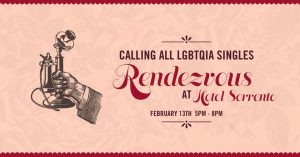 Join us Thursday, February 13th from 5pm – 8pm for an LGBTQ singles gathering in Dunbar Room. Show up solo or with friends, and be ready to meet someone new! Deejayhershe will be spinning the perfect playlist for mingling and mixing with new people.Find out more »
6:00 PM
February 13 @ 6:00 pm – 8:30 pmStudio Current, 1100 E Pike St
Seattle, 98122 United States + Google Map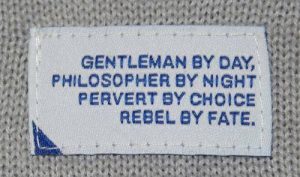 Studio Current's Capitol Hill Art WalkFind out more »
February 13 @ 6:00 pm – 10:00 pmScream Seattle, 819 E Thomas St
Seattle, 98102 United States + Google Map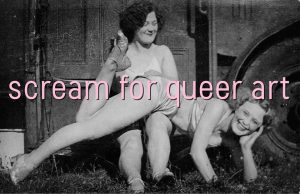 Scream for Queer Art! is a quintessential part of Capitol Hill Art Walk. This monthly gallery/market features an eclectic array of artwork and hand-crafted wares by local queer folx. SHOP SMALL BUSINESS. SUPPORT QUEER ARTISTS. Complimentary refreshments. All ages welcome. Bring cash. CASH IS QUEEN. ▲ ▲ ▲ ▲ ▲ ▲ ▲ ▲ ▲ ▲ […]Find out more »
February 13 @ 6:00 pm – 10:00 pmDoghouse Leathers, 715 E Pike St
Seattle, WA 98122 United States + Google Map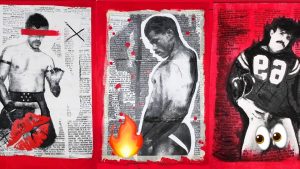 Come revel in filth!! New paintings/prints that celebrate & pay homage to that bible of perversion, Drummer Magazine. These pieces make perfect Valentine's Day gifts for that special shameless slut in your life.Find out more »
February 13 @ 6:00 pm – 10:00 pmThe Factory, 1216 10th Ave
Seattle, WA 98122 United States + Google Map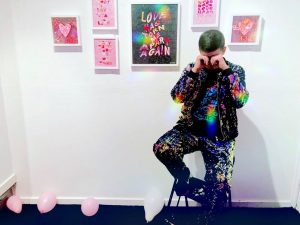 The Factory Presents: Big Little Cry An art show and performance night. A show about loneliness & love lost, break ups & break downs, gloominess & grieving, sadness & sobbing. Artwork by: Lamb DK Pan Chelsie Kirkey Timothy Rysdyke Amanda Manitach & Sarah Paul Ocampo Hourly performances by: MistyDawn Forester Sarah Paul Ocampo Matt Bishop […]Find out more »
7:00 PM
February 13 @ 7:00 pm – 9:00 pm|Recurring Event (See all)ACT Theatre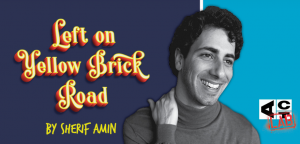 Left on Yellow Brick Road Dates: February 13–February 16, 2020 Run time: TBD Location: Lalie Theatre Sherif Amin is the first Egyptian to perform a solo show at ACT. When a boy from Egypt unexpectedly finds himself in the Land of Oz, he travels to a place past the Emerald City where he stays. Soon […]Find out more »
February 13 @ 7:00 pm – 10:00 pm|Recurring Event (See all)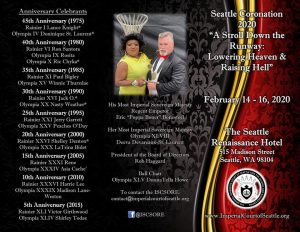 We are pleased to announce Seattle Coronation 49. Come and celebrate the reign of His Most Imperial Sovereign Majesty, Rainier 35, 40 and 45 Eric "Poppa Boner" Bonesteel and Her Most Imperial Sovereign Majesty, Olympia 48 Deeva Devereux St Laurent. Please read below for all coronation information and events. Theme: A Stroll Down the Runway; […]Find out more »
February 13 @ 7:00 pm – 10:00 pmTimbre Room, 1809 Minor Ave.
Seattle, 98101 United States + Google Map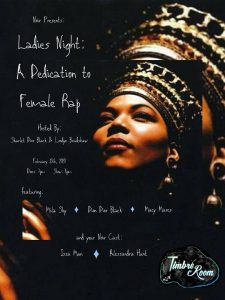 Noir proudly presents a special series of shows for Black History Month: Ladies Night: A Dedication to Female Rap 🎤 TIX: bit.ly/LadiesNightNoir 🎤 Hosted by Skarlet Dior Black & Londyn Bradshaw Performances by: Alessandra Hunt Dion Dior Black Issa Man Macy Marcs Mila Skyy — — — — — — — — — — The […]Find out more »
7:30 PM
February 13 @ 7:30 pm – 9:30 pm|Recurring Event (See all)12th Avenue Arts, 1620 12th Ave
Seattle, 98122 United States + Google Map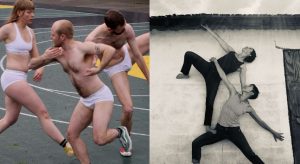 Choreographers and dancers don't often have opportunities to utilize complex or fully-realized sets. With this in mind, Washington Ensemble Theatre provides opportunities for dancers to make and perform pieces on the elaborate theatrical sets of its mainstage productions. Curated by Mark Haim, Babette Pendleton, and Alice Gosti, the first reSET was performed on the set […]Find out more »
February 13 @ 7:30 pm – 9:30 pmNorthwest Film Forum, 1515 12th Ave
Seattle, WA 98122 United States + Google Map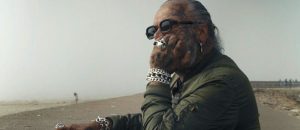 Seattle premiere of the documentary BERLIN BOUNCER, featuring a Q&A with special guest Sven Marquardt, Berghain bouncer and artist, whose photographic work will be on display at the Northwest Film Forum that evening as part of the Capitol Hill Art Walk! The biographies of three legendary bouncers – Frank, Sven, and Smiley – resemble a […]Find out more »
8:00 PM
February 13 @ 8:00 pm – 11:00 pm|Recurring Event (See all)Skål Beer Hall, 5429 Ballard Ave NW,
Seattle, WA 98107 United States + Google Map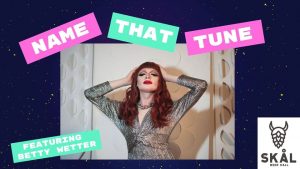 You like being in the spotlight, right? Get ready to show off your music prowess at the beer hall! Join us and your Drag Queen Host, Betty Wetter, for a Name That Tune Battle! Test your musical memory and take a trip down memory lane. Players face off in knock out rounds in categories like […]Find out more »
February 13 @ 8:00 pm – 11:00 pmCentral Cinema, 1411 21st Ave
Seattle, 98122 United States + Google Map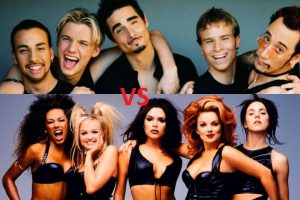 Who will your dream date be? *NSYNC or TLC? Backstreet Boys or Boyz 2 Men? Destinys Child or Spice Girls? New Kids on the block or One Direction? So many babes, so little time.. it's the Sing Along battle you've all been waiting for: Boy Bands vs Girl Groups Playing over 25 of your favorite […]Find out more »
February 13 @ 8:00 pm – 10:00 pmOddfellows West Hall, 915 E Pine St
Seattle, WA 98122 United States + Google Map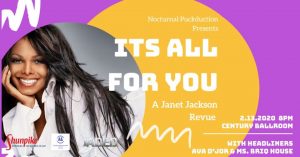 A Nocturnal Puckduction Presents It's All For You: A Janet Jackson Revue With a discography that spans 11 albums, with over four decades of performing and 26 million certified album copies shipped in the United States, Janet Jackson is a Pop Princess and then some! Our fierce Femcee for the evening, Rebecca Mm Davis will […]Find out more »
February 13 @ 8:00 pm – 10:00 pm|Recurring Event (See all)Queer Bar, 1518 11th Ave
Seattle, 98122 United States + Google Map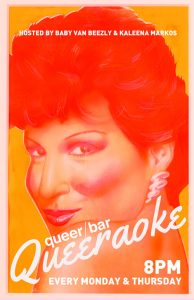 QUEERAOKE 8:00 PM 10:00 PM Our favorite Seattle KJ: Baby Van Beezly, is here to make sure your Thursdays never suck again, with Queeraoke! Every Monday & Thursday night at 8pm, bring your pop star fantasies to life on the stage at queer/bar. Come with friends or make some new ones! Say hello to our host […]Find out more »
8:30 PM
February 13 @ 8:30 pm – 12:30 am|Recurring Event (See all)The Wildrose, 1021 E Pike St
Seattle, WA 98122 United States + Google Map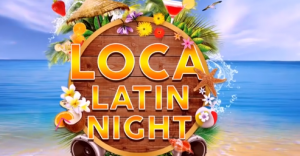 The first "Loca" Latin Night at the Wildrose Bar is on Thursday November 14th. Lady Jane DJ will be on the decks with Reggaeton, Cumbia, Salsa, Bachata and even a few Bandas and Corridos. "Loca" is a Latin Night for the LGBTQ+ community and their friends and allies! All are Welcomed! Featured Drinks by Bartender […]Find out more »
9:00 PM
February 13 @ 9:00 pm – 2:00 am|Recurring Event (See all)RPlace, 619 E Pine St
Seattle, WA 98122 United States + Google Map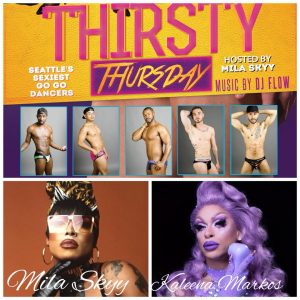 THIRSTY THURSDAYS! It's Thirsty Thursday again! Join us tonight, with DJ FLOW, MILA SKYY, and special guests! And don't forget the hardest working dancers on the West Coast, the TWERK TEAM! Check Facebook for updates on guests! Show starts at 10! The best drink specials in town! DJ Flow spins all night with Seattle's Sexiest […]Find out more »
February 13 @ 9:00 pm – 2:00 am|Recurring Event (See all)Neighbours Nightclub & Lounge, 1509 Broadway
Seattle, WA 98122 United States + Google Map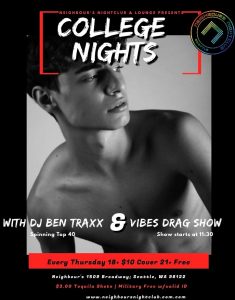 Come see us Thursday for College Night w/DJ Ben Traxx!! 18+ 9pm to 2am! $10 experience charge 21+ No Cover!!! VIBES is Seattle's only 18+ dance night and drag show, every Thursday at Neighbours Nightclub. Sativa of The Chaos Angels is joined by a sickening cast with Angela Visalia and Babyguuurl and hosts Whispurr Watershadow […]Find out more »
February 13 @ 9:00 pm – 2:00 am|Recurring Event (See all)Pony, 1221 E Madison St
Seattle, WA 98122 United States + Google Map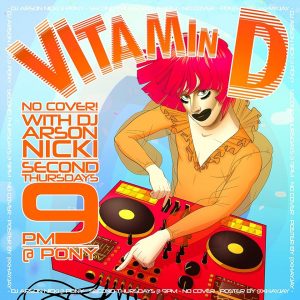 Join Seattle's self made icon Arson Nicki every second Thursday at Pony for a much needed dose of Vitamin D! Free 9pmFind out more »
February 13 @ 9:00 pm – 2:00 amCapitol Lounge, 916 East Pike Street
Seattle, WA 98122 United States + Google Map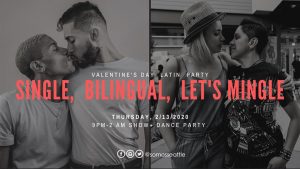 Love is love, join us for a Valentine's Day Latin show & party! Bring your crush, friends or lover for a special show & dance your booty off to the best Latinx beats (Reggaeton, Cumbia, Salsa, Merengue & more). 21+ VIP Ticket $20 includes Taco Buffet & Drink. Dance Party $10 cover. ALL proceeds go […]Find out more »
February 13 @ 9:00 pm – 2:00 amBarboza, 925 E Pike St
Seattle, 98122 United States + Google Map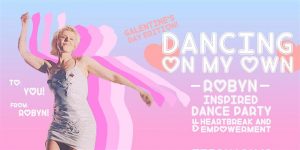 Note: not an LGBTQ specific event; open to all! Dancing On My Own – Galentine's Day Edition! All Pop Music About Heartbreak & Empowerment! Age Restrictions: 21 and over only Important Notice: All tickets are nonrefundable and nontransferable with the exception of event cancellation. Support acts are subject to change.Find out more »
February 13 @ 9:00 pm – 2:00 amMercury @ Machinewerks, 1009 E Union St
Seattle, 98122 United States + Google Map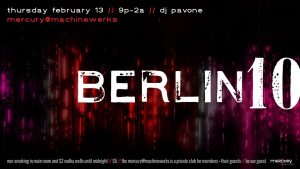 – FEBRUARY 2020 – We're so pleased to welcome back one of our favorites DJ Pavone to help shake off this darkest, wettest, Seattle winter as we claw our ways to Spring. Drink. Dance. Repeat. MUSIC DJ Pavone Legendary Seattle nightlife innovator who makes us sweat; keeps us wet. https://soundcloud.com/derekpavone ————- – DRESS CODE – […]Find out more »
February 13 @ 9:00 pm – 2:00 amReBar, 1114 Howell St
Seattle, WA 98101 United States + Google Map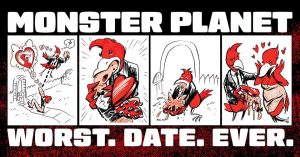 Note: Not an LGBTQ specific event; open to all On February 13th, 2020, SYNPROV CORP returns to their home base at Re-bar for their 8th annual exploration into the moist nether regions of Monster Planet. A mission that is often referred to as: Worst Date Ever! Mission personnel: – Hanssen https://soundcloud.com/hanssen – The Unique Molecule […]Find out more »
10:00 PM
February 13 @ 10:00 pm – 2:00 amKremwerk, 1809 Minor Ave
Seattle, WA 98101 United States + Google Map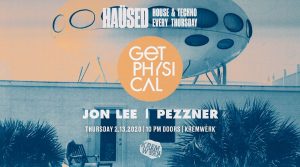 Haüsed, your new weekly destination for house & techno EVERY Thursday at Kremwerk. This week we are excited to host a takeover from Get Physical Music with… Pezzner https://soundcloud.com/pezzner Jon Lee https://soundcloud.com/dj-jonlee Happy Hour Specials until 11 PM… 🍺$8 Beer-Shot Combo 🍹Discounted Wells $5 before 11 PM, $10 After Kremwerk 1809 Minor Ave. Seattle, WA […]Find out more »
February 13 @ 10:00 pm – 2:00 amTimbre Room, 1809 Minor Ave.
Seattle, 98101 United States + Google Map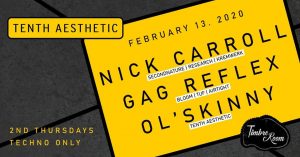 All bets are off on this one! We are honored and excited to host two of Seattle's most versatile and influential DJ's: Nick Carroll is widely known for his parts in Research and secondnature, not to mention his pivotal role at Kremwerk. Gag Reflex (Odessa Swan,) hosts one of Seattle's monthly proper techno nights, Bloom […]Find out more »
(Visited 1 times, 1 visits today)