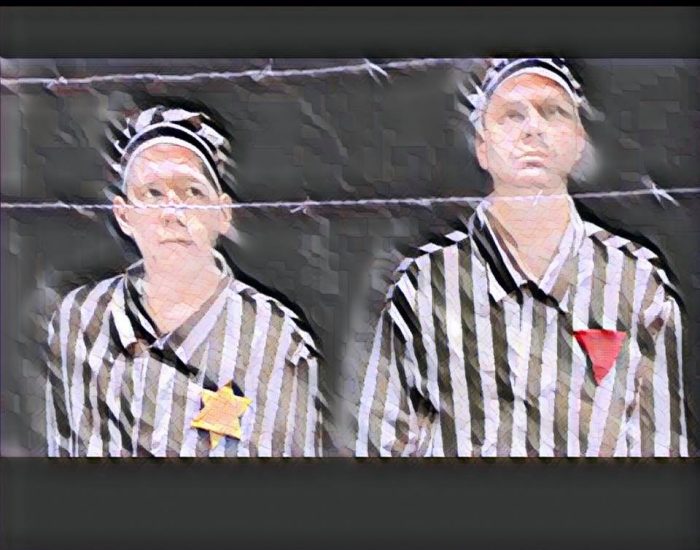 Through Saturday: Bent, a Small-Stage Production in Tacoma, Provides an Important Reminder of Suppression and Decimation of Gay People Under Nazi Rule  
Running through this weekend (Saturday 5/26), The Changing Scene Theatre Northwest presents a stripped-down production of Martin Sherman's acclaimed 1979 play, Bent, held at the tiny Dukesbay Theater in Downtown Tacoma.  
Bent is not a happy script.  It's about two gay men who are taken prisoner in the Nazi sweeps of gay men and Jews, and sent off to the Dachau concentration camp.  There is some optimism — a focused will to survive — that guides them in the beginning, but death around them adds up, and a sense of futility periodically washes over them.  The play follows the ebbs and flows of both.
Bent shows a lot of things most of us would prefer not to think about: the vicious cruelty of the Nazis though direct violence and mass murder with which we're all (I hope) acquainted; but also the lesser-knowns of torture through mind control in a slow creep toward insanity, forcing prisoners to commit cruelty on each other, and the stifling of inter-prisoner kindness and connectivity.  As the play demonstrates, those things can likewise take a deadly toll on populations.
Those lesser-knowns — the psychological control and the decimation of empathy — are the core of the play, and virtually all of the second act.  In particular, without revealing any spoilers, much of the act consists of the characters an excruciatingly long exercise in futility: their job (under the watch of guards) is to shuttle piles of rocks back and forth, one by one, all day, all week, perhaps for years.  Most of the second act takes place through conversations carried on while they perform that fruitless task, and through guard interactions with the prisoners during it.
The script lends itself nicely to a stripped-down production, and that's what The Changing Scene gave it.  In the second act, the barbed wire backdrop and rocks as the sole prop on stage highlighted the themes of bleakness and mind-numbing tasks in a lonely place; a reminder that, there, all the prisoners had was each other.  Sound design was simple but worked; particularly strong was the creepy clack of the train, with universally understood foreboding in the Nazi context. It appeared that the costumes got a large proportion of the design attention, and that served the play well, providing for quick identification of characters and roles within the play's ecosystems, especially when actors were double-cast.  
Let me be clear: this is very much a community theatre production, and a few elements didn't work well for me.  The acting is rough in spots, which sometimes strained believability. The set in part of the first act seemed confused and uninspiring — the couple's apartment (with crystal decanter prominently displayed) signaled something like a poorly decorated but wealthier abode (like a grandma's perhaps), though we come to learn they rent a tiny space and can't pay even for that.  A later scene was ambiguous as to another prisoner's cause of death, an emotional key plot component — whether it was light or sound or action that was missing, or confusing placement on stage, I'm not sure, but it needed clarification beyond me looking at the script later.
But the production has consistent gems as well, including design elements mentioned above, and moving acting in Corey Thompson's engaging performance of Horst (a camp prisoner) and Paul Sobrie's chilling portrayal of a Nazi Captain, which made for a strong finish.   
The Changing Scene gave an overall compelling performance of a bold choice of script.  Bent is a play that needs to be seen and considered — not strictly on the likelihood of another Holocaust, but on what we allow governments and majorities to suppress with fear; what we do to one another under societal pressure; and what is legal (or even commanded by law) but immoral nonetheless.  Increasingly, those are the questions that seem relevant ones of the day. This play provides a good backdrop against which to begin considering those questions.
Bent runs Friday and Saturday at 7:30pm, through 5/26.  It is held in the Dukesbay Theater, upstairs in the Merlino Art Center building at 508 South 6th Ave (located in Downtown Tacoma, not in the 6th Ave district).  Tickets $18, available here.
(Visited 1 times, 1 visits today)