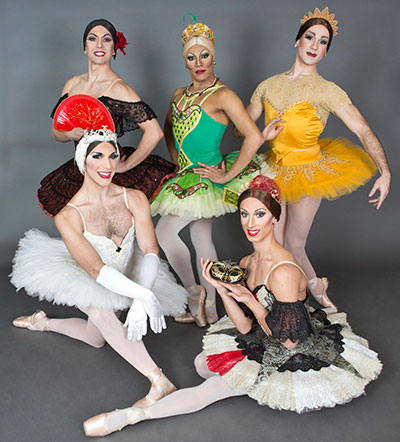 There is gay life outside Seattle, ya know. Our lovely queer brothers & sisters have an active social life down in Tacoma. They have BARS! And, ARTS! And, the gorgy Broadway Center for the Performing Arts where all sorts of terrific shows and events are staged, including the upcoming visit from Les Ballets Trockadero de Monte Carlo, the divine all male ballet company from Europe who will grace the stage at the Pantages Theatre, this Friday, February 20th.
More ballet poo!
Delicately stuffed into tutus and man-sized toe shoes, the gender bending all-male ballet company returns to deliver hilarious twists on classical ballet. A worldwide phenomenon, the comedy of "The Trocks" is only outmatched by their technical prowess. Performing en pointe, these "mallerinas" revel in buffoonery and antics with perfectly pointed toes and leap to the heavens with attuned choreographic precision.

You can grab your tickies HERE!
Sadly, another event in T-Town has been canceled. A co-produced event between Broadway Center for the Performing Arts and the Tacoma Rainbow Center, their big "Queer Ball" was supposed to be THE gala event of the winter for gay Tacomans/Tacomanites but the scheduled for February 28th event is a no go due to low ticket sales:
From the Tacoma Rainbow Center:
In a joint decision made with the Broadway Center, we have decided to cancel Queer Ball due to low ticket sales. We know many of you were looking forward to this event, and we deeply apologize. But we pride ourselves on throwing high quality events, and without the support of better ticket sales, we weren't willing to lower our standards.
There's tons of great, new Rainbow Center-related programming going on right now – our exciting RC Late Nights and lots of yet-to-be-announced activities for the Tacoma Pride Festival. Thank you for standing with us through thick and thin, and feel free to comment or message us with your feedback.
That sucks for everyone who worked so hard on the event or were excited about attending. Frankly, we love the idea of a fahncy Queer Ball for the Puget Sound region. Since Seattle Red Dress is in limbo right now, (though we've heard rumors that it's being revived, again, and this time by the Sisters of Perpetual Indulgence-Abbey of St. Joan) we currently don't have a dressy ball on the immediate schedule.
Maybe it's time to do something about that….
(Visited 3 times, 1 visits today)