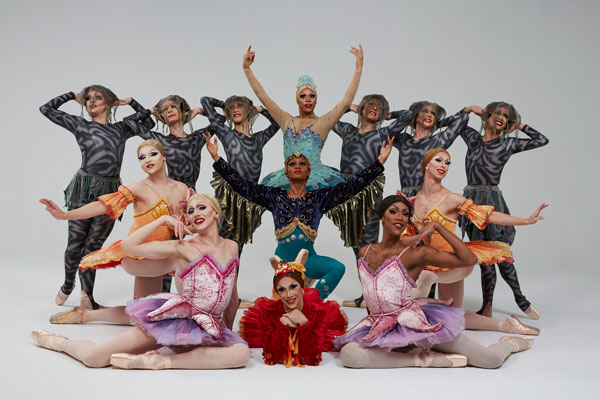 The all male Les Ballets Trockadero de Monte Carlo is celebrating a big anniversary this year as they turn 40 years old and they're coming to the Puget Sound metroplex this March as part of their birfday tour!
But, not to Seattle…they're coming to Tacoma's Pantages Theatre on Thursday, March 9th for one night only, as part of the Tacoma Arts Live series of cultural events. There's a few tickets still available at: https://www.tacomaartslive.org/events/calendar/eventdetail/2041/8%7C9/les-ballets-trockadero-de-monte-carlo
Celebrating its 40th Anniversary season, Les Ballets Trockadero de Monte Carlo was founded in 1974 by a group of ballet enthusiasts who wanted to present a playful, entertaining view of traditional, classical ballet in parody form and en travesty. Les Ballets Trockadero first performed in the late-late shows in Off-Off Broadway lofts.

The original concept of Les Ballets Trockadero de Monte Carlo has not changed. It is a company of professional male dancers performing the full range of the ballet and modern dance repertoire, including classical and original works in faithful renditions of the manners and conceits of those dance styles. The comedy is achieved by incorporating and exaggerating the foibles, accidents, and underlying incongruities of serious dance. The fact that men dance all the parts—heavy bodies delicately balancing on toes as swans, sylphs, water sprites, romantic princesses, angst-ridden Victorian ladies–enhances rather than mocks the spirit of dance as an art form, delighting and amusing the most knowledgeable, as well as novices, in the audiences.
(Visited 27 times, 1 visits today)