March 2023 Theater Openings compiled from press releases by Miryam Gordon.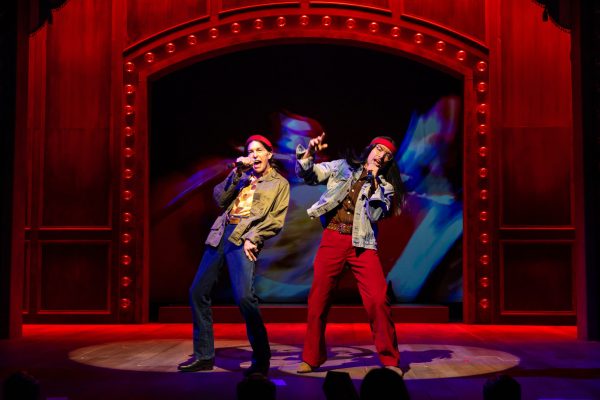 Musicals, shorts fest, Shakespeare, world premieres – March has it all for you. Every person can find something to see they will like on stage! Put on a mask and get out your calendars!
Short Play Festival, Deaf Spotlight, 3/2-5/23 (at 12th Avenue Arts)
Six new 10-minute plays, created by deaf and deafblind playwrights, centered around the theme "floral shop." Deaf creatives and artists will act, direct and produce in the festival.
https://www.deafspotlight.org/
Between Two Knees, Seattle Rep, 3/3-26/23
The first play by acclaimed intertribal sketch comedy troupe The 1491s—best known for the hit television series "Reservation Dogs"—takes audiences on a searing and humorous series of vignettes through American history, centered on one family's account of their experiences from the massacre at Wounded Knee in 1890 to the protests there in 1973.
Born Yesterday, Theatre9/12, 3/3-26/23
Born Yesterday is a scathing comedy about the idealism of the United States Constitution corrupted by greed, ignorance, self-service, and disillusion set shortly after World War II. Self-made millionaire, Harry Brock, has thieved his way up the ladder to buying Senators. Paul Verral, an international journalist, befriends Brock, endearing himself to the criminal who hires Paul to class up his main squeeze: a beautiful but improper "showgirl" who doesn't like having to think. Without altering text or era, Theatre9/12 re-interprets play paralleling today's events.
Henry IV (Parts 1 & 2), Seattle Shakespeare Company, 3/14/23-4/9/23
In a divided country, King Henry IV must defend his rule from enemies both at home and abroad. War looms on the horizon while the King's son, Prince Hal, frequents the taverns and brothels of London, delighting in the company of his friend, the infamous Sir John Falstaff. With the kingdom under threat, will Hal step up to take on his duties to country and family? The fate of a nation and an ancestral legacy hang in the balance as a reckless son learns what it takes to become a true leader.
110 In The Shade, Seattle Public Theater and Reboot Theatre Company, 3/16/23-4/9/23
110 in the Shade is a touching musical adaptation of the hit play The Rainmaker. A small western town is desperate and drought-ridden. One blistering hot day, Lizzie's family pressures her to marry the recently widowed Sheriff File. Charismatic stranger Starbuck comes to town with promises of being able to make it rain. Immediately suspicious, Lizzie tries to pick apart Starbuck's story. Is it even possible he can do what he claims, or is he trying to grift off the town?
Every Brilliant Thing, ACT Theatre, 3/17/23-4/2/23
The color yellow. Sunsets. Things with stripes. Wearing a cape. Ice cream! There are a million brilliant things. Ian Bell stars in this solo show, an immersive storytelling experience blending comedy, improv, and audience interaction to tell the story of an adult growing up in the shadow of mental illness and learning to grapple with their own experiences of love, loss, and a finding a new way forward, one brilliant thing at a time.
The Spitfire Grill, Edmonds Driftwood Players, 3/17/23-4/9/23
A heartwarming and inspirational musical tale of redemption, perseverance and family. A feisty jail parolee, Percy, dreams of a magical small town to move to, pictured in an old travel book. She arrives in a small town in Wisconsin and finds a job working at Hannah's Spitfire Grill. The Grill is for sale, but there are no takers for the only eatery in the depressed town, so Percy convinces Hannah to raffle it off by selling chances of a hundred dollars and the best essay on why you want the Grill. Suddenly, the town is overwhelmed by bags of mail and things really start cookin' at the Spitfire Grill.
www.edmondsdriftwoodplayers.org
Building Madness, Harlequin Productions, 3/17/23-4/1/23 (world premiere)
Best-selling author and now local playwright Kate Danley introduces Max and Paul, who are just trying to keep their architecture company afloat, but they accidentally hire the mob to build a police retirement home. They may never get the project done in this screwball comedy, but they are most definitely building madness. In the style of those great old comedies from Hollywood's Golden Era of the 1930s!
11th & Pine, Sound Theatre Company, 3/17-19/23 (at Erickson Theatre)
This reading of a new play draws on interviews with activists, public servants, and other Seattleites to reconstruct the 2020 protests on Capitol Hill. In a uniquely community-engaged development process, interviews with 30 people form the backbone of this tale. The result is a riveting story that gets to the heart of the community that birthed this incredible movement.
As It is in Heaven, Taproot Theatre, 3/22/23-4/22/23
Based on true events in the history of the Shakers, the play explores the generational shifts that occur when a new generation comes in and begins to disrupt or change the way that things have been done. As the young Shaker women in the community claim new spiritual gifts, Sister Hannah and the other elders must judge whether these gifts are real or rebellion. Set during America's surge of Utopian communities, the play wrestles with belief and doubt in a swiftly changing world.
Paige In Full/Havana Hop, Seattle Childrens Theater, 3/22/22-4/2/22
Paige in Full: Move yo' body rhythms reverberate in this beat-filled visual mixtape that blends poetry, dance, media, and music. Equal parts comedy, pain, and retrospection, Paige Hernandez uses the stage to share her own story of self-discovery. Havana Hop: Travel with Yeila who visits her grandmother in Cuba to add a salsa flavor to her own hip-hop style! Then dance along in this dynamic participation play, where one actress creates three generations of lively women exploring their multi-cultural heritage.
Approx. 60 minutes/Recommended for ages 5+
El Coqui Espectacular And the Bottle of Doom, Centerstage Theatre, 3/24/23-4/16/23
Comic-book-artist Alex combats writer's block by secretly dressing up as his creation, El Coquí Espectacular. Alex's brother Joe struggles to fit in at work. And Yesica, the curious photographer, is following El Coqui around New York City. Together, they fight supervillains while hatching a plan to prove themselves to the world at the Puerto Rican Day Parade!
Refugees in the Garden City, Pratidhwani and ReAct Theatre, 3/25/23-4/16/23 (at Taproot Theatre)
Arjun and Rhiannon find themselves in a hotel room in Victoria, BC, excited to start a new chapter in their lives. With a little help from Doctor Who, we learn about their present, the struggles of their past, and the uncertainty of the future that still awaits them.
How To Break, Village Theatre, Issaquah 3/29/23-4/3023|Everett 5/5-28/23 (world premiere)
With a dynamic kaleidoscope of music, poetry, breakdancing, and beatboxing, the story follows two hospitalized teenage hip-hop dancers, their nurses, and doctors, finding ways to love and learn amidst IV bags and chemotherapy. Part commentary on the American healthcare system, part moving autobiography, and part profound journey through the joy and pain of growing up, How To Break displays the resilient human spirit is in the face of change and transformation.
The Standby Lear, Thalia's Umbrella, 3/30/23-4/15/23 (at 12th Avenue Arts)
This is a comedy about a tragedy: a glimpse behind the curtain at a theater in a moment of crisis, a glimpse behind the curtain at a good marriage under stress, a glimpse of a man facing down his demons, with a little help from his friends. Augie is the understudy for one of the most demanding roles in the theater, King Lear–and he may have to go on tonight. Anna, his wife, is ready to help him. But she has a secret (or two), and he has a problem… Larry and Jeanne Paulson, married thespians, take on this long-married couple.
Pipeline, Acts On Stage, 3/31/23-4/9/23 (10806 12th Ave SW, Seattle)
Nya, an inner-city teacher, is desperate to give her only son, Omari, opportunities he'd otherwise never have in the flawed public education system. When an incident at his private school threatens to get him expelled, Nya must con- front the full weight of the impact her parenting decisions have made on her son. (This is a new faith-based community theatrical company.)
Acts On Stage Presents: Pipeline (onthestage.tickets)
For more articles, please go to https://MiryamsTheaterMusings.blogspot.com and subscribe to get them in your in-box!
(Visited 34 times, 1 visits today)