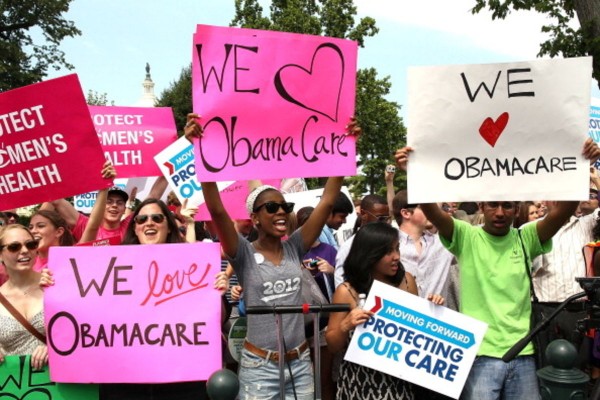 In the wee hours on Thursday morning, January 12th, the Republicans in the Senate began the process of killing "Obamacare" which would de-insure millions of Americans and prevent them from receiving affordable healthcare.
But, Democrats, liberals and progressives are fighting back, including the group Democracy for America along with Senator Bernie Sanders and progressive leaders by leading the charge to protect and save the Affordable Care Act. Rallies will be held this Sunday, January 15, 2017 in cities all across the United States including a Rally in downtown Seattle's Westlake Park at 12 noon with our Congressional Representative Pramila Jayapal in attendance.
Here's the letter sent out by Democracy for America:
Early this morning, when most of the country was sleeping, in an epic display of unrepentant, political cowardice Senate Republicans took their first steps towards passing legislation that will strip tens of millions of their health insurance and ultimately lead to thousands, perhaps even tens of thousands, of American deaths.

During a marathon 7-hour "vote-a-rama" yesterday, Democratic leaders repeatedly proposed legislation to save the most vital and popular parts of the Affordable Care Act, such as the requirement to insure people with pre-existing conditions — but Republicans shot every single one of their proposals down.

Then, in the wee hours of the morning, the Republicans passed a budget resolution that will allow them to completely repeal the Affordable Care Act on a simple majority vote.

We need to make it crystal clear right now that Democrats are united against any attempt to cut health care for working families. That's why Bernie Sanders is calling on all progressives to join Democratic members of Congress at "Our First Stand: Save Health Care" rallies across the country this Sunday, January 15.

Will you stand with Bernie Sanders against the GOP's health care cuts by attending an "Our First Stand: Save Health Care" rally on Sunday, January 15?

Yes! I will RSVP now to join an event near me this Sunday.

No, I can't make it to an event this weekend, but I will pitch in $3 to help DFA fight Republican attacks on our health care now.

DFA members have been working to protect and expand access to health care since our founding in 2004 — and we're not going to take this assault by the Republicans lying down. If Trump and his party are allowed to dismantle the Affordable Care Act, millions of lives will be put at risk.

For over seven years, Republicans successfully hid their failure to come up with any credible, comprehensive Obamacare alternative. Unfortunately for them and our country, the consequences of that failure, up to and including the American body count it leads to, will be much harder to obscure.

The battle to save the Affordable Care Act is going to be difficult — but it's a battle we can win. We only need to convince a few Republican Senators to listen to their constituents at this critical moment to stop Paul Ryan and Donald Trump in their tracks. And no matter what happens to the ACA, we must — and we will — work toward Medicare for All.

Bernie Sanders is stepping up to lead the fight against this vicious GOP attack on our health care. Will you have his back by attending a rally on Sunday, January 15?

Yes! I will sign up to attend an "Our First Stand: Save Health Care" Rally on Sunday.

No, I can't make it on Sunday, but I can chip in $3 or more to help DFA fight to save the Affordable Care Act.

Thanks for joining with Bernie Sanders and Democrats everywhere to fight Trump's harmful agenda and save the Affordable Care Act.

– Charles

Charles Chamberlain, Executive Director
Democracy for America
Hey, Seattle…if you care about healthcare and keeping progressive values alive, please attend Sunday's rally! For folks in the south Sound region, there's a rally in Olympia as well at the State Capitol (go here for info). Join DFA, Bernie Sanders and Pramila Jayapal to make liberal voices heard in Washington.
(Visited 1 times, 1 visits today)