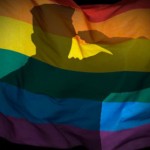 The day that thousands have fought for has arrived as President Barack Obama is scheduled to sign into law the recently passed Congressional bill to end the military's "Don't Ask, Don't Tell" policy banning out LGBTQ Americans from serving in the armed forces. For some odd reason, it's going to happen at the Department of the Interior at 9:15am/Eastern time. On hand will be Dan Choi, Robin McGehee and Tacoma's Margaret Witt among many others. For those of you up at that time of day, expect all the news outlets to cover it live and the rest of us will enjoy it much later in the day after a celebratory cup of coffee.
But the changes are not immediate. It is expected it will take several weeks to implement the new policy, with the need to change numerous military policies and regulations as well as the mandated certification by the White House and the Pentagon. LGBTQ service members are advised to NOT immediately "come out" officially to peers or commanding officers. And, queer military members will not enjoy all rights afforded to their straight comrades. The Defense of Marriage Act prevents same-sex partnered men and women in the military from receiving benefits already given to "traditionally" partnered personnel.
One fight for civil liberties has been won but it ain't over yet, folks.
(Visited 1 times, 1 visits today)