The Godfather of Fitness and 1950's Homoerotic Hero Jack LaLanne died Sunday of complications from pneumonia – he was 96. In the 1950's he graced the covers of a whole mess of "Fitness" magazines which served as a proxy for gay porn when it was virtually non-existent for decent folks in the sugary sweet post-war years.
He was one of the early pioneers of the carb-reducing craze, after making a correlation between white sugar and processed foods and having a big fat ass. He also gained notoriety for promoting a vegetarian diet, although for him that also included fish – remember, back then fish was considered a vegetable.
He was THE fitness expert for seven decades – penning numerous books on health and fitness, as well he hosted "The Jack LaLanne Show" for 34 years, performed those crazy "hey that guy is gonna drag a boat around Miami" stunts, and created his eponymous Power Juicer. All in all, Jack LaLanne lived more lives than most any of us will, and was still working  out until he died.
Check out some of Jack's contribution to the homoerotic zeitgeist after the jump…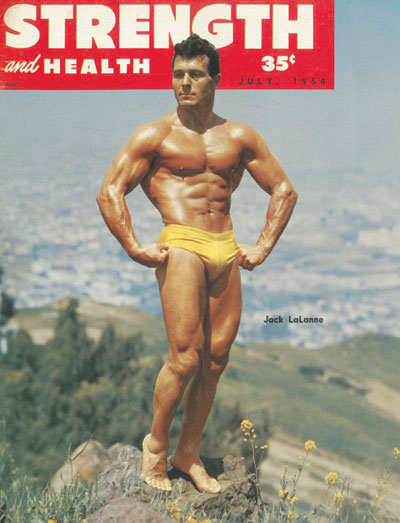 You can also check out a few of him sans Speedo over HERE – probably NSFYW…
(Visited 137 times, 1 visits today)