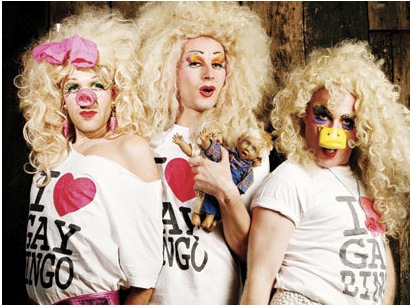 A LOT of people were upset when Lifelong AIDS Alliance's Gay Bingo event bit the dust last year. The popular fundraiser was a Seattle institution for DECADES, when not generating controversy for trying to be too PC and catering to a "family" audience. So, it's happy news that One Degree Productions is bringing back Gay Bingo for PrideFest 2011 with a very special one time event at Seattle Center on Friday, June 24 at Fisher Pavilion from 8 to 10pm. The theme will be "Celebrity Bingo" and participants are encouraged to dress up as their favorite celebrity/gay icon (Madonna, Elton, Gaga, Liza, Peppermint Patty, Nancy Kulp, Raymond Burr, etc..) with prizes awarded for best costume. No host/hostess has been announced, (but, if they don't give the job to Glamazonia, there could be a riot) and tickets for the event go on sale April 1 (uh, April Fool's Day? Really?)
Two things that are interesting: Gay City Health Project will be the primary designated beneficiary of this event and fundraiser and not, apparently, the originator of Gay Bingo, Lifelong AIDS Alliance…what's that all about?
AND, it's also nice to see that One Degree is really upping the ante with this year's PrideFest. They're making PLENTY of announcements about the events and line-up months before Gay Pride and they seem determined to make PrideFest a multiple day event with stuff going on Friday and Saturday, as well as the primary day of celebration, Sunday. Gives us HIGH hopes that Seattle Gay PrideFest 2011 is going to be MAJOR this year. And, makes us wonder if they're going to get some big names for entertainment this year…in year's past, Seattle has very seldom had A-list talent at Pride Events.
Keepin' you posted.
(Visited 1 times, 1 visits today)