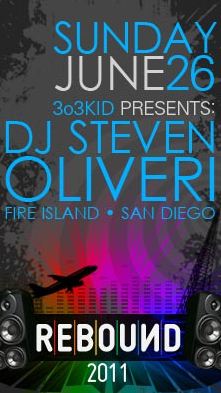 Awesome Eric had the winning response in our Rebound ticket giveaway. To refresh your memories, , "Rebound" is the mega dance event on Sunday, June 26th with DJ Steven Oliveri happening across the street from Seattle Center at the iMUSIC Event Center (for old timers, the old location of PolyEsters) at 332 5th Avenue across the street from EMP. That event starts at 3pm and heats up for the rest of the night. A few advance tickets for $15 are available HERE, or at the Baltic Room, so hurry…or, get them DOS at the door for $20.
We conducted a contest yesterday asking players to name THREE songs they have to spin if they were Guest DJs for an evening. Eric's three choices were excellent…and, his choice of Cyndi Lauper's "Hedwig" cover was inspired since we're huge fans of "the 'wig".
"Happiness" by Alexis Jordan. Her track always lifts me up and makes me a happy camper.

The Six Feet Under electronic remix, just because I love that show and it always perks up my ears to hear something unexpected.

And for something interesting and different, how about Cyndi Lauper's cover of "Midnight Radio," from Hedwig?
Eric's won two tickets to Rebound and the rest of you can get yours in advance or at the door.
(Visited 1 times, 1 visits today)