There aren't too many HH we would do twice, but Panevino is one of those places… We would rather try a new place then repeat. There are so many good places to hit!  We would return for the Bruschetta alone! Yummy tomato goodness!
HH Hours:  3pm to 6pm and 9pm to close. We love a late night Happy hour!
What's the drink deal? $3 drafts, $4 wells, $5 martinis and $3.50 glass of the wine of the day, featuring a red and a white wine.
What's on the menu? Bruschetta $4, Caprese $5, Piatto di Salami $6, Cioppino $6, Scampi al Limone $6, Polpette di Carne $5, Rigatoni Bolognese $6, Fusili Salsicca $6, Penne al Pesto $6, and Penne Alfredo $6. They recently raised their prices. The website has not been updated.
We ordered an assortment of dishes.
 If you love tomatoes you will love the Bruschetta. Piled high with plum tomatoes, seasoned with olive oil and basil. I want some right now!
Scampi al Limone was yum! Nice lemon sauce, lots of shrimp, side salad. Awesome deal for $6.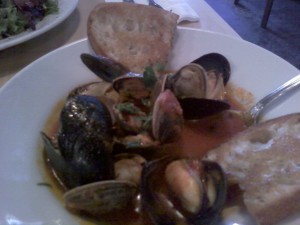 We also orded the Cioppino. We were amazed at how many mussels and clams we got. The broth is so good! Perfect for bread dipping.
We also ordered a pasta dish. You have to have pasta if you are doing Italian! We ordered the Penne Alfredo. Nice creamy sauce, al Dente pasta. What else could you ask for?
What does it look like?  The space has some good touches but the space needs additional decor. Maybe some plants or more art work? It is a little industrial looking. We did love the subway tile behind the bar.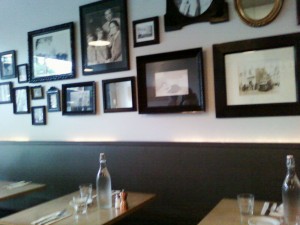 Service?  Service was awesome! We showed up 3 minutes before 6pm for happy hour and they sat us. It took about 5 minutes for our food. Everyone was totally nice and helpful.
What is on the menu for next time? We are all over the meatballs and the Rigatoni Bolognese! Both sound awesome.
What are we still thinking about? The Bruschetta was amazing! Piled high with tomatoes! So good!
416 BROADWAY E.
SEATTLE, WA 98102
206.328.7817
(Visited 1 times, 1 visits today)