Poquitos is a great place for a summer HH. We sat in the outside patio. It's a great space for large groups with tables and booths that seat up to 12 people. Our waiter (totes cute) told us Poquitos just increased the offering on the menu. There were tons of choices and the prices are good. We loved that lots of stuff was organic and the meats were free-range.
HH Hours: 4:00pm-6:00pm and they have a late HH starting at 11:00pm-1:00am. Happy hour is only offered in the bar and patio area.
What's the drink deal? There are 2 featured drinks, Poquitos margarita and punch.
 POQUITOS MARGARITA is described as sweet is made with El Jimador Reposado & a house made organic citrus juice mix $5.
POQUITOS PUNCH an alternative to Spanish sangria also made with El Jimador Reposado tequila, red wine, port, brandy, grenadine and citrus juice $6
You can also get well vodka, gin, tequila, rum and whiskey cocktails for $4. Draft beer for $4. They serve Tecate, Negra Modelo, Pacifico, Mannys, Rotating IPA, and a seasonal brew. You can also get house red or white for $5.
What's on the menu? So many choices!. We ordered a bunch of dishes. The menu starts with salsa and chips for $2 and Guacamole for $4.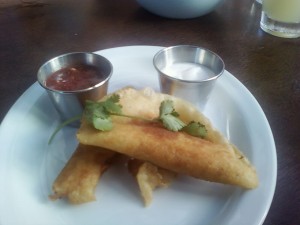 We also tried the Chicken Tinga Empanada. They come 2 per order  for $5. They were good but not a lot of bang for the buck.
The Black Bean Tostada was okay. The tortilla was really crispy and a little hard to eat. $3.  The also offer a raw tuna tostada.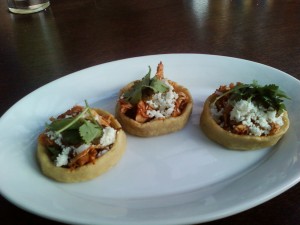 Mini Sopes came 3 per order for $5. The menu described the dish as "corn masa boat"s not sure about boats. They reminded us of tartlets. The shell was a little too crunchy for our liking.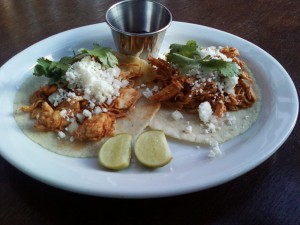 They have a ton of different tacos including pork, brisket, chicken, mushroom, and yam. $5 for 2 tacos. We had the chicken, brisket, and yam.. All the tacos get a thumbs up. The yam tacos totally rocked!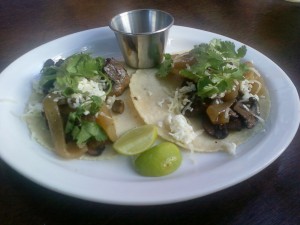 Because you can never have enough veg in your life we also had the house salad for $5. A mix of romaine and arugula with sliced radish, queso fresco, and roasted corn toped with a garlic lime  dressing.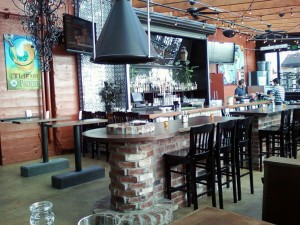 What does it look like?  The inside is very dark and Spanish feeling. Outside is really casual. It feels like you are on someone's patio. Great vibe for a summer HH.
Service?  Our waiter was adorbs. We loved him.
What are we still thinking about? The yam tacos were the bomb-diggity! Yum.
Poquitos
1000 E. Pike St
Seattle, WA
(206) 453-4216
Tags: Denise Caruso, Gay Cocktail, Happy Hour, Poquitos