Strangeways Note: Our lovely Denise has been AWOL from the site for awhile, busy working her "day" job but she gave herself a night off and went to Ms Bacon Strip at Re-bar to check out the fashions…though, I'm hurt she didn't praise my $24 tux jacket from Red Light that I bought that same day. It was deliciously slimming, albeit helped by the fact I was standing next to large men wearing dresses and high heels…ironically, I felt very petite and girlish despite the fact I was the only penis on that stage not wearing make-up (well, not much make-up) and a push up bra.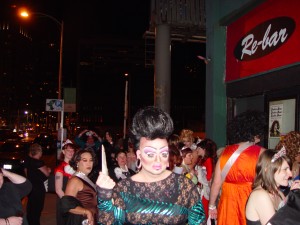 There were queens a la plenty at the Ms Bacon strip pageant.
The crowd was lined up around the block to see the fierce competition.
10 queens enter 1 queen leaves!
Sylvia opened the show in a mod peach dress perfect for the quintessential hostess.
"This year Re-Bar; next year the Paramount!"
Celebrity judge panel included performers Ade and Jackie Hell, with Michael Strangeways from Seattle Gay Scene.
Ms Little Wendy, a pageant expert, was on hand to sing the national anthem until she had a balloon malfunction! Never seen someone work a balloon quite like that!
MORE fashion run down after the JUMP!
The first contestant Cherry Sur Bete was rocking space age glamour.
Grace Jones meets a hot Star Trek alien.
Homo Aragato performed in a Dynasty prom dress from the 80's.
Honey Bucket rapping in fur and simple black ho dress.
Philip Heier and the Beauty Pageant Bus Party 2011 stopped by for the event.
Rhinestones are a girl's best friend.
Heavy metal ice goddess.
Gorge Goth Mermaid getting some extra points from the "judges".
Rocking red boots! Flawless, but we do love a tutu. Tom and Lorenzo wold be proud.
And the winners are…
3rd runner up Honey Bucket.
and MS Bacon Strip 2011 is Jinkx Monsoon.
(Visited 1 times, 1 visits today)