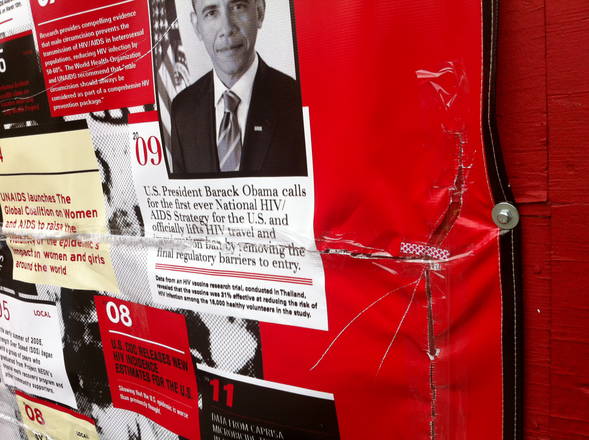 Gay City just announced that the HIV30 group will replace the damaged wall mural at the Capitol Hill light rail construction site:
Aug 25, 2011 (Seattle, WA) Representatives from HIV30: Take Action Seattle gathered with Sound Transit's Barbara Luecke at the Broadway Red Wall on Tuesday morning to remove the damaged banner that had been installed, and then vandalized, in June, and replace it with a new version. The printing for the new banner was generously donated by local print company BGI Proforma Solutions.

"We're always looking to give back to the community when we can," said BGI Proforma Solutions representative Ernie Lehman. "Reprinting the banner as a gift to Capitol Hill Community is an excellent way to show our appreciation for all the Seattle area has done for us. Given the circumstances of the original banner defacing, we couldn't do this any other way."

Phase one of the HIV30 public art project, 30 Years: A Retrospective, has received no small amount of attention in its short time on display on Capitol Hill. Despite attempts to vandalize it, and controversy about the appropriateness of some included imagery, the message of the banner remains a strong one.

"It remains an important project," said Gay City Health Project Executive Director Fred Swanson. "All of the discussions generated by the banner underscore the need to continue educating the community about the issues faced by people living with HIV."

The members of the HIV30 group are ready to move forward with the project, including the upcoming unveiling of its next phase in September. They plan to unveil phase two of the project, 30 Years / 30 Stories, on Saturday, Sep 24, in conjunction with the Seattle AIDS walk. 30 Years / 30 Stories will feature 30 stories written by community members who have been impacted by the HIV/AIDS epidemic that have been interpreted by 30 local artists.

"The project is intended to be a commemoration of the last 3 decades of the HIV/AIDS epidemic, a celebration of how far we've come in the fight against HIV/AIDS, and a call for people to continue to take action in that fight. I think that will be apparent with the next few phases of the project," said Swanson.

"Sound Transit is glad the Red Wall is a good venue for displaying information and art that is relevant to the community, and we support the message that the HIV30 group is promoting," said Luecke.

For more information on HIV30: Take Action Seattle, please visit them online at hiv-30.org.
Tags: Broadway Red Wall, Gay City, HIV30