The scary Fundies insist that evolution does not exist…well, it obviously DOES exist as the relatively recent new event, "Threesome Thursday" with DJ's Skiddle and PBear held at The Baltic Room has announced they have evolved into a new event: ElektroPOP! It's happening at the same venue, on the same day, with the same amazing DJ's but now they have a hostess…
The Tower of Power known as Mama Tits/Busty McGee is ending her run as the hostess of LeFaux at Julia's on Broadway (Note: she'll be performing at LeFaux through the end of October) and moving over to Pine Street to preside over the debauchery known as "ElektroPOP!" starting tonight, Thursday, October 6 at 10pm. (They have a Happy Hour/Sound Check from 8pm to 10pm, too…)
The night will include the usual array of hot music, a drag queen MC, GoGo Boys, drink specials, giveaways and photo ops from POParazzi not to mention special guests and performing artists…and, tons of cute boys/mens in attendance.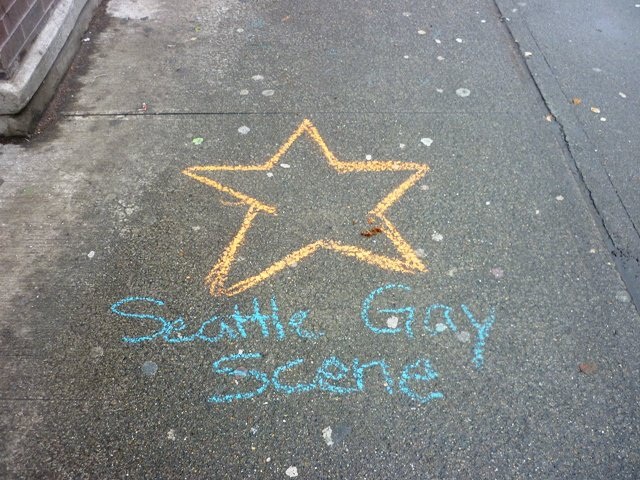 Just follow the "Walk of Fame" down/up Pine Street to get the party started…in a blatant but charming bid to entice us to write about their new event, those clever promoters/party producers Sinfinite Productions (Jimmy Scarpello and Arden Turnbull) sent me a photo with Seattle Gay Scene's marker on the Walk…we're flattered but have to point out we still would have written up your event…it's too hot to miss. (Also, the whole "We adore Skiddle and Mama" thing…) Added: And, I should note, we're very pleased and honored you included us. Thank you!
It should be crazy amounts of fun…Thursdays can be a bit meh and ElektroPOP might put the zing back into your work week. It's not that awful to go to work Friday with a teeny hangover and eye bags…that's what concealer is for!
(Visited 1 times, 1 visits today)