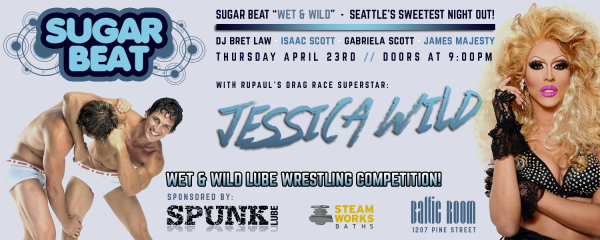 So many options for tonight….smart cookies will go look at our Fabulous Calendar.
OR, do what I say and head to 95 Slide this evening (5:30 ish to 9) for Inspire Youth Project's "Big Bail Out" which raises money for an awesome charity organization for kids with health issues. I've already demanded your presence at this fine event earlier today so I won't belabor the point.
But. Be There. With Cash. Check. Cards.
Then, afterwards, you can mosey down to The Baltic Room for SUGAR BEAT and their special guest, RPDR Season 2 star, JESSICA WILD will be on hand to oversee some nasty lube wrestling….oh, my!
More:
< < < * * * WET & WILD* * *LUBE WRESTLING * * * > > >
One of Sinfinite Events' most INFAMOUS happenings! This Thursday we are getting WET & WILD as Spunk Lube (www.SpunkLube.com) and Steamworks Seattle (www.SteamworksBaths.com) present the Sugar Beat WET & WILD LUBE WRESTLING COMPETITION! THREE JAW-DROPPING MATCHES announced soon!

Sugar Beat resident DJ BRET LAW will be on the decks spinning the hottest mix of your favorite POP and DANCE remixes and mash-ups!

Every Thursday we invite you and your friends to become a part of our world of beautiful eye candy, delicious drink specials, and amazing entertainment lead by Seattle drag superstars ISAAC SCOTT (http://bit.ly/IsaacScott) GABRIELA SCOTT (http://bit.ly/GabrielaScottSEA) and JAMES MAJESTY (http://bit.ly/JamesMajesty)

Sugar Beat features:
– Sexy Male Bar Staff
– Gorgeous Gogo Boys
– Artistic Performances
– Photos from Aritography
– Awesome Drink Specials
– Jell-O Shots
– Games and Giveaways
– LATE NIGHT HAPPY HOUR (1am til close)
….and so much MORE!
21+ w/ID!!!
$3 Cover AFTER 10:30pm.
Not responsible for lube stains on your fine garments….
(Visited 1 times, 1 visits today)