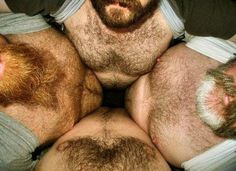 Seattle is about to become hairier and heavier this weekend as bears from all over the world arrive for Spring Thaw 21. Hosted by the Northwest Bears, Spring Thaw begins on April 23rd and there is plenty for its participants to see and do over its four-day span.
Highlights of the weekend include a cruise around Lakes Union and Washington; a visit to the EMP/Sci-Fi Museum; a Mariner's game at Safeco Field; a "Bear Soup" pool party at Medgar Evars Pool; and various bar-related events at The Cuff, Diesel and beyond. The detailed schedule can be downloaded here, and it looks action-packed.
As of this writing, some of the activities are sold out, and hotel rooms are scarce, but it's not too late to join the fun. Check the Spring Thaw website for details about hotels and registration.
Highlights for Friday, April 24:
5:00p – 7:00p     DIESEL: Hot Dog Feed & Bear Happy Hour party! Plus Bear Beard Contest
                               Seattle CubCakes Softball Team selling Jell-O shots!
                               @ Diesel [transport 4:30p, included w/ meal]
6:45p – 2:30a     Bus Loop starts. To: Hotel, Steamworks, CC's, The Cuff, and Diesel
8:15p – 9:45p     POOL: BEAR SOUP ! @ Medgar Evers Pool. Music, sauna, easy pool games like team                        water-basketball & synchronized swimming contest!  [Included in run, transport 7:45p                       from Hotel. Or any Bear $10 door. Private party w/ life guards & towels, need swim suit]
10:00p – close  CC's: Under-bear Party, Muffin Top Bear Softball Team selling Jell-O shots! @ CC's
                                Plus Bear Belly Contest at 11:00 pm [always no cover at CC'Attles]  
Highlights for Saturday, April 25:
11:00a – 2:00p       Lake Union/Washington Boat Cruise & Lunch / Best Bear Buns contest!
2:15p – 6:00p        Steamworks: Bears, Bath & Beyond play party 100+ bears! [$5 OFF with Badge]
6:00p – 9:00p       Seattle Mariners & Bear Hat give a way @ Safeco Field Stadium
                               [Included in run – ticket in packet, first 20,000 gets cool Bear Hat – goes quick]
10:00p – close        Fur Fling Dance & Bear Underwear Auction – Circuit DJ! @ Cuff, open to all
Tags: Bears, Northwest Bears, Spring Thaw