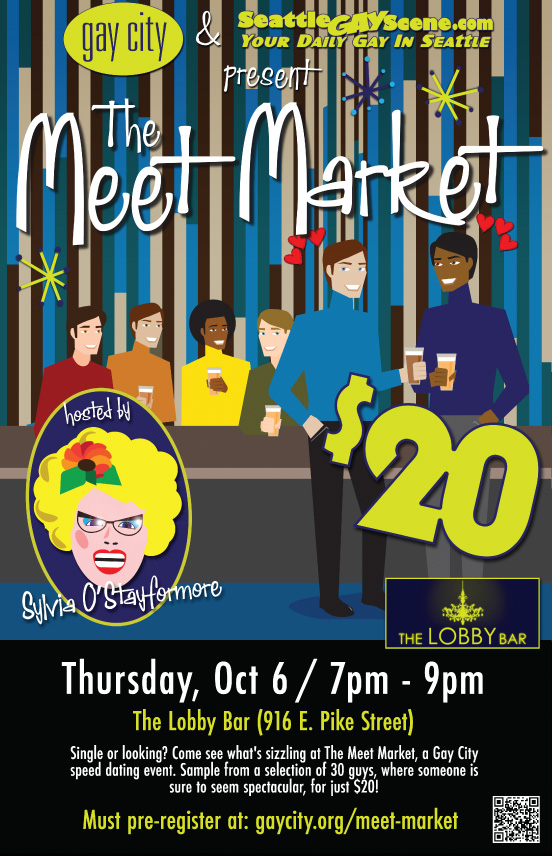 We know times are tough…(most of the SGS staff are wearing fashionable hand-me-downs and eating Tuna Helper). We know some of you would love to attend "The Meet Market", Gay City's speed dating event happening this Thursday at Lobby Bar with hostess Sylvia O'Stayformore presiding and go on multiple dates with a huge variety of interesting men but you're either a bit nervous about all that dating, or maybe you're a little low on cash, or both. We feel your pain.
To entice you, we're giving away TWO tickets to attend "Meet Market"!!! But, the rules are, you need to WANT to go to the event AND you have the time to attend (it lasts from 7pm to 9pm). So, if you love to win stuff but don't plan on going, please don't go after a ticket! AND, this is for eligible SINGLE gay men…if you're already coupled up and committed, please don't play! (However, if you're in a mutually open relationship and you make that clear to your dates, that's cool…also, bisexual men are certainly invited to participate, again, as long as you are honest about it to your dates…)
We're going to make this SUPER easy, 'cause who has the time to create some complicated quiz? (Not me.) The first two gentlemen to answer this question correctly, get the tickets (one ticket per person). Send your answers to strangeways@seattlegayscene.com with the subject line "Meet Market". Here we go.
Our hostess Sylvia O'Stayformore is certainly known for her love of MEAT….but she loves one kind of meat in particular…NAME SYLVIA'S FAVORITE MEAT!!!!
(Jebus, this is too damn easy…)
Please include your full name and contact info including telephone number!
And, don't forget there are still a few openings left for Meet Market…go to the Gay City website to register!!!!
Tags: Gay City, Sylvia O'Stayformore, The Meet Market, Ticket Giveaway