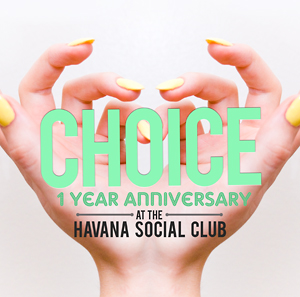 For one year now Choice Wednesdays has been providing you the finest cocktail lounge and dance pad to the top house music DJ's in existence, Brian Lyons, Blueyedsoul, Jeromy Nail, Wesley Holmes, OC Notes, Chad Neiro, Riz, Flave, Dr. Fever, Almond Brown, Claksaarb, L.A. Kendall, Mr. Smith, Jon Lemmon, Peter Evans, Kadeejah Streets, Joel Pryde, Gene Lee, Dev J, Karl Kamakahi, Dave Pezzner and so many more, on a weekly basis with the most affordable one dollar cover in town.
For their one year anniversary party they have hands down the finest lineup around, featuring-
SEAN MAJORS // BRIAN LYONS // WESLEY HOMES // JEROMY NAIL
All for $1 ! Also they will be giving away a few free passes to Nark Magazine's huge Halloween soiree at Havana on October 29th!
Go forth and celebrate tonight! As always there will be tiger beer bottles available for only $3. Photos will be shot by Rachel Robinson of Nark Magazine.
Tags: Choice Wednesdays, Havana, NARK Magazine