It's fall now so we need to cocoon a bit and get a bit more arty…less drinkin' and disco on the agenda and more "classy" stuff. Also, the holiday season is gearing up so it's time to start looking for gifties to buy for loved ones, (or yourself). We recommend heading to this month's "Blitz: Capitol Hill Artwalk" this coming Thursday, November 10, 2011 to check out the amazing art on display/for sale. AND, we demand you stop by the Vermillion Gallery/Lounge 1508 11th Avenue for their next show, "The Evolution of a Northwest Artist" featuring the works of three powerful local-ish artists, two of whom are still with us, and one who is not.
We admit we're not familiar with the two still with us; the artists Joe Reno and Ree Brown, though their art looks spectacular. But, we ARE very familiar with the work of the late artist Byron Randall. This 20th Century artist was born in Tacoma; grew up near Salem, OR and for much of his life lived in the Northern California/Bay Area. He's also the grandfather of a very good friend of ours and we've been very much aware of his work and life story for many years now. To that end, we're a part of "The Byron Randall Project" to promote and preserve the work of this fascinating artist and we're thrilled to make you aware of it.
Mr. Randall lived from 1918 to 1999 and both his art and his life experiences reflected the period he lived in. Pre WWII studies in New York; service in WWII; a politically active Communist/Socialist who fled the McCarthy Witchhunts of the late 40's/50's; a world traveler who visited and painted in Yugoslavia, the Soviet Union, Australia, Scotland, Mexico, and Hawaii…Byron Randall was a colorful, opinionated and very humorous man with a wealth of experiences and a sharp eye. His body of works include water colors, pastels, oils, wood and lino cuts and he painted everything: portraits, still lifes, landscapes, city scapes, nudes. The work is frequently political but never pedantic; there's usually a bemused sense of outrage in even the most overtly political of his works. And, he was never shy about the use of nudity and eroticism, both female and male, and the robust forms of his cavorting strippers, lounging ladies and muscular athletes and men at work are both sensual and playful.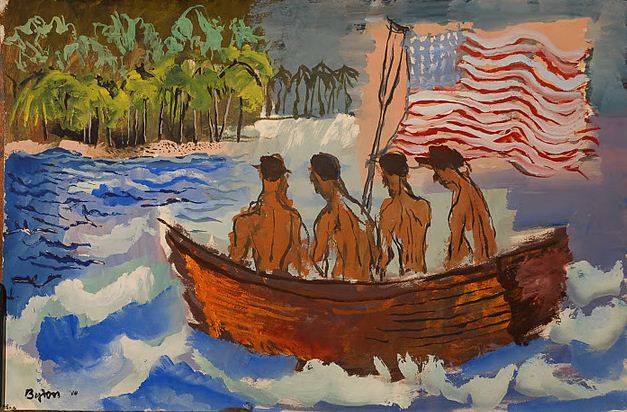 Check out the work of Mr. Randall, Mr. Brown and Mr. Reno at Vermillion from November 10 to December 3, 2011 and please stop by the opening reception this coming Thursday, November 10 from 5pm to 8pm as part of Blitz: Capitol Hill Artwalk to experience the work of three Northwest artists and their diverse takes on life, society and art.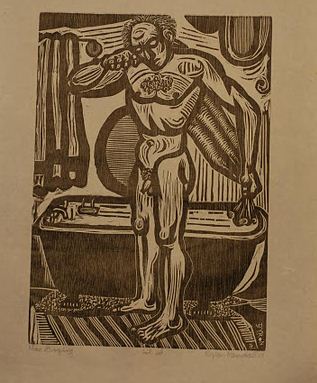 Tags: Blitz: Capitol Hill Art Walk, Byron Randall, The Byron Randall Project, The Evolution of a Northwest Artist, Vermillion Gallery