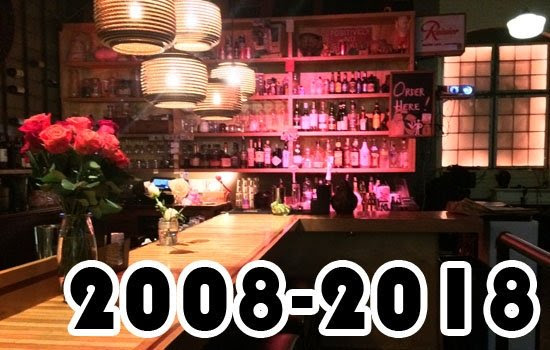 Vermillion Gallery & Lounge, 1508 11th Avenue (just off of Pike) on Capitol Hill is turning 10 this Friday June 1, 2018 with a special party and reception celebrating 10 years of gracing the Pike/Pine corridor of the Hill with terrific art, fun events and a solid dedication to supporting LGBTQ artists and causes.
It's happening from 8:30 pm to 1:30 am (under 21's welcome until 11pm!) and they're even giving away Goody Bags to the first 25 guests!
More below and a hearty congrats to owner Diana and her team for a decade of compelling art and supporting Seattle area artists from all walks of life!
VERMILLION'S 10 YEAR ANNIVERSARY!!!
FRIDAY, JUNE 1ST, 8:30PM
10 YEARS! Unbelievable. That's over 51 in Cap Hill* years. 
Come celebrate this Friday, June 1, 2018. 

8:30pm – 1:30 am.
It will be mellow… but still most definitely a party, I promise. I can't tell you how much I wanted to have a massive blowout and have exhaustively thought about this day for 3,650 days… Actually, I haven't. I never really thought we would be here this long, especially after the last few years as things have seemingly dissolved around us. 
But that has made this occasion so much more meaningful. Stamina is something one obtains by practice, discipline, and knowing when or when not to give a F#@%. So here we are. I'd like an opportunity to share space and beverages, and say THANK YOU for supporting us all these years in person!
Here's what you get for one low price of FREE:
DJ's – Vermillion's bartenders are DJ'ing because they are talented MF'ers and this isn't their only gig. WIZDUMB and DJ Brian C are going to play the coolest, grooviest stuff that we can actually talk and/or dance to. There will be a lot of vinyl.
Cake!!! Maybe some snax.
And my FAVORITE part is there will be goodie/grab bags for the first 25 people who arrive, which will include strange and wonderful things. You may end up with some Vermillion "memorabilia", which is a fancy word for some of the junk collected around here collecting dust that deserves a nice home.
We're going to have a $1/ticket raffle for some Gift Certificates in $25, $50, and $100 increments. Raffles will be at 9:30, 10:30, and 11:30(subject to change, check back here).
So, I hope to see you HERE! No guilt, you'll have other opportunities soon 😉
(Kid friendly until 11pm.)
*Cap Hill = Capitol Hill
 
Facebook info here: https://www.facebook.com/events/185544465600744/
 
Diana
 
Loud Seas & Warm Lands
Sean Gallagher  
 Opening Thursday, May 10, 2018 6-9pm
(show runs through 
JUNE 9, 2018
)
Loud Seas and Warm Lands: Adapting to Changes in the Arctic, will bring to light the experiences of arctic peoples, places and animals in the wake of climate change, displacement and development. This series depicts experiences across generations with the backdrop of social and climate justice. Sean Gallagher's work utilizes traditional methods and will seek to appeal to the senses as seasonal cues are often remembered through scenery, scent and textures.
Native Kut is a native owned and operated art and carving tool company based out of Seattle, WA., steeped in the traditions of the Inupiaq (King Island Dependent) of King Island, AK.
Main image: "Teasing Cousin". Often Inupiat songs and dances feature a teasing cousin which is a form of endearment and entertainment.
Please visit our store here:  https://www.etsy.com/shop/NativeKut.
SEE MORE WORKS IN PROGRESS ON INSTAGRAM!!!


This project was supported, in part, by an award from 4Culture.
_________________________________________
ALSO IN MAY: Wednesday, May 30. 8pm
Obscenely Obscure
Seattle's only DJ night devoted to library music, in all its fascinating forms. Hosted by Dave Segal. DJ's: DJ Average Rooms, DJ Dad, DJ Veins. Visuals by Aubrey Nehring.
https://www.facebook.com/events/624803014528233/
Tags: Art Galleries Capitol Hill, Art Galleries Seattle, Vermillion Gallery, VERMILLION'S 10 YEAR ANNIVERSARY