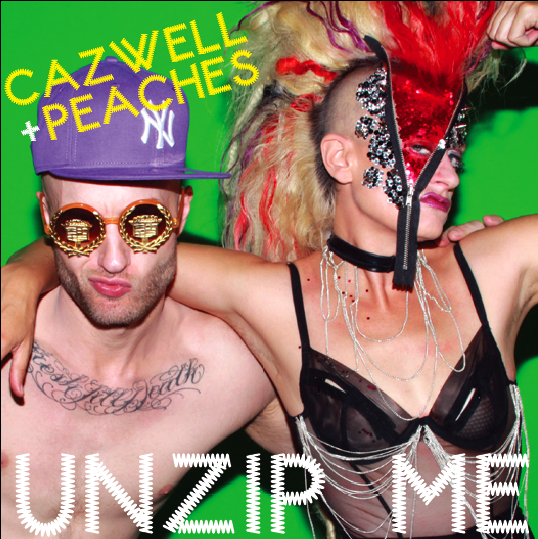 It's so grey and bleh outside…and, that dreaded feeling is building up. Soon, it's time for the most overrated holiday of the year, Thanksgiving…ugh. Too much food, football, and mall shopping = Not a very gay holiday in our opinion. Yes, spending time with loved ones CAN be nice, but frequently you're trapped in your Aunt Opal's over heated house, listening to the women cook and plan shopping rituals for Black Friday, while the men play cards/watch football. ZZZZZZZZZZZZ.
(The best part of Thanksgiving: Leftovers. You don't have to cook for at least 4 days afterward, if Grandma loads you up with the Tupperware full of turkey, stuffing, rolls and Pistachio Salad…)
Anywho, we'll take our minds off it by focusing on this nasty new video of the new song duet "Unzip Me" by queer music legends, Cazwell and Peaches. It's their first collaboration and hopefully not the last…it's a fun song (though not quite up to "Ice Cream Truck" standards, but what is?) and the video has some nice visuals. And, a buttload of cameos including Amanda LePore, Cherie Lily, Justin V. Bond and Miss Jay.
Even better news, it's the first release off of Cazwell's upcoming album,  Hard To Be Fresh due out next year. We're hoping Mr. Well does a tour in support of it; we think we need to see him in Seattle soon…
And, who the hell wouldn't want to "unzip" Cazwell? OR, Peaches? Hot, hot, hot…
(Visited 1 times, 1 visits today)