Last year, two local non-profits coyly glanced at one another from across a smoky bar and decided they were destined to be a couple…OK, not really; they're both a wee bit too clean cut to be hanging out in trashy speakeasies, (also, the whole "you can't smoke in a bar" thing) but the merger of the two AIDS/HIV service organizations was a big deal. And, just WHO are Rosehedge and Multifaith Works? And, why did they merge to become that long mouthful of a name (and annoying to type repeatedly) "Rosehedge/Multifaith Works"?
Rosehedge provides Enhanced Assisted Living for people living with HIV/AIDS by providing around-the-clock nursing care for each resident, all meals and supportive services. 

Multifaith Works provides housing and support to those living with HIV/AIDS through their Transitional Housing Program and two emotional support programs:  CareTeams and Shanti. Both agencies serve one of the most vulnerable populations: men and women who are homeless, or on the verge of homelessness and are living with HIV/AIDS.
Well, that does make sense…it's a platonic thing based on combining forces to offer a unified service to those living with HIV/AIDS and in the process, save money by consolidating the back-end operating expenses. It was a smart move in a tough economic climate.
And, the fine folks at Rosehedge/Multifaith Works do understand they have a branding issue…one, that's a damn long mouthful of a name, and, two, only a handful of people know who they are…it's tough to get the support of a community (and donations and volunteers) when no one knows who you are, or what you do.
Rosehedge/Multifaith Works will probably eventually have a new (better) name…hopefully not "Rosefaith" or "Multihedge", but in the meanwhile they hope to increase their visibility in the community by hosting a series of small, and not so small, events, and to focus attention on the "HIV30" project to bring awareness to the need to continue the battle to find a cure for HIV/AIDS and prevent new infections. Things kick off tonight with a Happy Hour/Wine Tasting event at  "Picnic" in North Seattle and continues for the rest of the month with various events all over the city. Check out the list:
November 3, 5:30PM-7:30PM PICNIC
6801 Greenwood Avenue North
Seattle, WA 98103
Happy hour event and wine tasting

November 4, 7:30PM MIRO TEA
5405 Ballard Avenue Northwest
Seattle, WA 98107-4052
Music performance and party

November 11, 6PM GREEN BEAN COFFEE
8533 Greenwood Avenue North
Seattle, WA 98103
Art Walk featuring art from RH/MFW friends

November 11, 7PM-9PM SIMPLICITY DECOR
126 Park Lane
Kirkland, WA 98033
Shopping event

November 15, 4:30PM-6:30PM UNITY ON UNION BOOKSTORE
2420 East Union Street
Seattle WA 98122
Tea tasting

November 16th PURR COCKTAIL LOUNGE
1518 11th Avenue
Seattle, WA 98122-3904
Red Party

November 18, 5PM-7PM WHOLE FOOD at INTERBAY
2001 15th Avenue West
Seattle, WA 98119
Happy Hour Seafood event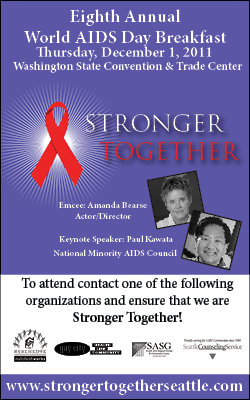 And, the big variety of events, mean there is something for everyone including several NOT taking place in bars and involving liquor…we know it's difficult sometimes for folks who can't/don't drink to become involved with the community; so many events revolve around bars/booze. Here's an opportunity for the tee-totalers to enjoy some tea.
Of course, all these events lead up to
World AIDS Day
on Thursday, December 1, 2011 and the
"World AIDS Day Breakfast"
event at the Washington State Convention & Trade Center with host, actress/activist/Seattle resident
Amanda Bearse
and keynote speaker, public health advocate
Paul Kawata
. For tickets and more info, go to the
Stronger Together Seattle
website.
And, don't forget to check out one (or more) of Rosehedge/Multifaith's events in November…newlywed couples need support!
(Visited 1 times, 1 visits today)