So much delightful news for all of our Fan Boy/Fan Girl readers. We're all squeeling with delight!
1) Emerald City Comic Con announced Thursday that beloved Star Trek actor, Mr. Sulu himself, George Takei will be a special guest at the 10th annual event. Mr. Takei earned millions of new fans, when he came out a few years ago, and re-energized his career as a wry and charming commentator on pop culture. He's just the latest in a series of Comic Con announcements that also include news that Katee "Starbuck" Sackhoff will guest, as well as Joss Whedon-verse actors Adam "I'm so damned hot and sexy" Baldwin and Summer Glau will attend the Con which happens March 30-April 1, 2012. (Oh, and unlike the OTHER famous Comic Con in San Diego, Emerald City also hosts a HUGE number of actual comic book creators in addition to the media stars, AND doesn't cost an arm and a leg…) Advance tickets are on sale NOW. Check it out.
2) Fans of the Batman reboot, "The Dark Knight" both comic book and films, are eagerly awaiting the third installment of the film series, "The Dark Knight Rises" once again directed by Christopher Nolan and starring Christian Bale, and set to open July 20, 2012. Uber fans of the films will be delighted to find out that a six minute prologue from the new film will screen with the soon to be released Tom Cruise film, "Mission Impossible: Ghost Protocol" on December 16 but only at certain IMAX locations. Deadline Hollywood has the poo:
Moviegoers will be able to catch the 6-minute 70mm Imax film prologue for Warner Bros' The Dark Knight Rises beginning December 16 in front of special advance previews in the same ultra-large-format film versions of Paramount's Mission Impossible: Ghost Protocol. Warner Bros. on Thursday revealed the names and locations of the 70mm Imax film theaters that will present the 6-minute TDKR prologue ahead of the 70mm Imax film version of Ghost Protocol.
Happily, Seattle's on the list and you can catch the preview at the Boeing IMAX Theaters at the Pacific Science Center but ticket buyers are advised to double check when purchasing tickets to make sure that particular screening will feature the Dark Knight promo.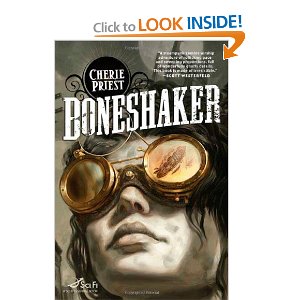 3) Lastly, and announced a couple of days ago, a local Seattle novelist gets a movie deal for her book. The Queen of Steam Punk Science Fiction, Cherie Priest, sold the film rights to her hit book Boneshaker to Hammer Films. It's the first in her "Clockwork Century" series of novels. Here's a description from the press release:
An example of "steampunk" science-fiction, which incorporates futuristic innovations into a Victorian setting, Priest's novel is set in an alternate version of 1880s Seattle, where the city has been walled in and a toxic gas has turned many of its remaining residents into "Rotters," more commonly known as zombies. A young widow hunts for her teen son in the Seattle underworld, while dealing with airship pirates, a criminal overlord and heavily armed refugees. "Boneshaker" was nominated for a 2010 Hugo Award for Best Novel, and won the 2010 Locus Award for Best Science Fiction Novel.
Sadly, we're guessing this WON'T get filmed in Seattle…at best, it'll be filmed on green screen sound stages in Vancouver…
(Visited 1 times, 1 visits today)