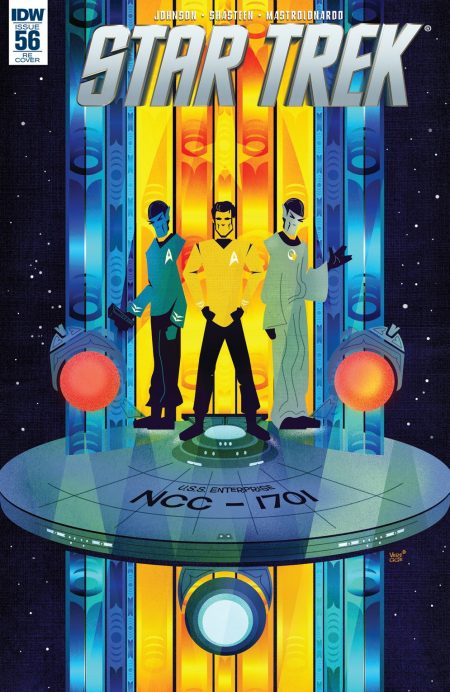 For fans of the Museum of Pop Culture (aka MoPop or EMP if you're RAAAAAAL old skool….) there's always something new to see as well as stuff to anticipate. 
And, stuff to say good bye to…
Sniff.
So, right now everyone is all atwitter over the huge Marvel Universe exhibit which just opened but there's another new big exhibit coming up in August, for music fans in general but Seattle "Grunge" fans in particular….local iconic band PEARL JAM is getting their own show starting August 11, 2018 called PEARL JAM: HOME & AWAY.
It's also time to say farewell to the long running Star Trek exhibit which is closing up shop on May 28th but they're having some special events the weekend of May 11-13th.
May the force of Trekdom be with you!
The poo on Trek:
LAST CHANCE TO SEE STAR TREK: EXPLORING NEW WORLDS AT MoPOP

Special Star Trek Weekend Celebration May 11-13, 2018

Exhibition Closes May 28, 2018 

SEATTLE – Following a successful two-year run at the Museum of Pop Culture (MoPOP), Star Trek: Exploring New Worlds will close on May 28, 2018 and embark on a national tour. Fans will get a final chance to view the exhibition in Seattle and attend a series of special Star Trek-themed events. Tour venues and dates will be announced soon.

 

STAR TREK SEND OFF PARTY  –  MAY 11, 2018

Date: Friday, May 11, 2018

Time: 7:00pm-11:00pm

Venue: Museum of Pop Culture (MoPOP)

                                     Program Highlights:

Q&A with special guest Chase Masterson (Star Trek: Deep Space 9)
Dance party with DJ Sir Juan
Star Trek Game Lounge
Trivia with Geeks Who Drink
Photo ops, crafts, drink specials and more
Includes admission to Star Trek: Exploring New Worlds, Infinite Worlds of Science Fiction, Scared to Death: The Lure of Horror Film, Fantasy: Worlds of Myth and Magic

Tickets: $20-$25. All-ages to enter, 21+ to drink. Buy online at MoPOP.org

STAR TREK SEND OFF WEEKEND – MAY 12-13, 2018 

Date: Saturday-Sunday, May 12-13, 2018

Time: 10:00am-5:00pm

Venue: Museum of Pop Culture (MoPOP)

                                     Program Highlights:

Special screenings of Star Trek (2009) in JBL Theater
Gallery-led tours of Star Trek: Exploring New Worlds
Star Trek-themed photo ops, arts and crafts
Retail specials

Tickets: $17-$28. Buy online at MoPOP.org. Access to general admission galleries included. Does not include special exhibitions.

ABOUT STAR TREK: EXPLORING NEW WORLDS

Organized by the Museum of Pop Culture and under license by CBS Consumer Products, Star Trek: Exploring New Worlds is a fully immersive exhibition which showcases Star Trek's significant impact on culture, society, arts, sports, technology and fashion. Exhibit highlights:

Set pieces from Star Trek: The Original Series, including Captain Kirk's command chair and the navigation console

More than 100 props and artifacts from the five Star Trek television series and many of the films including original series tricorder, communicator, and phaser; a Borg cube, Klingon disruptor pistol, tribbles, and more

Rare costumes including Spock's tunic worn by Leonard Nimoy, Lt. Uhura's (Nichelle Nichols) dress, Khan garments past and present including the open-chest tunic worn by Ricardo Montalban and the costume worn by Benedict Cumberbatch in the 2013 re-boot, Captain Picard's (Patrick Stewart) costume, a Borg costume, the alien Gorn, and more

Transporter simulator where visitors can create a film that shows them being beamed to another location

KHAAAAN! video booth where visitors can recreate the memorable scene from Star Trek II: The Wrath of Khan

 

Spaceship filming models of the Enterprise, USS Excelsior, Phoenix, and Deep Space Nine space station
Showcase of Star Trek's significant impact on culture, society, arts, sports, technology, and fashion that includes a prototype of a real medical tricorder, Star Trek-themed beer, Red Sox "Star Trek Night" foam finger in the shape of the Vulcan salute, a "Picardigan" sweater, a listening station with songs by Star Trek tribute bands, USPS stamps featuring theU.S.S. Enterprise, and much more
And, poo on Pearl Jam:
MoPOP Stages Major Pearl Jam Exhibition Set to Debut During Seattle Home Shows

Pearl Jam: Home & Away features band rarities including personal instruments, original lyrics, stage props, and more

 

SEATTLE, WA – The Museum of Pop Culture (MoPOP) announced today the opening of the most extensive exhibition celebrating the music of Pearl Jam. Organized by MoPOP in collaboration with Pearl Jam and Ten Club, the exhibit will feature more than 200 artifacts directly from Pearl Jam band members and their Seattle warehouse. Pearl Jam: Home & Away (#PearlJamHomexAway) will coincide with the band's Seattle concerts dubbed the "Home Shows" and opens to the general public on August 11, 2018.

"With the help of the talented crew at MoPOP, we're using the idea that we started with at PJ20 and taking the Pearl Jam Museum to a whole new level," says Kevin Shuss, Pearl Jam archivist and videographer. "Focusing on items from tours and memorabilia from the band's warehouse, the exhibit will be a must-see for any Pearl Jam fan."

Spanning 28 years, the exhibition will feature personal instruments, equipment, stage props, original typewritten lyrics and notebooks, original poster and album art, set lists, and a photo op featuring the towering letters from the front of Pearl Jam's debut album, Ten.

"This exhibition will give an intimate first-hand look at Pearl Jam's journey from 1990 to the present and into the future," says Jacob McMurray, Senior Curator, MoPOP. "From their beginnings as one of the originators of the "Seattle Sound" and the grunge phenomenon, to their sustained global impact as one of the most popular and respected bands in the world, Pearl Jam's story is still unfolding as they continue to sell out shows world-wide and use their stage to further social and political consciousness."

Pearl Jam: Home & Away will be included with MoPOP general admission and will remain on view until early 2019.

ABOUT THE MUSEUM OF POP CULTURE (MoPOP)

MoPOP is a leading-edge, nonprofit museum dedicated to the ideas and risk-taking that fuel contemporary popular culture. With its roots in rock 'n' roll, MoPOP serves as a gateway museum, reaching multi-generational audiences through collections, exhibitions and educational programs, and using interactive technologies to engage and empower its visitors. At MoPOP, artists, audiences and ideas converge, bringing understanding, interpretation and scholarship to the popular culture of our time.MoPOP is housed in a 140,000 square foot Frank Gehry-designed building. This spectacular, prominently visible structure has the presence of a monumental sculpture set amid the backdrop of the Seattle Center. For more information, visit MoPOP.org.

 

ABOUT PEARL JAM

October 22, 2015 officially marked 25 years of Pearl Jam performing live. Ten studio albums, hundreds of unique live performances and hundreds of official live concert bootleg releases later, the band continues to be critically acclaimed and commercially successful — with over 85 million albums sold worldwide. Pearl Jam will play a pair of Seattle concerts this summer to help aid the city's homelessness initiatives. Dubbed "The Home Shows," the two stadium gigs mark the Rock Hall-inducted band's first hometown concerts in five years.

 

ABOUT TEN CLUB

Ten Club was born from the remains of the Mother Love Bone Earth Affair – a fan organization started by Pearl Jam in 1990 as a way for the band to give back to their fans and create a community around Pearl Jam's music and culture.
(Visited 2 times, 1 visits today)