We know which side our bread is buttered and we're proud to brown nose our way to success! Please show some love to our wonderful advertisers this HoliGay Season! (And, year round…if they continue to advertise with us.) (I keed…I keed!)
1) The Grill on Broadway just recently rebranded their Monday nights at the uber popular Capitol Hill restaurant/watering hole. Monday's are now "Grillaoke" with host Johnathan Jones in charge of the music and it all starts at 8pm and goes until midnight, with early happy hour from 8pm-Closing and some decadent drink specials. AND, mark your calendar for their pre-func New Year's Eve Party from 6pm to 10:30pm on Saturday, December 31 with hostess Mama Tits…"New Year's Eve is a Drag"will be the starting off point for many NYE revelers. Check it out.
2) Also check out Lobby Bar's new menu…it's starting today apparently and they brought back many of the favorites, and added some new goodies as well. AND, check out "Big Gay Trivia" this Tuesday; it's the Holiday Trivia edition with host, Anna Rexia. AND/AND check out Lobby's New Year's Eve fun as well…there'll be Champagne! Classy!
MORE Advertorial Love AFTER the Jump!!!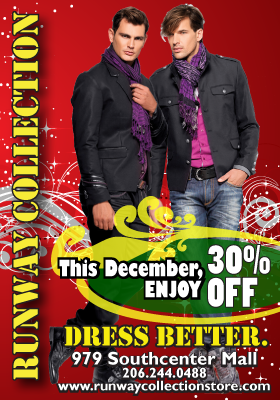 3) Need to buy some gifties? Been procrastinating? Looking for some cute duds for Holiday events? Check out Runway Collection at Southcenter Mall for some hella cute clothes including jeans, t-shirts, long sleeve shirts, vests, slacks, suits…and, they have some great sales going on, too.
4) Let's face it, men: You have needs. Are you happily single but in need of some new…encounters? Steamworks is always there to lend a helping hand. (Or, just enjoy the steam…it's very relaxing on a chilly winter night.) All we ask is, that you play SAFELY and RESPONSIBLY! Otherwise you'll need to pay a visit to…
5) …Our good friends at Gay City Health Project. Things happen and if it's time for an HIV/STI check, then pay them a visit. Or, do you need help with an addiction? Or, want to check out their library? Hang out in the Kaladi Brothers Coffee Shop? Attend a Gay City sponsored event? Gay City does A LOT for our community, and not just for the men. Check out their awesome website for details on the many, many programs and events they offer. AND/OR give them some money so they can continue to offer their programs and events AND aid them in their upcoming move/expansion project.
6) Finally, we encourage you to check out our friend Jt Hooker's (from 12hr Notice) upcoming bash at Electric Tea Garden (above the Artificial Limb building at 14th & Pike/Madison) for his "Everything Electric" party happening Thursday, December 22. There's NO cover plus Visuals, Live Music from Kurly Somthing and DJ's Hooker, Riff Raff and Anton Bomb. It all starts at 10pm and it's naturally 21+.
WOW! That's a lot of Butt Kissing! My lips are NUMB! Still, we really DO love all these businesses/orgs and events. We'd say nice things about them even if they didn't give us money.
If you'd like us to gush about your business/org/event, give us a jangle to discuss advertising options. We have many affordable packages and how else are you going to reach out to Metro Seattle's LGBTQ community online?
Here's the link to our ad rate card and you can email me at strangeways@seattlegayscene.com for more info.
(Visited 1 times, 1 visits today)