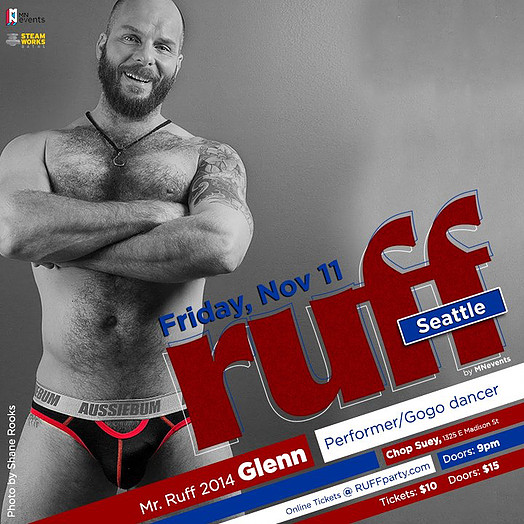 The weather is starting to get frightful…but the Men of Ruff are sooooooooo delightful.
Yes, those zexy Canadians from RUFF Vancouver are sneaking over the border to bring a night of RUFF masculine hotness to Seattle. MN Events and RUFF have been producing some of the funkiest, down and dirty dance parties for gay men for several years now and every time they hit Seattle, it's wall to wall beefy, sweaty men shakin' their groove things.
Once again, RUFF is back at Chop Suey on Friday, November 11 for RUFF Seattle, with DJ Del Stamp (from Vancouver BC) and our King of Pants on hand with the music plus steamy performances from Glenn, Mr. RUFF 2014 as well as GoGos Bolt and Jesse.
Tickets are only $10 if you buy them in advance online OR you can also grab them now at DIESEL, around the corner from Chop Suey (cash only!) Diesel will also be hosting the pre-func before RUFF Seattle from 7 pm to 9 pm that night. Then, the main event kicks off from 9 pm to 2 am.
OBVIOUSLY, all this adult oriented entertainment is 21+ with ID.
AFTER all that sweaty dance fun, Seattle Steamworks will be hosting the After Party for RUFF: Play for those who need to keep the party going…and, taking it to the next level.
More RUFF info: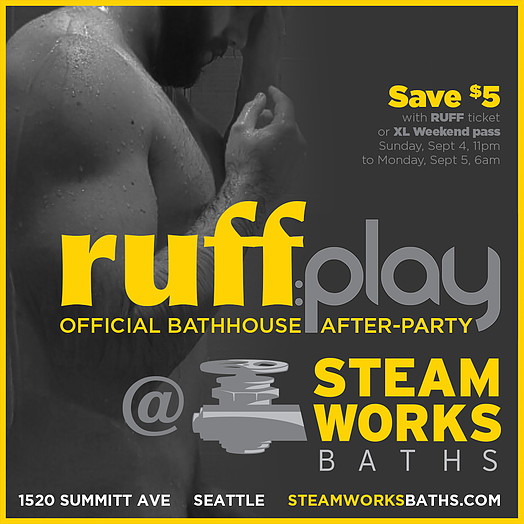 Michel Nadeau & Tod B from RUFF Vancouver

present RUFF Seattle.

RUFF is back in Seattle Friday November 11

9pm Chop Suey Advance tickets $10 until Thursday November 10th

$15 after.​

Available at Diesel (cash only) and online.

Music DJ Del Stamp(VAN) King of Pants (SEA)

With steamy performances by GLENN – Mr. RUFF 2014, BOLT & JESSE

Join us at Diesel for the Offical Pre-Party starting at 7-9pm.

NO line-up (unless at capacity) and $1 off Drinks with RUFF ticket or XL Weekend Pass.​

Event produced by MN events | Where Sexy is Standard since 2000!

Graphic Design for RUFFseattle by: Tod B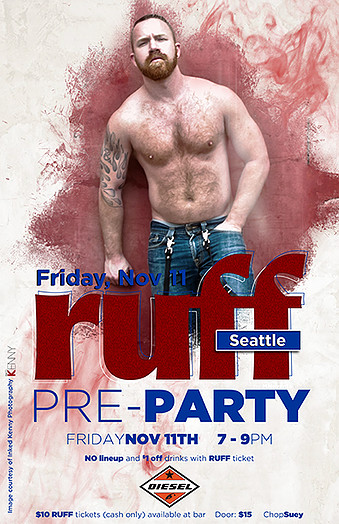 Tags: Chop Suey, Diesel, MN Events, Mr. RUFF, Parties For Men, RUFF Seattle, Ruff Vancouver, Steamworks