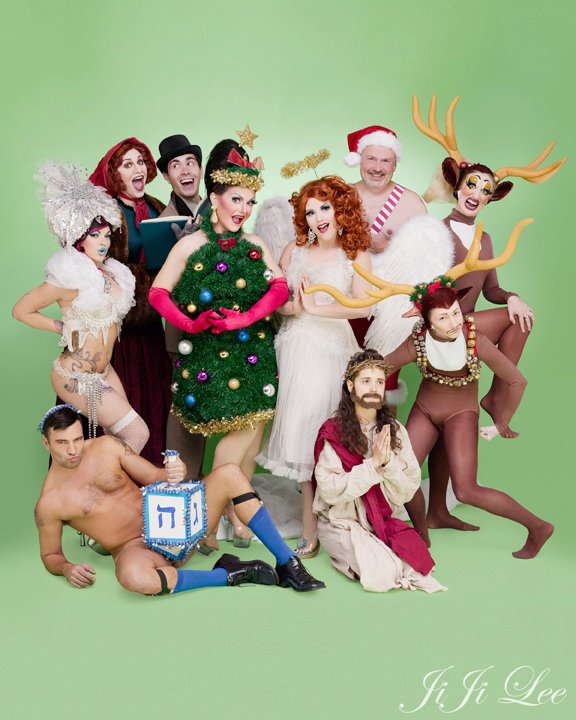 The lovely homos (of all genders/sexualities) are back in Seattle for the Holidays. BenDeLaCreme, Kitten LaRue, Cherdonna & Lou and the entire ensemble are back for the 49th annual "Homo for the Holidays" show at Oddfellows Hall starting this Saturday, December 10 and running for eight performances through December 24. We went last year and lushly praised the wit, humor and bawdy charms of "HFTH" and very much admired the considerable design skills that went into the colorful production…this company knows how to make lovely costumes and props on a budget!
Joining founders BenDeLa, Kitten, Cherdonna & Lou will be Jinkx Monsoon and Major Scales, Fuchsia FoXXX, ilvs strauss, Faggedy Randy, and daddy bear singer, Jimmy Longwell. We're expecting lots of sweet naughtiness and parodies of beloved holiday traditions, with just a tweak of blasphemy…fun for the entire family, except your mean Aunt Bernadette and her second husband, "Reverend" Phil!
Tickets available at Brown Paper Tickets…along with Dina Martina and Ham for the Holidays, "Homo for the Holidays" is a queer Xmas tradition in Seattle and far more entertaining than egg nog and roasting chestnuts over an open fire. Here's all the info you need to know:
Dates:
Special Preview performance December 10 (7pm)
December 15, 16, 17, 22, 23 (8pm), and Dec 24 (7 and 10pm)
Location:
West Hall, OddFellows Building 2nd Floor
915 E Pine Street, Capitol Hill
Full bar in West Hall by The Tin Table
Call 206-320-8458 for dinner reservations at The Tin Table
Your ticket gets you  off a specialty cocktail when you dine before or after the show!
Tickets: $20 in advance, $25 at the door (general seating is first come, first served)
RESERVE A SPECIAL FRONT ROW VIP TABLE! $150/table (seats up to 4)
Only 4 tables available per show! Includes exclusive reserved seating in the front row, and a special Homo For The Holidays gift bag for your party!