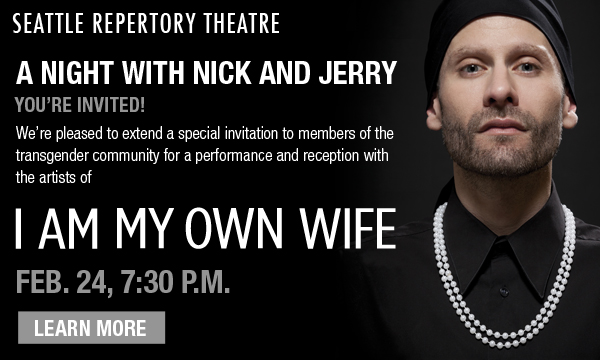 Sometimes the theater casting gods come to a consensus when the perfect actor is cast in an ideal role in a dream play. It's certainly true with the casting of beloved Seattle actor Nick Garrison, well known for his roles in Hedwig & The Angry Inch, Cabaret and dozens of other shows, as Charlotte von Mahlsdorf in the Tony/Pulitzer Prize winning play, I Am My Own Wife which is running at the Seattle Rep now through March 4, 2012. Charlotte von Mahlsdorf was an actual German transvestite who lived through 75 tumultuous years of German history and playwright Doug Wright spent 10 years bringing her story to the stage, where the play was a huge success winning numerous awards. Seattle Rep pursued the local rights to stage the work several years ago, also with Nick Garrison attached to star, but lost the rights to another theater. But, Jerry Manning, artistic director at the Rep, never lost hope that one day the show would be staged, with an actor ideally suited for the role and Mr. Manning is personally directing this production with the assistance of an ideal design team: Scenic Designer Jennifer Zeyl (Of Mice and Men, Glengarry Glen Ross, boom); Costume Designer Erik Andor (Radio City Rockettes); Lighting Designer Robert Aguilar (Of Mice and Men, The K of D, boom); and Sound Designer Robertson Witmer (Of Mice and Men).
And, Mr. Garrison is an ideal fit for the demands of this solo show, both emotionally and artistically. It also doesn't hurt that the actor is a history buff fascinated by Weimar/post Weimar era German history which might explain his casting as Hedwig in "Angry Inch", the Emcee in Cabaret, and his founding of his own musical performance ensemble "The Love Markets" which performs cabaret songs both from the 1920's/30's era as well as interpreting more recent music in that Cabaret/Weimar style. (And, sound designer Robertson Witmer is also a member of "The Love Markets").
We're going to have a lot more coverage on this production; video interviews are in the works. And, LGBTQ fans should also note that a special performance and reception for the Trans community will be on February 24th. Go to the Seattle Rep website to purchase tickets for this special event, as well as tickets for any performance in the run.
(Visited 1 times, 1 visits today)