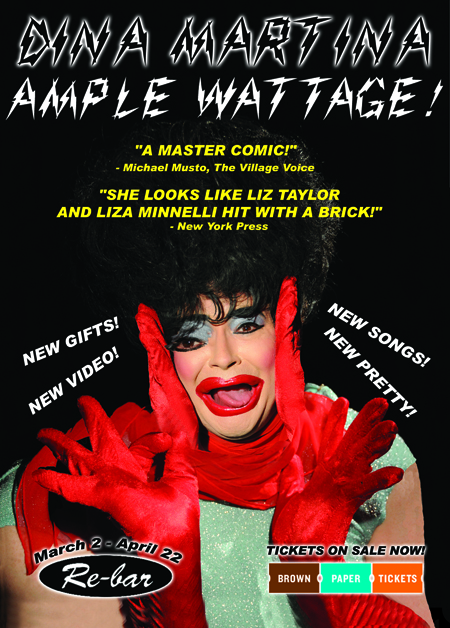 Y'all know we LOVE the life force known as Dina Martina, Seattle's biggest contribution to the world of Arts and Letters since Gypsy Rose Lee, (Sorry, Chihuly…) So, naturally we were excited about her annual Spring Show at Re-bar which was scheduled to start this coming Friday, March 3, 2012 and run through the end of April. The show, titled "Ample Wattage" features Ms Martina's usual bag of springtime treats:
In Spring, a young man's fancy turns to Dina Martina.  Ok, maybe not; but it does turn to things exciting and new – like the exciting new show, "DINA MARTINA: AMPLE WATTAGE!", which opens at Re-bar Friday, March 2nd 2012!  "DINA MARTINA: AMPLE WATTAGE!" will be brimming with new songs, new stories, new costumes, new audience gifts and BRAND NEW VIDEO!  Like all of Miss Martina's shows, it'll also be brimming with (as The Village Voice says) "comedy that'll make you piss your pants!"  Get your tickets now and see why, over the years, Dina Martina has been the recipient of countless awards and suggestions!
Obviously we were HUGELY looking forward to this. We love the Christmas Show but the Spring Show has VIDEO!  But, we've received word late Tuesday night that the opening weekend of "Ample Wattage" has been canceled and tickets already purchased are being refunded via Brown Paper Tickets. The show will now open on Friday, March 9th. There hasn't been an official reason given for the push back; we've heard rumors the show wasn't quite ready for prime time…maybe Dina's Easter Bunny costume ordered from Bangkok got stuck in Customs? Hopefully, it's not anything serious…springtime wouldn't be the same without our Miss Dina.
Tags: Ample Wattage, Dina Martina, Re-bar